The Gunners won their first trophy in nine years with a dramatic 3-2 victory over Hull in the FA Cup final and their manager can look forward to building for next season
COMMENT
By Greg Stobart at Wembley
After 3,283 days, after nine years of unbearable pressure even from his own supporters, Arsene Wenger could finally relax. The tie was whipped off, he was drenched in champagne by his victorious Arsenal players and given the bumps.
Perfectly understandable after Wenger took the Gunners to an FA Cup victory he described as the most important of his career. They did it the hard way in this Wembley thriller, but for once Arsenal were not the nearly men.
Wenger has now won the FA Cup five times. Specialist in failure? No chance. He's a winner again – and he has more trophies to his name than Jose Mourinho this season.
The 64-year-old made sure to speak to every one of his players on the pitch after the game. Aaron Ramsey got a huge hug for his extra-time winner, Bacary Sagna a kiss on the forehead as the 30,000 or so Arsenal supporters partied in the stands.
Even before kick-off, on the walk up Olympic Way, the sense of anticipation was palpable. The Arsenal fans were arriving in a sea of colour, noise and expectation.
Wenger had to deliver – and he did.
When the Gunners fell two down within eight minutes, it felt like a disaster. Hull were going to spoil the party.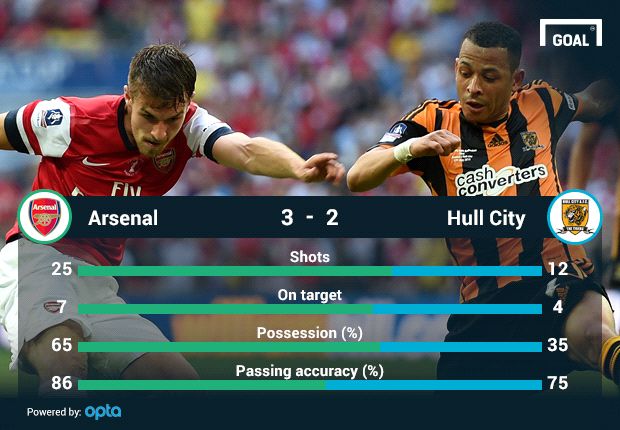 But for a team that has faced so many questions over their mental strength – remember they spent 128 days at the top of the Premier League this season before finishing fourth – they showed great spirit and mental fortitude.
Santi Cazorla's stunning free-kick was probably the turning point, making sure Arsenal came in at half-time only one goal down. From then on, they made their quality count and were the better side, no-one could argue that Arsenal did not deserve this victory.
Laurent Koscielny equalised from close range in the 71st minute and then Ramsey, Arsenal's player of the season, popped up with a lovely finish in extra-time.
"I feel relief and happiness because we were under severe pressure to win today and didn't start well," said Wenger in his post-match press conference. "But, in the end, it finished well, so this is a big moment of happiness for us.
"We waited a long time for this and the happiness is linked sometimes with the suffering, and the time that you have to wait."
Wenger confirmed that he expects to finally put pen to paper on a new two-year contract in the next few days. The fact that he has delayed over signing the deal suggests the Frenchman has held serious doubts over whether he is the man to take Arsenal forward.
He will now lead Arsenal next season as FA Cup holders and Champions League participants for the 17th consecutive season. With money to spend this summer and proof that this side can win trophies, Wenger will feel he has much to build on.
"It was an important moment in the life of this team," Wenger added. "To lose would have been a major setback and to win is a good platform to move on and try to be better next year."
The target next term must be to mount a genuine title challenge. Even when Arsenal have been near the summit in recent seasons, they have never been taken seriously as contenders. That must change and now they truly have some momentum upon which to build.
The Gunners are almost certain now to lose Sagna on a free transfer in the summer but the core of the squad will say the same. They have top quality players, particularly with the centre-back pairing of Mertesacker and Laurent Koscielny and their attacking midfielders in Ramsey, Jack Wilshere, Santi Cazorla and Mesut Ozil.
Theo Walcott's pace in behind defenders has been missed since his serious knee injury in January while Olivier Giroud is a good but not great striker.
Wenger will know where he needs to improve the squad. A pacey winger and a top quality striker will be the two priorities, as well as finding a replacement for Sagna.
An obsessive professional and a control freak, Wenger will already be thinking about this dramatic FA Cup victory as the start of a new era rather than the end of a period to forget.
The demons have been exorcised and Wenger kicked every ball on the touchline. When Ramsey scored the winner, he could not help but indulge in a jig on the touchline with his arms raised aloft.
The pressure he has felt was clear during every agonising second of the game, the relief palpable as he celebrated after the final whistle.
Now he can relax, safe in the knowledge that he has now won seven trophies with Arsenal – and now there could be more to come.