Mikel Arteta was full of praise for Aaron Ramsdale following his arrival at Arsenal last week. The 23-year-old was described as an "ideal" signing who will quickly endear himself to the fans. "I think they are going to love his personality, his character," he added.
First impressions were certainly positive in that regard. Images of his family standing proudly behind him at his unveiling warmed hearts. His introductory interview, much of which he spent smiling from ear to ear, struck the right balance between humility and ambition.
"I'm looking forward to having a connection with the fans," he said of playing at the Emirates Stadium. "You won't see me shying away from any challenges," he promised supporters. "I'm here to push him and take his shirt," he added of Bernd Leno.
Ramsdale's attitude cannot be faulted but, for many, the scepticism that greeted his arrival from Sheffield United is still there.
A £30m deal for a young goalkeeper who has endured back-to-back relegations from the Premier League is a difficult sell.
Indeed, at times last season, it was hard to imagine he would join a big-six club come the end of it. Sheffield United paid £18.5m to re-sign him from Bournemouth but replicating Dean Henderson's performance levels was never likely to be easy and so it proved.
Ramsdale endured a difficult start at Bramall Lane as the Blades found themselves marooned at the bottom of the table, the goalkeeper becoming emblematic of the perceived poor recruitment that would pave the way for Chris Wilder's departure.
At the start of January, Sheffield United had taken only two points from 17 games. Ramsdale was still waiting for his first clean sheet, while only two goalkeepers – West Brom's Sam Johnstone and Leeds's Illan Meslier – had conceded more goals.
There was no way back for Sheffield United, their relegation confirmed in April with six games still to play, but for Ramsdale, the second half of the campaign was a journey of redemption.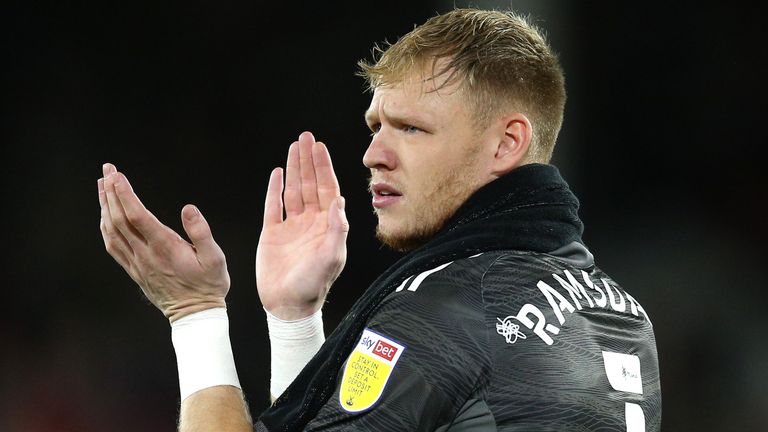 His improvement was dramatic, eventually earning him the club's player of the year award – his third in three seasons including the one he received while on loan at AFC Wimbledon in League One – and even a late call-up to England's Euro 2020 squad.
His subsequent move to Arsenal, confirmed last Friday, has of course placed him under increased scrutiny and his detractors can find plenty of ammunition in the statistics.
Opta's expected goals data places Ramsdale among the most porous goalkeepers in the Premier League last season.
He also dropped more high balls than anyone else (10), while only two goalkeepers made more individual errors leading to opposition shots (six).
Arsenal, though, will have tried to view those numbers in context when weighing up their move for him.
He was, after all, playing in a team bereft of confidence and behind a defence shorn of arguably its most important player in Jack O'Connell, who was absent with a knee injury.

Wednesday 25th August 7:30pm

The circumstances were tough and they took a psychological toll. "I had lost a bit of belief in myself," Ramsdale later admitted.
Ramsdale should be afforded better protection at Arsenal, who had the third-best defensive record in the Premier League last season, and while the expected goals data for last season is troubling, it is worth noting that in his previous campaign with Bournemouth, Ramsdale outperformed Jordan Pickford, Nick Pope and even Liverpool's Alisson Becker in the same metric.
Arsenal will hope his numbers for the 2020/21 campaign were skewed by his difficult start. They will note that all six of his errors leading to shots came in his first 15 appearances, and that, of his 10 drops, seven occurred before the end of January.
'He's like having a coach on the pitch'
Anthony White, former Bournemouth goalkeeping coach:
"He came to us 18 and wanted to be a first-team goalkeeper straight away but he knew what he had to do get there.
"He went on loan and had an opportunity to succeed and also fail – but in a positive way. He learned that people's mortgages and people's livelihoods were on the line. It was a massive thing to help keep AFC Wimbledon up and he was a different, more mature person when he came back.
"He is a positive guy, a leader and an influential figure in the dressing room. The thing that keeps amazing me is the fact he thrives in every situation. Nothing fazes him and that's something you can't learn. You either have it or you don't.
"He understands the game really well. It's like having a coach on the pitch. You can talk to him about any part of football and he understands it. In fact, he understands it better than many coaches can articulate. It's quite fascinating to listen to him.
"He's very self-aware and his personality is his biggest strength. Obviously he's very good in and out of possession but he also knows how to have a positive effect on the team because of his persona. He has achieved so much at such a young age and that's helped him develop great strength of character."
Everyone at Sheffield United was already aware of Ramsdale's improvement at that point – his upturn in form was a rare positive in a season of strife and instability – and by February, he was earning recognition from outside the club too.
"He is making saves he is not entitled to make," said Sky Sports pundit Graeme Souness after Ramsdale single-handedly kept Liverpool at bay with a string of excellent stops at Bramall Lane. "Incredible," was how Jurgen Klopp described his performance.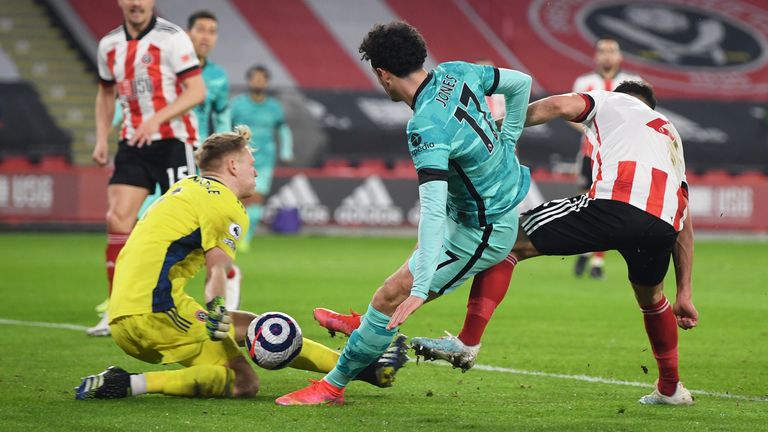 For Arsenal, who were evidently following his progress closely at the time, his age is another significant consideration.
Having only turned 23 in May, Ramsdale is extremely young in goalkeeping terms. There is considerable scope for improvement and yet, as Arteta noted last week, he has already amassed "huge" experience.
Indeed, just nine days after his 23rd birthday last season, Ramsdale became the third-youngest goalkeeper in Premier League history to reach 75 appearances in the competition.
Only Scott Carson and Joe Hart have hit that milestone at a younger age and the other players to have come close – among them David de Gea, Shay Given and Petr Cech – have all gone on to have stellar careers at the top level.
The omens are good for Ramsdale and there is plenty of belief among the players and coaches who know him best too.
"He's just going to keep getting better and better," said Paul Heckingbottom, Sheffield United's interim manager following Wilder's departure last season. "What he's done over the last couple of years shows everyone the quality he has," said Asmir Begovic, his former team-mate at Bournemouth.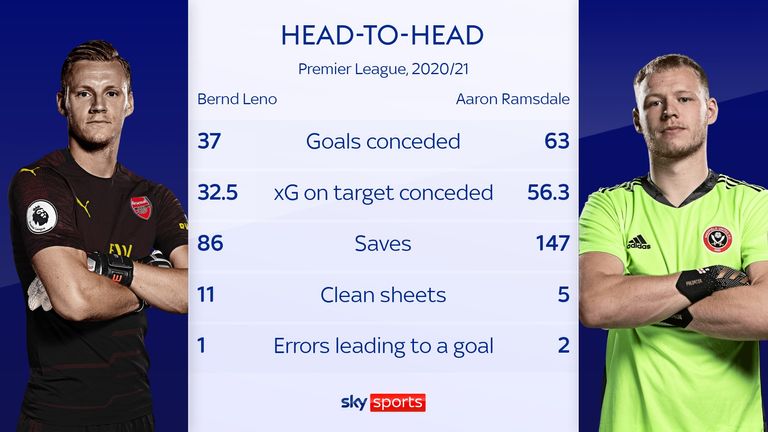 Arsenal are banking on Ramsdale continuing to develop and improve as he did in the second half of last season but the £30m price tag places him among the world's most expensive goalkeepers and with it comes a new level of pressure and expectation.
Arteta will be encouraged by the mental fortitude Ramsdale showed in coming through difficult periods last season. But much will depend on how he copes with the step up to a bigger club – especially given the side's need for immediate improvement.
Indeed, if Leno produces more performances as unconvincing as his showing against Brentford on the opening day of the season, Ramsdale will need to be ready to hit the ground running.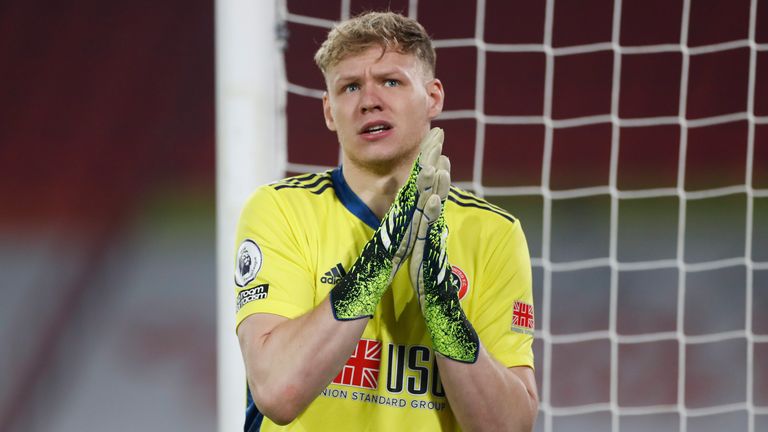 He will also be required to adapt to a different way of playing. Arteta is said to be a fan of Ramsdale's distribution, particularly over long distances, but the Spaniard primarily asks his side to play out from the back and that is unlikely to change.
Leno played 66 per cent of his passes short for Arsenal last season, according to Opta, while Ramsdale's figure for Sheffield United stood at just 16 per cent. Even in the previous campaign with Bournemouth, he only sent 31 per cent of his passes short.
That changing emphasis is just one of many challenges facing him in his new surroundings. Arteta is confident Ramsdale will be a success and the Arsenal manager is not his only admirer. But now it is down to him to prove the others wrong – and justify the money spent.
Watch West Brom vs Arsenal live on Sky Sports Football from 7.30pm on Wednesday; kick-off 8pm
Adblock test