Sanchez is out of contract in 18 months time but Wenger believes it is only a matter of time before the Chile star extends his deal
Arsene Wenger has revealed that Alexis Sanchez has told him he wants to remain at Arsenal.
The Chilean has been linked with a big-money departure as talks continue to stall over rewarding the forward with a new and improved contract.
Wenger has allayed any exit fears, however, suggesting that the player has given his word that he will stay put at Emirates Stadium.
He told beIN SPORTS: "It always starts with money, it finishes with money and in-between the players want to stay or want to go.
"When the players want to stay it's easier to find an agreement. We can certainly find an agreement. You cannot put the club in jeopardy as well for the players.
"I think no matter what happens we'll try to keep them and we'll go as high as we can and if we cannot go further, we cannot go further. That's basically it. That's the way you have to manage a football club.
"Alexis Sanchez is a committed player who wants to stay. I'm convinced we'll find an agreement. It has to be in our potential.
"We are not scared to spend the money, and we are not scared to show the players we love them and we want them to earn big money but we have to have a line of conduct.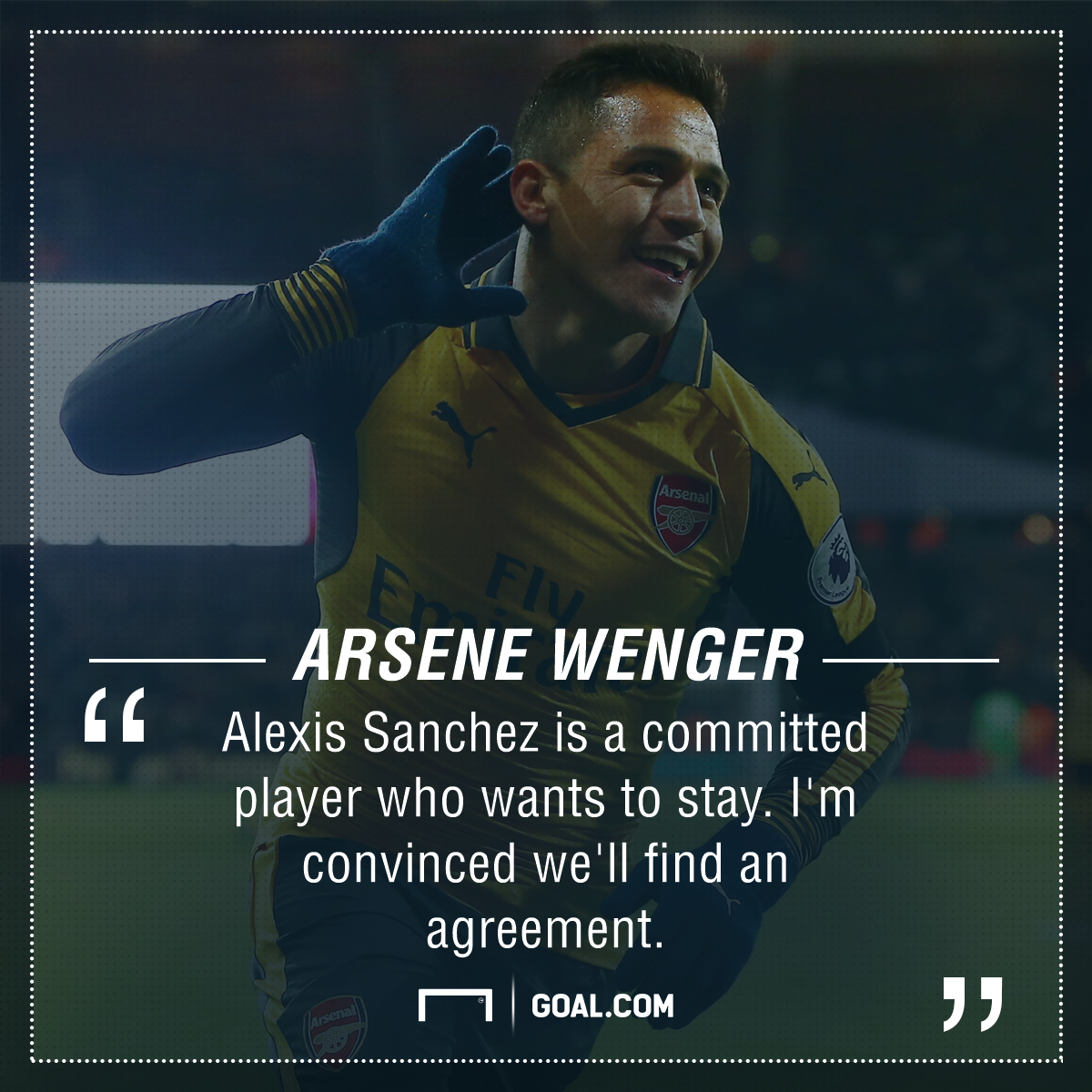 "What is absolutely fantastic for the players today is the club for me is about identity, about values and we have as well to work from that."
Arsenal are currently in talks with a handful of first team stars over new contracts, including Olivier Giroud and Laurent Koscielny. Both players are expected to put pen-to-paper and commit to the club along with 20-year-old Alex Iwobi who will be rewarded for his impressive performances over the past few months.
Wenger has already added youngster Cohen Bramall to his ranks, comparing the left-back to ex-Arsenal defender Ashley Cole, but he will be the only signing in the January transfer window with the Gunners listening to offers for Carl Jenkinson and Mathieu Debuchy.