Arsene Wenger's side looked dominant throughout much of the 3-1 win at Vicarage Road, with Alexis Sanchez and Mesut Ozil looking back to their best.
---

COMMENT
---
If Arsene Wenger wanted his team to make a statement of intent days after it was revealed that Arsenal were signing two new players, they certainly did against Watford.
They played sumptuous football at Vicarage Road for parts of the game, and a display of technical brilliance from Alexis Sanchez and the equally impressive Mesut Ozil and Theo Walcott successfully linking up together to give the Gunners a 3-0 lead at half-time provided just the tonic for Wenger's men.
A barrage of criticism from large sections of their supporters and commentators alike was immediately put to bed for the time being after Shkodran Mustafi and Lucas Perez's arrivals were deemed imminent.
Even though Arsenal's front three was irresistible to watch at times, it must be said that they looked defensively suspect when Watford sprung counter attacks and if it wasn't for Petr Cech the score would have been much closer.
Santi Cazorla started alongside £30m summer signing Granit Xhaka in midfield and it was the Spaniard who gave Arsenal with a well-taken penalty in the ninth minute after Sanchez was elbowed by Amrabat. Walter Mazzari's side were particularly impressive with their pressing tactics against Chelsea, and full-backs Jose Holebas and Amrabat were equally adept at rampaging down the flanks.
Against Arsenal, they didn't offer the same threat. Instead it was Arsenal's Hector Bellerin who completely outpaced Younes Kaboul on one occasion in the second half, before leading a breakaway shortly after which Alex Oxlade-Chamberlain should have squared to Sanchez.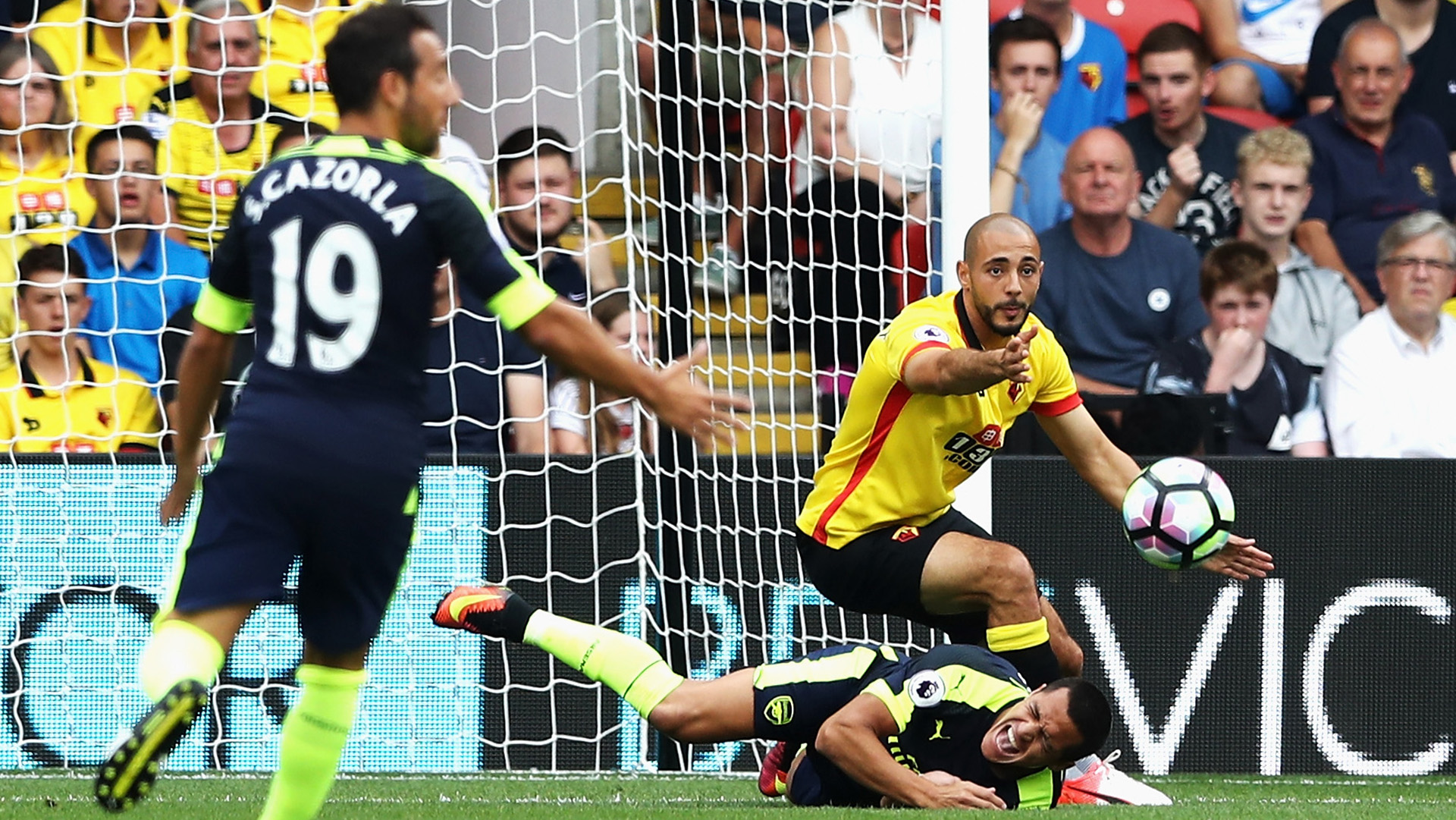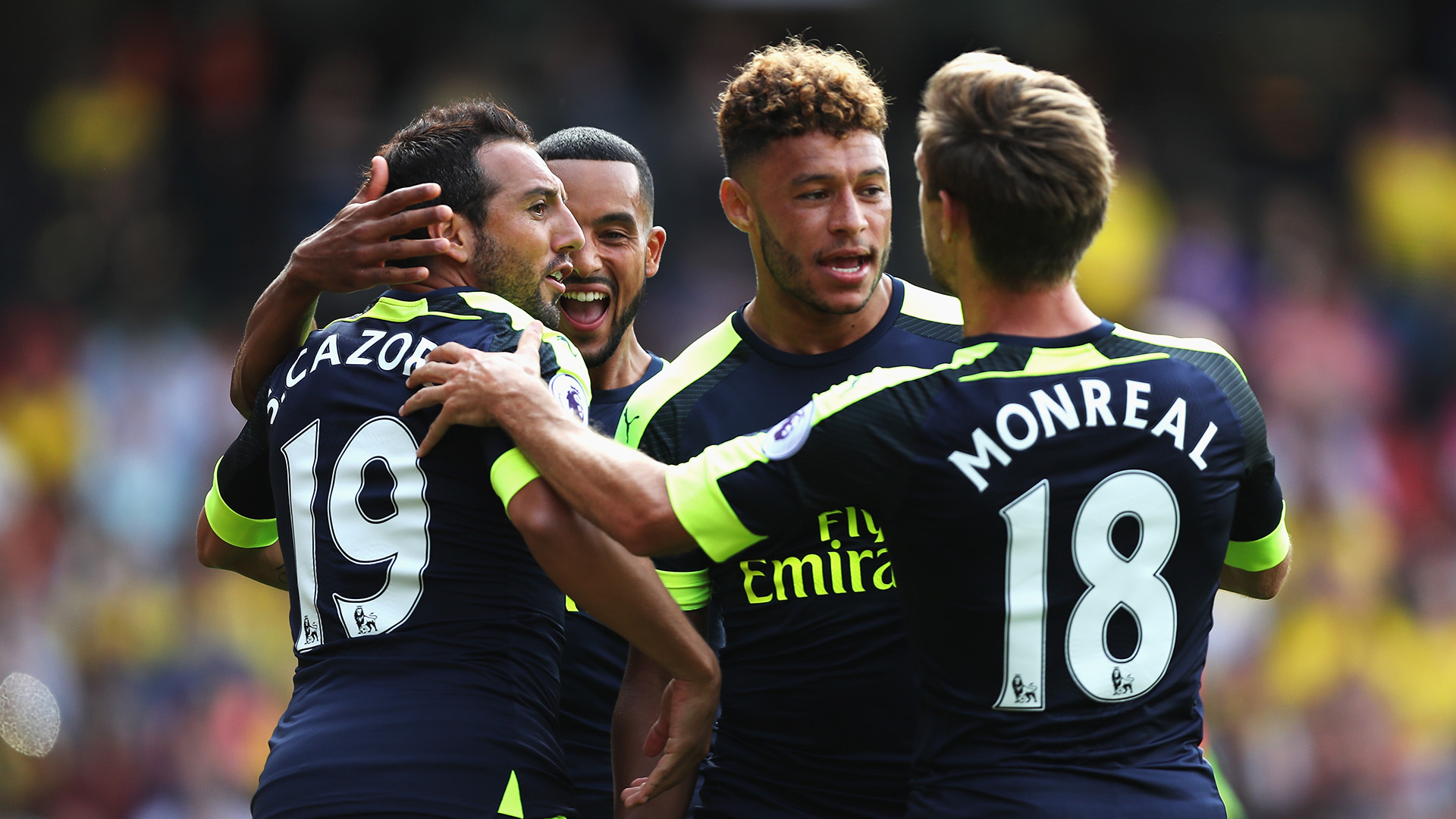 The only disappointments to take away from Saturday afternoon's match where Arsenal were concerned was the scrappy goal conceded on 57 minutes, when Argentine star Roberto Pererya snuck in to give the Hornets some hope, while an apparently injury to left-back Nacho Monreal is certainly not what Wenger needs even if the upcoming international break gives the Spaniard time to recuperate.
Wenger praised Watford striker Troy Deeney before the game saying that he is a 'fighter', but his 57 per cent pass accuracy and failure to breach the Arsenal defence emphasised why the Frenchman has gone for a completely different type of striker in the transfer market.
Following the unsuccessful pursuit of Jamie Vardy, it became apparent that Wenger was in the market for a quick, mobile forward who could be utilised as a centre forward while also being able to play off Olivier Giroud.
In defence, Rob Holding once again looked composed and aerially dominant – at 20-years-old the kid is starting to look like a future England star. Alongside Laurent Koscielny he has a defensive partner who he can learn from on and off the training pitch. The arrival of Shkodran Mustafi certainly won't hamper his development and if anything vital competition which Arsenal have previously not had at centre back.
Watford haven't beaten Arsenal in the league since 1988 and that never statistic looked like changing even during the nervous moments for Wenger's side. Wenger fielded an attacking line-up capable of tearing Mazzari's men apart and they did exactly that even if it was in sporadic spells.
The two new signings heading to the Emirates will look to invigorate and improve a team that lacked consistency in the big games last season.