TIDYING UP ALL THE LOOSE STORIES IN FOOTBALL THIS WEEK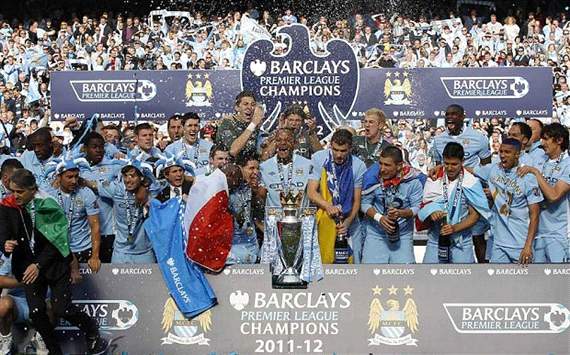 By Wayne Veysey
PREMIER LEAGUE WINNERS WILL GET €119 MILLION WINDFALL NEXT SEASON
The winners of the Premier League next season will receive a staggering €119 million in TV income, according to projected figures compiled by the governing body.
All 20 Premier League clubs are in line for a huge hike in revenues for the three seasons from 2013-14 when the new global and domestic TV rights deals kick in.
A paper circulated to the clubs at the Premier League shareholders meeting last month, details of which have been seen by Goal.com, estimated that sales from the UK rights were €4.03 billion, an increase of 57 per cent from the current figure of €2.58bn.
This will be topped up by revenues from the overseas broadcasters, with the total package worth an incredible €6.29 bn, an increase of 46 per cent from the current €4.38 bn.
Premier League chiefs were told at the meeting on November 15 that, although the sales process had not finished, the estimated figures "were a considered and informed forecast based on sales and expressions of interest to date".
The 2013-14 title holders will be the first beneficiaries of the bonanza, with the annual distribution to the highest-placed club rising from €79.08m to €119m.
By contrast, the distribution to the bottom club in the league next season will rise from €52.11m to €75.90m.
The figures have still to be scrutinised by the Premier League audit and remuneration committee, but they are expected to be ratified at the shareholders' meeting in February 2013.
Overseas income is shared out on an equal basis between all 20 clubs, while income from domestic rights is allocated according to a sliding scale based on league position and the number of appearances on TV.
WENGER NOT IN HUNT FOR KLAAS-JAN
Arsenal have been widely linked with a January move for Schalke striker Klaas-Jan Huntelaar, whose contract expires at the end of the season.
But The Sweeper understands that Arsene Wenger has never regarded the Dutchman as the answer to the club's centre-forward conundrum.
Huntelaar has been offered to Arsenal but the Gunners' manager sees him as too static and similar in style to Olivier Giroud.
Reports in Germany in the last 48 hours have stated that Huntelaar has agreed to sign a new deal with Schalke.
Meanwhile, Arsenal's striker sights next month are set firmly on Spain, with the club eyeing up a number of internationals to fill the void left by the summer departure of Robin van Persie.