The Gunners need to stop the Roten skipper, who tormented them from full-back last year but is now shining in midfield, and can look to punish David Alaba's gung-ho forward runs
ANALYSIS
By Ewan Roberts
When Arsenal host Bayern Munich on Wednesday, they will be taking on Europe's most testing and dangerous foe. The Champions League holders, now under the stewardship of Pep Guardiola, remain frighteningly imperious, extending their unbeaten run in the Bundesliga to 46 games and dropping just four points all season.
Arsene Wenger's men, though, are almost uniquely placed to approach such a daunting challenge, having tasted victory against the Bavarians previously and possessed of the conviction to do so again – the north Londoners are one of just three sides (including fellow Premier League outfit Manchester City) to win at the Allianz Arena since November 2011.
That last meeting, a 2-0 victory in Munich, has retrospectively been hailed as a turning point for Arsenal, transforming them from top-four lurkers into bona fide title challengers. They were knocked out only on away goals, putting up more of a fight than the champions of Italy and Spain, Juventus and Barcelona, who were, together, beaten 11-0 on aggregate by the Bayern juggernaut.
Admittedly, Arsenal have not started 2014 in as fine fashion as they finished the previous year. They're still in the habit of winning, but ugly – a laboured efficiency that's seen them do just enough and little more – while a combination of slow starts, an Anfield massacring and injuries have chipped away at some of the confidence that had previously been a hallmark of their performances.
PEP'S POSSESSION PANZER


BAYERN'S SEASON SO FAR

GAMES PLAYED
WINS / LOSSES
BUNDESLIGA POINTS PER GAME
GOALS SCORED
SHOTS ON TARGET PER GAME
GOALS CONCEDED
AVERAGE POSSESSION
PASS SUCCESS
SHORT PASSES PER GAME

35
31/2
2.8
94
8
20
69%
89%
645

Nevertheless, the noises coming out of the Arsenal camp, from Wenger and his squad, are of positivity and fearlessness. They will have learnt much from last season's match-ups, but also recognise that Bayern, inevitably, are a different prospect under Guardiola to the Jupp Heynckes-managed side that conquered all before them last term.
The speed of possession is quicker – one-touch tiki-taka-inspired ball circulation – and the Bavarians create enough triangles to make even Pythagoras purr. The changes have been subtle, but significant. "I believe we are now even more flexible, have even more control and are harder to figure out," says Philipp Lahm of Guardiola's nips and tucks, a statement that will induce even more unsettled nights for Wenger and his men.
The conversion and redeployment of Lahm from right-back to central midfielder has been the most prominent change, with the club captain performing a role not dissimilar to how both Guardiola himself played and Sergio Busquet's role under the Spaniard at Barcelona. Lahm is the orchestrator, the first outlet for the defence, the glue that holds the side together.
The 30-year-old, described by his manager as "probably the most intelligent player" he has ever trained, has averaged 81.4 passes per game this season, at 92 per cent accuracy – the most of any Bayern player, and the fourth most in Europe's top five leagues.
Lahm has unquestionably been a revelation, but, earlier this month, Nurnberg gave perhaps the greatest demonstration that Bayern, and their transformed skipper, can be rattled – even if the plucky underdogs ended up on the wrong side of a 2-0 scoreline.
In a barnstorming opening 15 minutes they pressed aggressively, fighting for possession high up the pitch (winning three of five tackles in the opposition half in a blistering opening salvo). They managed four shots on goal, as many as they would record throughout the rest of the match, with Hiroshi Kiyotake smashing the crossbar.
"It seems that Bayern are even stronger this year in possession, defensively and how they cope with situations"

– Per Mertesacker

Lahm, usually so influential, was put under enormous pressure in those opening exchanges and, surrounded by Nurnberg players, successfully completed just 13 of 18 passes up until a second goal in the 49th minute killed off the contest and Gertjan Verbeek's men ran out of steam.
Diminutive and slight, Lahm was almost bullied in the first half at the Grundig-Stadion – a far cry from the solid, powerful, irrepressible pivot of Javi Martinez and Bastian Schweinsteiger that has – due to injury, in part – been done away with under Guardiola's watch.
Disrupting Lahm and stopping the metronomic control of possession that flows through him will be key to Arsenal's hopes of success. For much of the first-leg clash at the Emirates last year, Arsenal stood off Bayern, and they cannot afford to make that mistake again.
"We respected them too much in the first leg then, so it was too easy for them," noted Per Mertesacker.
In fact, in the first 45 minutes they attempted just one tackle in the opposition half, but would win nine of 13 in the following 135 minutes of action – and it paid dividends as Arsenal fought back in the tie.
The energetic Aaron Ramsey would have been perfectly suited for man-marking Lahm, but, in both his absence and with the tenacious Jack Wilshere needed deeper while Mikel Arteta is suspended, Wenger may look to the experience of Tomas Rosicky; the Czech's temperament and big-game composure have rarely let Arsenal down in the past, while he is snappy and purposeful in transition.
HOW THE TEAMS COULD LINE UP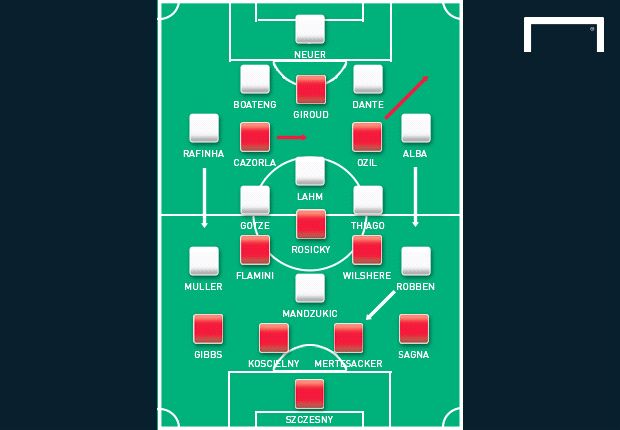 Lahm's presence in midfield also means he cannot replicate the virtuoso display he gave from full-back at the Emirates, when the Bayern right flank savaged the out-of-position Thomas Vermaelen and lacklustre Lukas Podolski.
Now Rafinha holds down the right-back berth, but, having found a team-mate with just 3 of 17 crosses in the Champions League, he is not a player Arsenal should be concerned about ceding possession and time to.
The marauding David Alaba's relentless surges forward, meanwhile, will be seen as another possible weak spot. This was a vulnerability Wenger picked up on late in the first-leg contest, switching Theo Walcott to the wing after initially looking to utilise his pace against the sluggish Daniel van Buyten; at the Allianz, the England international duly burst into space down the right to set-up Olivier Giroud's opener.
Just because Walcott is sidelined does not mean Arsenal cannot exploit the space behind Alaba, which can cause even more problems under Guardiola. Previously, one of Schweinsteiger or Martinez would have fallen back to cover the Austrian full-back; now Dante must pull out wide instead.
The centre-back can be cumbersome when isolated in such a fashion – and has conceded significantly more fouls (43% more) than any other member of the back line – while it also means that Lahm and his 5 foot 7 inch frame must drop back to cover for the Brazilian, creating an obvious mismatch against the towering Giroud should a cross be whipped into the box.
Speedster Alex Oxlade-Chamberlain is the obvious, like-for-like replacement for Walcott in such a scheme, though Mesut Ozil's ability to exploit space could be more devastating. The German, whose summer arrival further alters the dynamic of the rematch, would satisfy Wenger's natural inclination to field a playmaker on the flank who can tuck in and add a body in midfield.
But Ozil is also competent out wide and punishing on the counterattack, far more so than Santi Cazorla, who never tested Alaba at the Emirates, while Wenger may not trust the €50 million-man to play in his usual No.10 role and harass Lahm following a string of laboured displays. Oxlade-Chamberlain's match-winning FA Cup outing, in which he savaged Aly Cissokho, could earn him the nod though.
Regardless of the personnel picked, the key will be to remain brave and stay high up the field when Alaba advances – which should be less risky with Franck Ribery unavailable to wreak havoc ahead of him. The 21-year-old has often been the sole presence down the left flank in the Frenchman's absence, as Mario Gotze, Arjen Robben et all drift infield and interchange positions.
Bayern, then, are an even more fearsome proposition than last season. But so are Arsenal. The Gunners must look to shut down Lahm's supply, press high, prey on the space left by Alaba, show more composure in front of goal than Nurnberg and ensure their usually reliable defence does not implode as it did at Anfield. Lahm's change of position may have reaped reward for Bayern, but on this occasion it could also be their undoing.
Follow Ewan Roberts on