The Premier League has been up and running since 1992.
In that time, there's been thousands upon thousands of goals scored, with exhilarating moments of entertainment enriching the lives of millions around the world.
But our enjoyment has been elevated over the years by 28 – so far – select individuals, who during the course of their Premier League career, bagged over 100 goals in the top flight. Scoring that many goals is one thing, but scoring them regularly, at a frenetic pace is another.
So, here at 90min, we decided to delve into the history books to find out which player has actually been the most effective in front of goal – digging into each and every one of their respective strike rates.
Let's see who top dog is…
---
28. Ryan Giggs
Games Played: 632
Goals Scored: 109
Goals Per Game: 0.17
Ryan Giggs was not a only serial winner with Manchester United, he was the best winger of his generation. Scored plenty from the left wing, averaging a goal every 5.79 games – pretty good considering he played at least 10 yards deeper than modern wingers.
---
27. Paul Scholes Games Played: 499
Goals Scored: 107
Goals Per Game: 0.21
Revered by his peers as one of the best midfielders of the late 90s/early 2000s, Scholes was one of the those players who made everything look easy. Could play in multiple positions, and his goal return shows he was a consistent scorer. Averaged a goal every 4.66 games.
---
26. Emile Heskey Games Played: 516
Goals Scored: 110
Goals Per Game: 0.21
Emile Heskey wasn't an out-and-out goalscorer, but he was a fantastic striker on his day. Made the game easy for those around him, and still contributed his fair share of goals at the top level. A strike every 4.69 games is a decent return.
---
25. Peter Crouch Games Played: 468
Goals Scored: 108
Goals Per Game: 0.23
Peter Crouch is undoubtedly the biggest handful that Premier League defences have ever had to deal with. Fantastic in the air, he was also very skilful – evidenced by some truly sensational – and acrobatic – strikes. A goal every 4.33 games shows how good he was, despite playing well into his late 30s.
---
24. Steven Gerrard Games Played: 504
Goals Scored: 120
Goals Per Game: 0.24
For years and years, we always asked ourselves the question of who was better – Steven Gerrard or Frank Lampard? It was a daft comparison really as they did two very different jobs for their sides, and the argument was never really settled.
Until now. Gerrard scored a goal every 4.2 games for Liverpool…
---
23. Frank Lampard
[embedded content]
Games Played: 609
Goals Scored: 177
Goals Per Game: 0.29
…while Lampard scored one every 3.44 games from the tip of Chelsea, West Ham and Manchester City's midfield. Pretty impressive numbers for a player who scored all types of goals, always at the crucial moments.
So now you know.
---
22. Dwight Yorke Games Played: 375
Goals Scored: 123
Goals Per Game: 0.33
Always smiling and always scoring, Dwight Yorke's career really blossomed when Sir Alex Ferguson took him under his proverbial Manchester United bosom, leading the Trinidad & Tobago skipper to Premier League glory. A goal every 3.04 games shows how often he hit the headlines.
---
21. Jermain Defoe Games Played: 496
Goals Scored: 162
Goals Per Game: 0.33
Scoring 162 goals in a Premier League career is pretty good going, particularly when you factor in that 32.9% of Jermain Defoe's top flight career appearances came from the substitutes bench. Despite that remarkable statistic, he scored a goal every 3.06 games played – nifty work indeed.
---
20. Nicolas Anelka Games Played: 364
Goals Scored: 125
Goals Per Game: 0.34
Regarded by some as a troublesome, nomadic striker, Nicolas Anelka had to prove a lot of people wrong during his Premier League career. Often he did that by scoring goals for Arsenal, and latterly Chelsea, doing so at an impressive rate of one goal every 2.91 games.
---
19. Teddy Sheringham Games Played: 418
Goals Scored: 146
Goals Per Game: 0.35
Most strikers see their ability decline with age, but in Teddy Sheringham's case, he matured into a fine red wine that just kept getting better. His best days were served at Manchester United, but it's at Tottenham where he's remembered fondest, likely because a large whack of his goals – scored every 2.86 games – were scored in north London.
---
18. Dion Dublin Games Played: 312
Goals Scored: 111
Goals Per Game: 0.36
Dion Dublin is known for three things.
His trademark one arm in the air celebration, his presenting stint on Homes Under the Hammer and his knack of scoring goals. It's the latter we're most interested in, with his 111 goals scored at a rate of one every 2.81 games.
---
17. Robbie Keane Games Played: 349
Goals Scored: 126
Goals Per Game: 0.36
Barring a failed six-month experiment at Liverpool, Robbie Keane was a regular goalscorer for Tottenham who was one of the most menacing forwards around. His goalscoring exploits – a goal every 2.76 games – show that.
---
16. Matt Le Tissier
[embedded content]
Games Played: 270
Goals Scored: 100
Goals Per Game: 0.37
Why, oh why, was Matt Le Tissier overlooked by England because of a few injury problems? The Southampton star was a big fish in a very small pond, was single handedly responsible for keeping his club up for the best part of a decade and was technically SUPERB. A goal every 2.7 games played, from midfield? Woof.
---
15. Darren Bent Games Played: 276
Goals Scored: 106
Goals Per Game: 0.38
Sadly, Darren Bent highlight clips are normally headlined by his shocking miss from six yards out while playing for Tottenham under Harry Redknapp. But what we should remember is that he was a bloody prolific goalscorer, who scored a goal every 2.6 games played.
---
14. Didier Drogba Games Played: 254
Goals Scored: 104
Goals Per Game: 0.41
An early piece of the Roman Abramovich 'how to win a Premier League title' jigsaw, Didier Drogba soon became an idolised figure at Chelsea. He loved a goal on the big occasion, and his 104 top flight strikes were netted at a rate of one every 2.44 games. Very tidy work.
---
13. Les Ferdinand Games Played: 351
Goals Scored: 149
Goals Per Game: 0.42
Back in the early to mid 1990s, you'd have done well to find a more rounded striker in English football than Les Ferdinand. Scoring plenty for QPR, Newcastle and then Tottenham, he was prolific, consistent and good at so many things. Scored one goal every 2.35 games played.
---
12. Wayne Rooney
[embedded content]
Games Played: 494
Goals Scored: 208
Goals Per Game: 0.42
The greatest goalscorer in Manchester United's long and illustrious history, few players have impacted English football in the manner that Wayne Rooney did. Scoring his first goal as a baby-faced, spotty teenager, he went on to score another 207 more – grabbing them at a goal every 2.38 games played.
---
11. Robbie Fowler Games Played: 379
Goals Scored: 163
Goals Per Game: 0.43
A naturally gifted, instinctive finisher, Robbie Fowler was another red hot striker during the 90s. Injuries prevented him from scoring more than 163 Premier League goals, and his ratio of a goal every 2.33 games played would surely have been bettered with improved fitness.
---
10. Jimmy Floyd Hasselbaink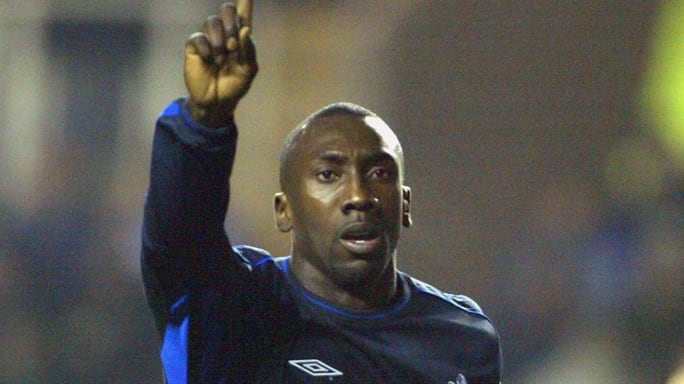 Games Played: 288
Goals Scored: 127
Goals Per Game: 0.44
Finding a striker who is comfortable scoring with both feet is a rare enough, but finding a striker who can blast them in with power using both? Almost unheard of. But, that's what Jimmy Floyd used to do regularly – banging in his 127 goals at an impressive rate of one every 2.26 games.
---
9. Romelu Lukaku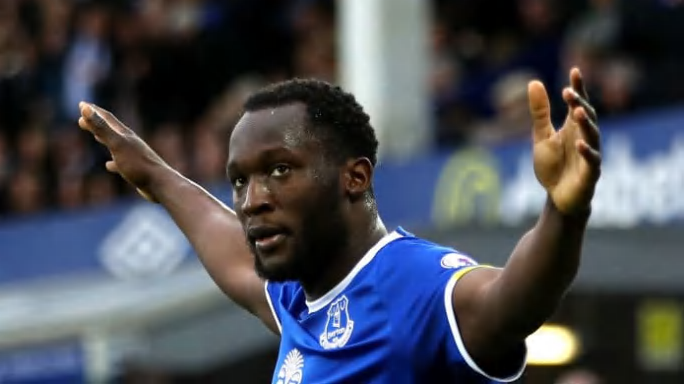 Games Played: 252
Goals Scored: 113
Goals Per Game: 0.45
Many, many criticisms have been levelled at Romelu Lukaku, but you can't argue with his Premier League goalscoring record, particularly as the majority of his goals were scored in his early 20s. One every 2.23 games makes pretty good reading for anybody.
---
8. Andy Cole
Games Played: 414
Goals Scored: 187
Goals Per Game: 0.45
'Cole the Goal' as he was affectionately known was one of two marquee strikers to dominate the early years of the Premier League. His incredible form for Newcastle led him to Manchester United, and gazillions of titles, accolades and good times. One goal every 2.21 games played? Sh*t hot.
---
7. Michael Owen Games Played: 326
Goals Scored: 150
Goals Per Game: 0.46
Like Robbie Fowler, we'll never really know how good Michael Owen could really have been without the curse of injuries. Once he'd shredded his hamstring for Liverpool at Leeds, he was never really the same player. Still, he adapted his game to score 150 goals at a rate of one every 2.17 games played – not too shabby when you've lost your best attribute (pace).
---
6. Robin van Persie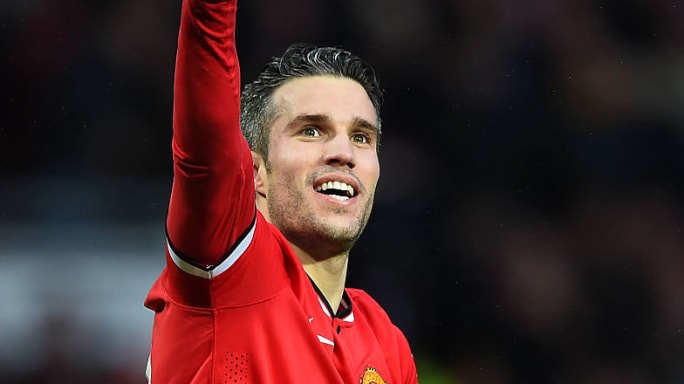 Games Played: 280
Goals Scored: 144
Goals Per Game: 0.51
There's something about watching a wonderful left foot, isn't there? And a wonderful – wand like – left foot is what Robin van Persie possessed. When he used it, goals usually followed – 144 of them to be precise – and they also came at a rapid rate. One every 1.94 games is a phenomenal record.
---
5. Ian Wright Games Played: 213
Goals Scored: 113
Goals Per Game: 0.53
If you thought Van Persie's record was good, you wait until you see how good the top five are. First off, Arsenal legend Ian Wright – who was a serial goalscorer during the late 80s and much of the 90s. In the Premier League era, he scored 113 goals in just 213 games – at a frightening rate of a goal every 1.88 games played.
---
4. Alan Shearer
[embedded content]
Games Played: 441
Goals Scored: 260
Goals Per Game: 0.59
Alan Shearer may be the Premier League's record goalscorer, but he's unfortunately not the most lethal in front of goal – statistically, anyway. For Blackburn and Newcastle, he scored an incredible 260 goals – even overcoming a number of potentially serious injury problems to do so. That's a rate of one every 1.69 games, truly remarkable when you consider he played for 14 years.
---
3. Harry Kane
[embedded content]
Games Played: 201
Goals Scored: 136
Goals Per Game: 0.68
The modern day equivalent of Shearer, Tottenham's Harry Kane is a striker who loves to stand up, take responsibility and score bucket loads of goals. Has a long way to go in his career, but currently scores a goal every 1.47 games played – which is utterly mad.
---
2. Thierry Henry
[embedded content]
Games Played: 258
Goals Scored: 175
Goals Per Game: 0.68
Speaking of mad, that's a pretty good way to describe how most defenders felt facing up against Thierry Henry. In his pomp, the Frenchman was probably the best forward in the world – electrifying worldwide audiences with his glittering displays for Arsenal. Some 175 Premier League goals were chalked up for the club, coming at a rate of one every 1.47 games played.
---
1. Sergio Aguero
[embedded content]
Games Played: 261
Goals Scored: 180
Goals Per Game: 0.69
The debate over who the greatest foreign import in Premier League history will rumble on forever, with Sergio Aguero's name likely on the tip of many people's tongues. And rightly so – because, statistically, he's currently the most efficient marksman to have ever graced the modern-day promised land. He's scored his truck load of goals at a rate of one every 1.45 games played, and isn't finished just yet.
---
Let'