The former Germany star believes that his compatriot should have fought harder to retain his place at Real Madrid and says his mental weakness is contributing to a loss of form

Former Germany captain Michael Ballack believes that Mesut Ozil made a mistake by signing for Arsenal and should have fought to remain at Real Madrid.
Ozil returned from Brazil this summer as a World Cup winner but that has failed to trigger an improvement in his performances for the Gunners and he was again found wanting as his side were comprehensively beaten by Borussia Dortmund on Tuesday.
Ballack, who himself initially struggled to adjust to the pace and intensity of the Premier League when he first signed for Chelsea, believes that Ozil's mental fragility has served to exaggerate his decline and is concerned that his compatriot is showing no signs of improvement.
He ruminated on Sky Sports: "What's happened with him? I don't know. There must be something behind [the scenes] because his head is mostly down, the body language is not improving even with the world champion [medal] in the pocket.
"I don't really know what's happened over the last year since he moved from Madrid to Arsenal.
"A player like him with his ability should have tried to stay longer at Real Madrid. That is my opinion. You could see there was a little bit trouble, a little bit moaning. I think he played well but you need time to adapt at a club.
"If there is some ups and downs [at a club] you need to fight these things and now it's a little bit the same situation. He got criticised here [at Arsenal], he's not at his best but I don't see a reaction.
"A player like him with his ability should show a reaction but he never was the strongest player in terms of fighting, body language. That's his weakness – especially in these situations now when he can't use his technique and his vision."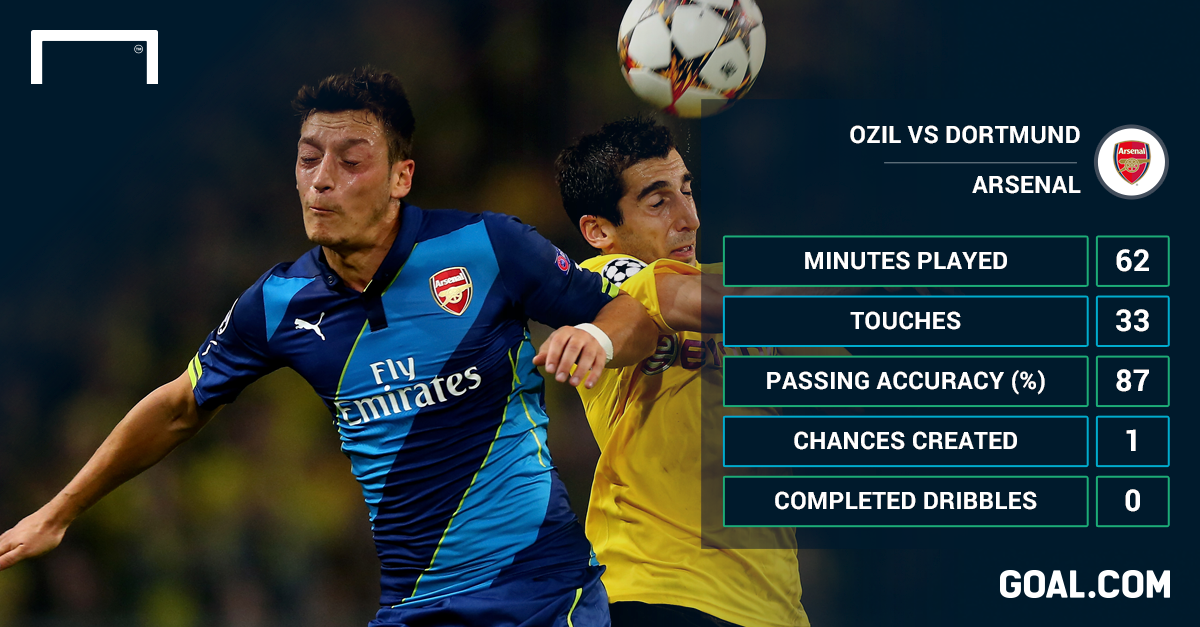 Arsene Wenger has been criticised this season for shunting Ozil out to the wing rather than play him in his preferred No.10 role but Ballack insists that the Frenchman should be trusted to get the best out of the club's €50 million record signing.
He continued: "When you a buy a player like Ozil, you know his strengths and Arsene Wenger knows, I think, where he is at his best. If [Wenger] thinks he can help the team more as a No.10, I think he would put him at No.10.
"In his younger ages, when he grew up from Schalke and Werder Bremen, [Ozil] was mostly in the [centre of] midfield so he felt very comfortable there but, in terms of pace, he's good on the side as well. But he needs to learn how to defend as well because, on these winger positions, you need to defend. At this level, if one player's out you have no chance."