The Arsenal star has been outshone by his Bayern Munich counterpart this season and must pick up his form or face Joachim Low's axe
COMMENT
By John C Brandi
When Mario Gotze's €37 million move from Borussia Dortmund to Bayern Munich was confirmed last April, the then 20-year-old was the most expensive German ever. He held the title for just a few months. At the end of the summer, Mesut Ozil had smashed it, having swapped Real Madrid for Arsenal for €50m.
Back in September there was no doubt whom the superior player was: Gotze was injured and on the fringes of Pep Guardiola's team, while Ozil had made a flying start to life in the Premier League.
He had set up a goal just 11 minutes into his debut against Sunderland and backed it up shortly afterwards with a spectacular goal against Napoli. Things soon went awry though. Even before a shoulder injury ruled him out of a sizeable chunk of Arsenal's festive fixtures, the steady stream of assists and goals had dried up.
It was strikingly similar to his form at Madrid: all too often, he could provide some great moments for the highlights reel, but drifted in and out of matches, with his body language suggesting he was uninterested.
Ozil's shy nature and sometimes casual play has always made him a target for critics and so it has proved in London. In the last two months he has made only two assists and no goals, and press reviews of his Premier League career have been mixed at best.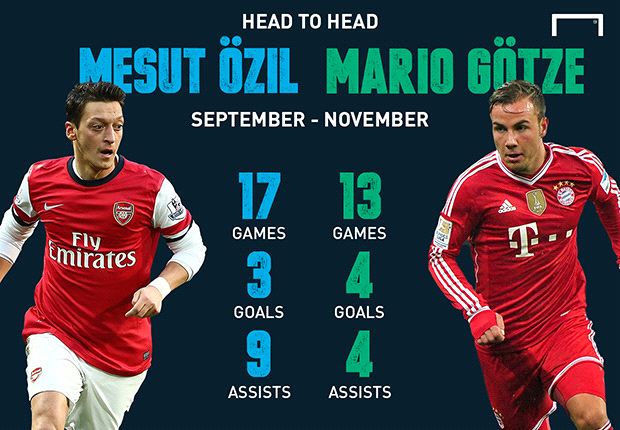 Flying Start | Ozil came out of the blocks quicker than Gotze this season
Is he going through a lull? Like many of his team-mates, Ozil was in poor form for the 5-1 defeat to Liverpool at Anfield at the beginning of February, but Arsene Wenger was quick to protect his asset. "He works very hard to adapt. For me he's an exceptional player.
"He is too obsessed with making the perfect pass when he could take a shot on goal."
As Ozil was hitting the buffers in London, Gotze was getting into gear in Munich. After beginning the season injured, it took him a while to reach his peak. But when he finally obtained full fitness, he showed that he was worthy of a place in Pep Guardiola's side, despite being his second-choice signing after Neymar. His versatility also proved to be a useful tool. Gotze has played in his preferred central position, on the right, on the left, and even as a false No.9.
His return to Dortmund was a bittersweet triumph as his introduction off the bench was the trigger for a 3-0 win and he was particularly impressive in the 5-0 thrashing of Eintracht Frankfurt. Question marks have been raised over his ability as a striker, not least by Franz Beckenbauer, who claimed the 21-year-old was being "wasted" up front, but his form has been overwhelmingly positive.
His performances just behind a front man give Ozil serious cause for concern. He may be elegant, a mainstay of the Germany team and perhaps the leading No.10 in the modern game, but he has gone missing in big games, leaving the English public wondering what he is truly capable of.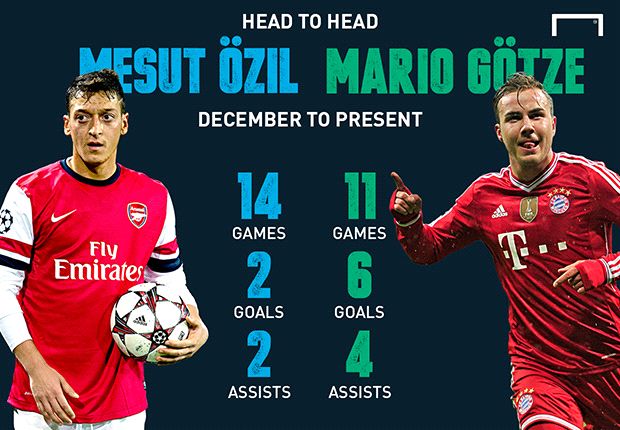 Gotze takes off | The younger German has come into his own since December
Joachim Low, who will be in attendance when Gotze and Ozil meet at the Emirates on Wednesday, will be reassessing his options. There's little doubt as to which player has been in better form and only one can play behind the striker.
Low has always stood by his players and Ozil will be no different, but with Marco Reus and Thomas Muller's places on either flank assured, Gotze's form poses an interesting dilemma ahead of the World Cup.
A strong performance against Gotze, and Bayern, in the last 16 of the Champions League, would go some way to showing Ozil's critics that he's still number one.