Aston Villa have announced the signing of Jordan Nobbs on an 18-month deal from Arsenal, bringing an end to her 12-and-a-half year association with the Gunners.
The England midfielder, who has won 69 international caps, has an option in her contract to extend her stay with Aston Villa.
During her time at Arsenal, Nobbs won three WSL titles, four Women's FA Cup trophies and five Women's League Cups. Her contract was set to expire at the end of the current season.
In an emotional letter released by Arsenal following her departure, Nobbs charted her Gunners career from joining at 17 years old to her farewell at London Colney on Tuesday.
Writing on Arsenal.com, Nobbs said: "It's been a crazy journey and I'm so proud that I've been able to see all the ups and downs, all the development and growth, and to really be able to say that I've been a part of it. People say 'It's only football' but I've given every single part of my life to this club. Arsenal will always be my home. Arsenal will always be my family.
"From the minute I came here at 17, every part of me was dedicated to this club and working hard to become one of the best players Arsenal has ever seen. How do I become the next Jayne Ludlow? The next Kelly Smith? And how do I keep up with Kim Little?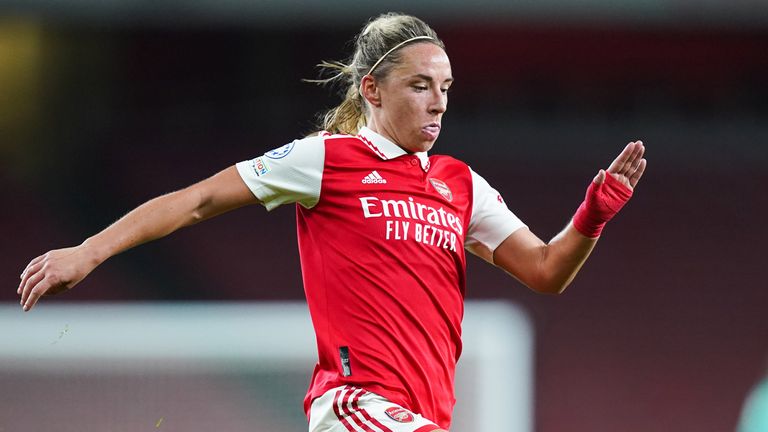 "Every single time I put on that shirt, I gave so much of my life to it because I knew how important it was to play for this club, and I knew how much passion and love was in the girls when I first arrived. To know I've played my part in creating that legacy is something really special.
"If I'm being completely honest, I'm finding it really hard to talk about all of this right now. There's so much for me to look back on and writing this has dug up a lot of really special, important and emotional memories. I've cried a lot over the past few days because I knew this was coming and now the reality of it all is really settling in. There's a saying that you shouldn't cry because it's over, you should smile because it happened, but I'm allowed to do both, right?
"I said my goodbyes to my team-mates on Tuesday and I cried from the second I walked in, to the second I left, because this is my home. It's everything I've known for the past 12 years and now I'm having to say goodbye. I know it's not really goodbye, but this part of my life is over now and it's one of the hardest things I've ever had to do.
"I'm leaving the love of my life behind and that's something really quite scary for me. But I've got no regrets in my mind because it's been the perfect fairytale and I've achieved everything I ever wanted to and a whole lot more.
"From the bottom of my heart, I just really hope that you will all remember me as a player who wore their heart on their sleeve and would give anything to play for Arsenal. Hopefully, I've been someone that when you think of Arsenal, you think of my name because of what I've done and given on the pitch because that's all I've ever wanted.
It's amazing. It's a huge change for me but I'm up for the challenge and super excited to get started. As soon as I spoke to Carla and saw the drive within this team, I wanted to be a part of that. Since I was little, I've always loved a challenge and as soon as I heard what they wanted to do and the future of this club, I wanted to be a part of that.
"There was never going to be an easy way for me to leave Arsenal. It was always going to hurt. But I know I'm leaving with my head held high because there was never a moment that I didn't give my all for this football club.
"I will always love this football club. Thank you, Arsenal, for everything."
Mead: No one will ever be as great as Nobbs at Arsenal | Ward: She's a winner
Nobbs joined Arsenal in August 2010 from Sunderland, and went on to cement herself as a club and WSL legend. However, she has struggled for game-time since head coach Jonas Eidevall's arrival in the summer of 2021 and will now look to secure her place in England's 2023 World Cup squad at Villa.
Arsenal forward Beth Mead paid tribute to her former team-mate on Twitter, saying: "That's my bestie, @JordanNobbs8 no one will ever be as great as you here, you've done so much for this club, this team and most of all me. I'm going to miss you like crazy but no doubt you'll smash it up at Villa. They are lucky to have you. Love you my Jordy."
In an official comment from Arsenal, sporting director Edu Gaspar said: "Jordan has been a wonderful servant to Arsenal Football Club.
"Over the past 12 years, she has written her name into the Arsenal history books and forged a deep connection with our loyal supporters. We would like to wish Jordan health, happiness and success on and off the pitch in the future – she is a member of the Arsenal family for life."
Head of women's football Clare Wheatley added: "Jordan has been an integral part of this football club for over a decade and her contribution and achievements are clear to see. She embodies what it means to be a Gunner and will go down as a true Arsenal legend.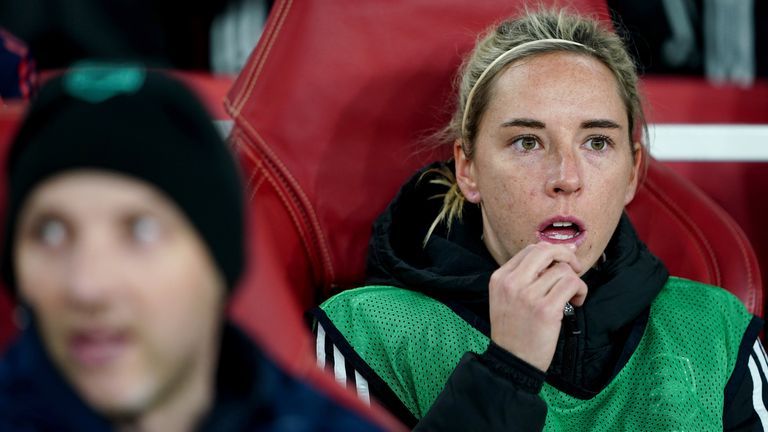 "We wish her all the very best in this next chapter and look forward to welcoming her back here as our guest whenever she likes."
The move marks another landmark signing for Aston Villa, with manager Carla Ward saying: "This is a big signing for us and Jordan is one of the country's most decorated footballers.
"She's a winner and will bring a wealth of experience that her new team-mates will thrive off.
"We're delighted to secure her signature and we hope this move can help the football club as well as cement her place back in the international set-up."
Analysis: Another big move ahead of World Cup | Villa transfer strategy rivalling top teams
Sky Sports' Charlotte Marsh:
"We are only five days into the January transfer window and there have already been two huge transfers, both involving Lionesses.
"Bethany England joined Tottenham on Wednesday from Chelsea in what is thought to be a British-record move. Now, Arsenal and WSL legend Jordan Nobbs has made a surprise move to Aston Villa and there's a few threads to unpick.
"Firstly, Nobbs was not playing much under Jonas Eidevall. Arsenal are expected to strengthen this January, especially given the absence of injured duo Vivianne Miedema and Beth Mead. This would likely further have restricted Nobbs' already limited minutes.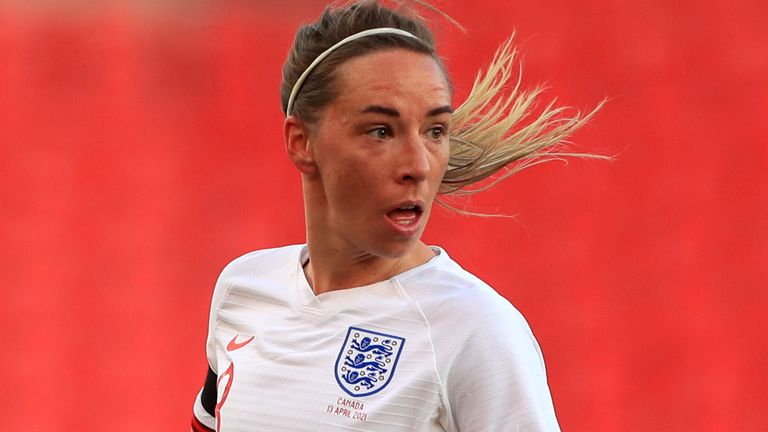 "We are also six months out from the World Cup. Sarina Wiegman is ruthless with her squad selections – only the best and most in-form players will be making it to Australia and New Zealand. Nobbs has to be visible to secure her place.
"At the age of 30, it could be her final chance at a World Cup title, having been part of the squad that finished third at the 2015 tournament – a moment that proved to be a catalyst for change in the women's game in England.
"Her recent history with tournament selection has been particularly heart-breaking. She was ruled out of the 2019 World Cup and Euro 2022 through injury and was not selected for the 2020 Tokyo Olympics. The 2023 edition represents England's best chance to win the tournament, and who would not want to be involved in that?
Highlights of the Women's Super League match between Aston Villa and Arsenal

"Then there is Aston Villa's recent transfer approach, which is proving to be inspired and rivalling those of the top four teams. Nobbs is another sensational acquisition and follows the arrival of fellow Lioness Rachel Daly in the summer, who has miraculously transformed from talented full-back into a potent forward.
"Carla Ward is cultivating a competitive and talented squad. It's another link between the two clubs too with Anna Patten in her second loan spell at Aston Villa from Arsenal.
"It would have been a tough decision for Nobbs to leave a club she has spent so long at, arriving as a teenager. After over 250 appearances, 12 major titles and spearheading the success of Arsenal's women, she truly epitomises the term 'club legend'.
"She has also been at the epicentre as the women's game continues to grow in England. Now, she will continue to do the same at Aston Villa."
Spurs sign England in British-record deal
Tottenham signed striker Bethany England from Chelsea on Wednesday for a domestic record fee for a British player in the women's game.
The deal is worth a reported £250,000 and breaks the current record which was set by Lauren James' £200,000 move from Manchester United to Chelsea in 2021.
England has signed a three-year deal at Spurs and will wear the number 19 shirt.
The 28-year-old leaves Chelsea after seven years at the club, having scored 74 goals in 164 appearances for the Blues where she won nine major trophies.
WSL transfers: Who could move, who could stay & contract updates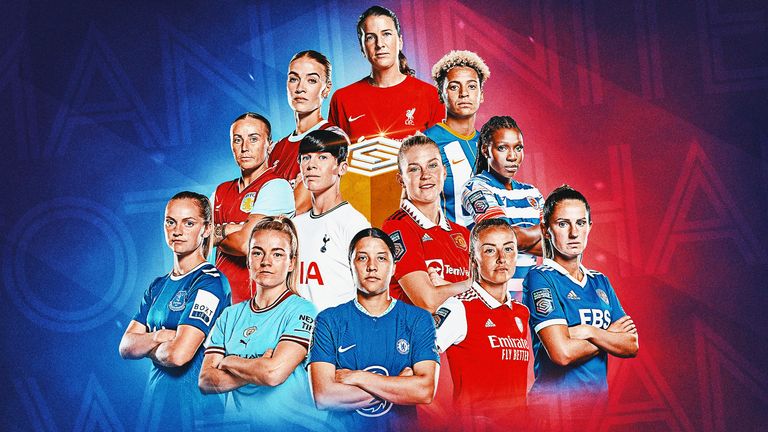 The Women's Super League might currently be on its winter break, but with four teams still in the race to win the title, and plenty of drama unfurling at the bottom of the table, this month's transfer saga will be a compelling one.
Here's how the January window is shaping up away from England's move.
Chelsea are still yet to make any acquisitions of their own after a busy summer, packed with new signings.
Arsenal are looking for attacking replacements, with both Beth Mead and Vivianne Miedema sidelined with long-term ACL injuries.
Manchester United are proving to be far busier than their neighbours, with all focus on making a real splash in this winter's transfer window.
Manchester City are not looking for any more short-term signings. Having lost Lucy Bronze, Georgia Stanway and Kiera Walsh this past summer, the emphasis seems to be on an internal rebuild – or as Gareth Taylor says, 'roll with the punches'.
Liverpool have already reunited with their former captain Gemma Bonner, who returned to the club for a second spell on January 1.
Follow the January transfer window with Sky Sports
Who will be on the move this winter? The January transfer window opened on Sunday January 1, 2023 and closes at 5pm on Tuesday January 31, 2023 for domestic WSL deals and midnight for international deals.
Keep up-to-date with all the latest transfer news and rumours in our dedicated Transfer Centre blog on Sky Sports' digital platforms. You can also catch up with the ins, outs and analysis on Sky Sports News.
Adblock test