Gary Neville believes Arsenal need to remain focused and "do their job" despite losing top spot to Manchester City on Sunday – as "strange things" can still happen in this title race.
City moved top of the table for the first time since February as Pep Guardiola's side won 2-1 at Fulham, to cap off a good week which saw them beat Arsenal 4-1 on Wednesday night.
The reigning champions are now one point clear of the Gunners with a game in hand, and while Mikel Arteta's side can go back to the top of the table by beating Chelsea on Tuesday, City host West Ham 24 hours later in a chance to regain their lead. Both games are live on Sky Sports.
"I think Manchester City will win the league," said the Sky Sports pundit on the Gary Neville Podcast.
"Still, things can happen. We have seen where a powerful team goes in front but then struggle, like Arsenal have had in the last few weeks.
"The year that City won the league for the first time in 2012, United got in front of them and everyone thought: 'Oh here we go, they are going to power forwards' and they didn't, they stumbled.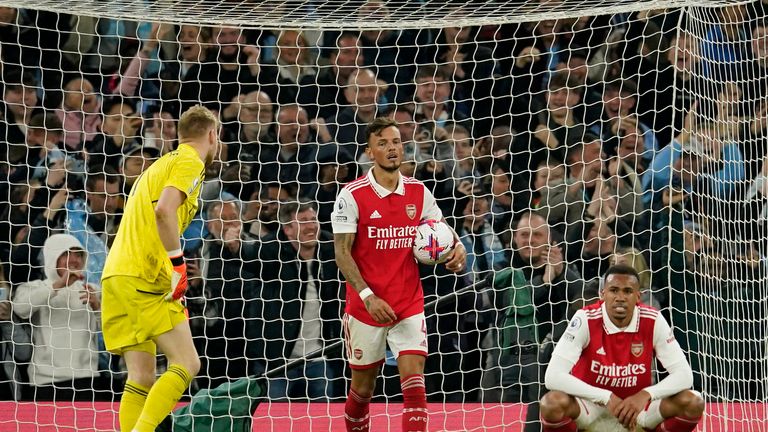 "So Arsenal have got to keep going, it's about keeping teams honest at this time of the year. I use that phrase a lot with four or five games to go.
"Where you don't want to be – and I had it at my first season at Manchester United – is where we didn't win at West Ham on the final day and then Blackburn didn't win at Liverpool and if we had won, we'd have won the league.
"So you just have to make sure you do your job. And I think if you're Arsenal, make sure you are not looking back in three weeks time thinking: 'Oh we thought we lost it. But if we had beaten Chelsea and Newcastle we would have won it as City dropped points.'
"Arsenal have to recover in time for Chelsea on Tuesday night and Sunday against Newcastle."

Tuesday 2nd May 6:30pm


Wednesday 3rd May 7:00pm


Kick off 8:00pm

Why everything is clicking for Man City
When City beat Arsenal at the Emirates Stadium in February, everybody expected Guardiola's team to run away with the title from there.
But City handed initiative back to Arsenal by immediately drawing with Nottingham Forest. The reigning champions avoided such a setback against Fulham on Sunday, but Neville believes that 1-1 draw at the City Ground three months ago was a wake-up call for City.
"I saw Ilkay Gundogan's interview over the weekend and it really resonated with me," he said. "He said the Nottingham Forest game woke them up and I get that.
"There's a game where you go: 'That's enough now, enough of that rubbish. Conceding against one of the bottom teams in the league with two minutes to go?' Well done to Nottingham Forest but that's not what you do if you're at the top of the league.
FREE TO WATCH: Highlights of Fulham against Manchester City in the Premier League

"That was the last game where Pep Guardiola was rotating and fidgeting around with his back four. Instead, it's got really serious and they've had to switch on.
"That resonates with me. Sir Alex Ferguson was a rotator and would trust the squad but then he'd say: "Right this is it, we want seriousness and concentration." And you'd really start to get serious. That's what they've done: Manchester City have gotten serious about their work and Arsenal have wobbled."
Haaland is Kane, Rooney and Ronaldo combined
Gary Neville discusses Erling Haaland's remarkable feats from this season after the Manchester City forward hit a landmark of 50 goals in all competitions so far during his incredible 2022/2023

And at the centre of City's title push is striker Erling Haaland – who notched his 50th goal of the season by scoring an early penalty at Fulham.
"We have become accustomed to watching Manchester City over the last few years and talking about the passing, possession, the brilliance of it," said Neville. "But if you ever asked me who I would rather watch out of the two teams, I would rather have watched Jurgen Klopp's style of play.
"But I love this version of Manchester City more than any other of the Pep Guardiola teams over the last four or five years. And that's because of Haaland.
"He is a battering ram of a centre-forward with a brilliant finish and is something really special. If you are watching him play, you are watching something unique. It's the same with Kevin De Bruyne, he is unique. But Haaland is truly unique.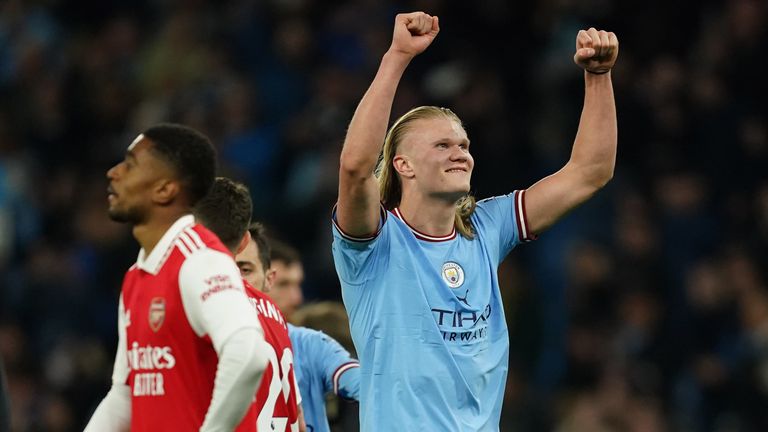 "He's a player that very rarely graces this league, they are normally at Barcelona or Real Madrid. In time gone by, maybe they would be at PSG. But very rarely do we have a player who would be considered in the top couple in the world as they arrive.
"We normally have players who emerge into that after signing in this league. It is usually that those players would then go into those aforementioned clubs. But Haaland is a world star, who has come as a world star and is performing like a world star.
"Haaland has got the finishing of Harry Kane, the power of Wayne Rooney, he is unbelievable. Even the Brazilian Ronaldo, the power that he had when he ran, the explosion off the mark. Haaland is like four players in one.
"During the season, many questioned and I was one of them: Does Pep actually like having a player like that? At times it has looked a little bit dysfunctional from how Pep likes to play.
"But it looks like that harmony is coming at the right point in the season where those moments where he delivers contribute so much more than when they had the perfection of everybody else that played."
Man City's remaining fixtures
May 3: West Ham (H) – Premier League, kick-off 8pm, live on Sky Sports
May 6: Leeds United (H) – Premier League, kick-off 3pm, live on Sky Sports
May 9: Real Madrid (A) – Champions League
May 13: Everton (A) – Premier League, kick-off 3pm
May 17: Real Madrid (H) – Champions League
May 21: Chelsea (H) – Premier League, kick-off 4pm
May 24: Brighton (A) – Premier League, kick-off 8pm, live on Sky Sports
May 28: Brentford (A) – Premier League, kick-off 4.30pm
June 3: Manchester United (N) – FA Cup final, kick-off 3pm
Arsenal's remaining fixtures
May 2: Chelsea (H) – Premier League, kick-off 5.30pm, live on Sky Sports
May 7: Newcastle (A) – Premier League, kick-off 4.30pm, live on Sky Sports
May 13: Brighton (H) – Premier League, kick-off 3pm
May 20: Nottingham Forest (A) – Premier League, kick-off 5.30pm, live on Sky Sports
May 28: Wolves (H) – Premier League, kick-off 4.30pm
Neville: Spurs are a shambolic mess! | Man City's title to lose | Haaland is truly unique, the PL is lucky to have him
Gary Neville and Martin Tyler discuss a whole host of topics after a crazy game at Anfield between Liverpool and Tottenham Hotspur.
They take a look at Manchester City's pivotal victory at Fulham and how Arsenal keep battling through as they slip to second in the Premier League title race.
Adblock test