The Spaniard has added a greater sense of attacking purpose to the defensive foundations laid by David Moyes, much like Arsene Wenger did after succeeding George Graham
COMMENT
By Ewan Roberts
"It is a long time ago," quipped Arsene Wenger when asked if he saw any of his younger self in then Wigan manager Roberto Martinez. "But the dedication, certainly, yes. He has a positive philosophy. Above all, what you want is that he tries to play good football."
The two managers, who meet on Sunday in a match that will be influential in deciding whether it is Everton or Arsenal who claim the final Champions League place, are perhaps the most like-minded coaches in the Premier League. Both value vibrant attacking play, both prioritise the nurturing of young talent, both have reinvigorated clubs from the ground up.
Both deal in firsts, too; whether it be the first ever unbeaten campaign in a 38-game season, or the first FA Cup title in the 82-year history of town more associated with rugby than football.
Having already ended a 21-year wait to win at Old Trafford in the short time since he was appointed Everton manager, the next hoodoo on Martinez's agenda is finishing above Arsenal for the first time since 1987-88 – a feat that, if achieved, would see the Gunners place outside the top four for the first time in Wenger's reign.
For so long the rest of the Premier League had been left trailing in Le Professeur's wake since he swapped Nagoya Grampus Eight for Highbury; the Frenchman brought never-before-seen meticulousness to English football. The rest of the country, in part due to the influx of progressive young managers like Martinez, have caught up.
While Wenger discouraged alcohol, altered diets and even monitored the temperature on the team bus, Martinez has taken to lining the walls of the training ground with motivational imagery and intends to spend a large chunk of the £40 million made from player sales on building bedrooms at Finch Farm and transforming the day-to-day routine of his players.
In some respects the Spaniard has even overtaken his once revolutionary counterpart. While a somewhat mystified Wenger has promised to "analyse deeply" the plague of injuries that continues to savage his squad, Martinez, a qualified physiotherapist, lives by the mantra that "every injury can be avoided".
Undeniably, both managers have not just set about altering and ingraining a defined – and typically un-British – footballing philosophy on the pitch, but have changed the very cultural fabric of their clubs off it.
Of course it is the style of the two managers that is most immediately obvious and, curiously, both inherited very similar sides. Wenger succeeded George Graham back in 1996, who had prioritised defensive solidity, with the famous '1-0 to the Arsenal' chant underlining that unspectacular efficiency, while the Everton squad Martinez took charge of last year was, under David Moyes, tailored towards pragmatism and resistance.
On Sunday, though, the meeting of the two sides promises to be a feast of football – were Graham and Moyes going head-to-head, one might expect a dull, turgid stalemate. Instead, both managers will be asking their sides to dominate the possession, attack in numbers and overload the opposition.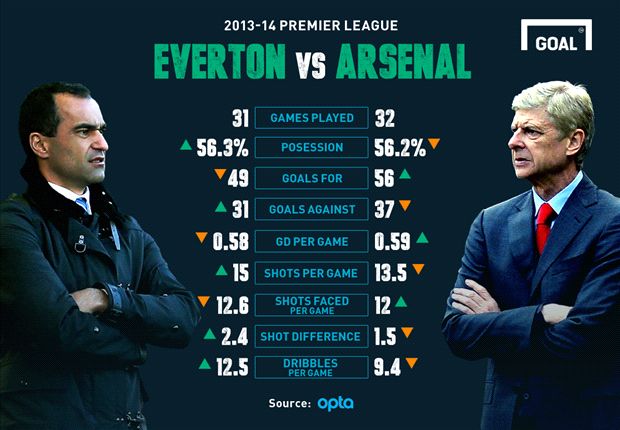 It is a tactic that has worked so effectively for Arsenal in the past; they are unbeaten on their last six visits to Goodison Park, while their 6-1 victory over the Toffees in 2009 remains their joint-biggest away win in the Premier League era. The Gunners have, in fact, won more league games and scored more league goals against Everton than any other opposition.
But that was against a side who, under Moyes, were built merely to take punches, not dish them out as well. Not so under Martinez, who has asked his players to ditch the "damage limitation" mindset previously advocated, a change that has been publicly welcomed by the dressing room.
Now the side play with confidence and authority on the ball, forcing other teams to react and retreat. In Moyes' penultimate season on Merseyside, his team averaged only the 11th-most possession in the entire division – with an average share of 48 per cent sitting lower than relegated Wolverhampton Wanderers. Under Martinez, the side's 56.3% average even outstrips Arsenal, albeit only marginally.
Both clubs have occasionally struggled to convert that dominance into goals and, despite boasting relatively miserly defences, have only a narrow margin between shots taken and shots conceded. Everton have averaged 2.4 shots per game more than their opponents, while that figure is just 1.5 for Arsenal. Manchester City lead the way in the Premier League with 7.6.
Former Swansea boss Martinez, though, has managed to extract a greater degree of ruthlessness – especially in recent months – compared to the Gunners, who boast the third worst final-third passes to shots on goal ratio in the division, 34.7 – a figure only West Brom and West Ham have exceeded – compared to Everton's 29.5.
In rather crude terms, that means they spend a whole lot of time not doing an awful lot with the ball, while the Toffees, so explosive and powerful, have a more surgical edge to their game. But perhaps this is not so much a case of Everton improving under Martinez's watch, though they undoubtedly have, but Arsenal's standards slipping.
This will be the first time in five seasons that they have not boasted the highest possession in the league, dropping from a high of 60.3% just three years ago. If it has been a conscious decision, one meant to move away from the cliched critique that 'Arsenal always try to walk it in', then it has not worked; the side are more toothless now than ever before, with their goal difference per game falling by 35% compared to last season.
That could be attributed to the absence of a genuinely world-class forward, yet in the 2009-10 season, when Cesc Fabregas topscored for the club with 15 goals, their goal difference per game was 87% higher than it is now, while they averaged 7.2 shots more than their opponents compared to just 1.5 now.
At present, then, Martinez is still enjoying the benefits of a squad that was designed to be defensively robust and which had been stocked with experienced heads under Moyes, while the addition of his own Catalan flair and sense of adventure on top of that rekindles the halcyon days of Wenger's early reign when the Frenchman's pass-and-move philosophy sat majestically upon Graham's uncompromising and merciless defence.
That domineering backline have long since hung up their boots, with Arsenal struggling in the intervening years, but the blueprint that was so successful for the Gunners is now being mimicked, perhaps even refined, by Martinez.
The Spaniard once remarked that he "doesn't believe in short-term success", and, should his side profit on Sunday, he has the chance to deliver the riches of top-level European football, and will do so playing a brand of football that will be hauntingly familiar to Wenger.
Follow Ewan Roberts on