Seeing as there isn't enough football on in England over the holiday season (if you don't count games on Boxing Day, New Years and everything in between), then why not turn to the big screen to get your football fix this Christmas?
There have been several football themed films over the years that either hold up as excellent films in their own right, or have a special cult hero status as a football film. 
Here are ten of the best to watch over the Christmas period (or any other time of the year for that matter). 
10. '89
Before we had the 'AGUEROOOOOOOO' moment, there was the 1988/89 First Division (yes football existed before 1993) title race – which is captured brilliantly in '89. 
Second-placed Arsenal travelled to Anfield to take on first-placed and seemingly indomitable Liverpool, with the away side needing a win by two clear goals to win the title. Not happening, right? Spoiler alert: it happens.
Including insight from the likes of Ian Wright, Lee Dixon and Paul Merson, '89 is an underdog story that shows the late drama of the beautiful game at its exhilarating best. 
9. The Four Year Plan The fly-on-the-wall documentary film chronicles Queens Park Rangers' climb through the Football League, from near bankruptcy in 2007 to promotion to the Premier League in 2011, with more than a few hiccups along the way.
Featuring a cast of characters that the best fiction could hardly produce, from co-owner Flavio Briatore and his consortium of billionaires to Neil Warnock, The Four Year Plan is a truly a fascinating, warts-and-all insight into the inner workings of a modern football club. 
8. Next Goal Wins Now if you want a real underdog story, then look no further than Next Goal Wins. 
Think Cool Runnings but for football. The film details pacific island American Samoa as they embark on a qualifying campaign for the 2014 World Cup – ten years after losing 31-0 to Australia. 
Rock bottom of the FIFA rankings with two goals scored in 17 years, Dutch coach Thomas Rongen embarks on the biggest challenge of his football career – trying to improve 'by far the worst standard of football' he'd ever encountered. 
As you might expect, it's about more than football and can be enjoyed by all the family, from those who love the beautiful game to those who just love shots of beautiful landscapes.
7. Goal! The Dream Begins
I may be showing my age here, but if you can watch Goal! and not get emotionally invested in Santiago Muñez's journey then quite frankly you need to ask Santa for a soul for Christmas. 
Santiago's journey from poverty in America to getting a shot at the Premier League with Newcastle United is full of emotional twists and turns that will leave you rooting for the protagonist come the end of the film. Ok, the dialogue is a bit ropey and the plot is highly predictable, but it's hard not to get swept up all the same. 
6. Bend it Like Beckham Anybody else get shown this film repeatedly in Religious Studies lessons at school? 
British Inidian Jess Bhamra wants to pursue her love of football despite objections from her strict parents. Racism, homosexuality and gender equality are all dealt with in this film, which also happens to feature a young Keira Knightley so there's that. It's also one of three films on this list to feature a (very brief) David Beckham cameo. 
5. I Believe in Miracles While Leicester City's 2016 Premier League win may be one of the greatest underdog stories in sporting history, Nottingham Forest's European triumphs (depicted in this film) under Brian Clough certainly make the top ten. 
Following his spell at Leeds (more on that later), Clough managed to pick himself up by getting Forest promoted to the first division, winning it, and tasting European success on two occasions. How long would it take you to do that on Football Manager?!
4. The Class of 92 Hello again Becks! The story of the famous Class of 92 that went on to dominate English football in the mid to late 90s is told brilliantly by the players themselves. 
Ryan Giggs, Nicky Butt, Paul Scholes, David Beckham and the Neville Brothers detail their time in the academy, and how they got their start in the first team. With cameos from lesser remembered members of that youth team such as Robbie Savage and Raphael Burke, the film provides an interesting insight into some of the greatest players in Premier League history and Phil Neville. 
3. The Damned United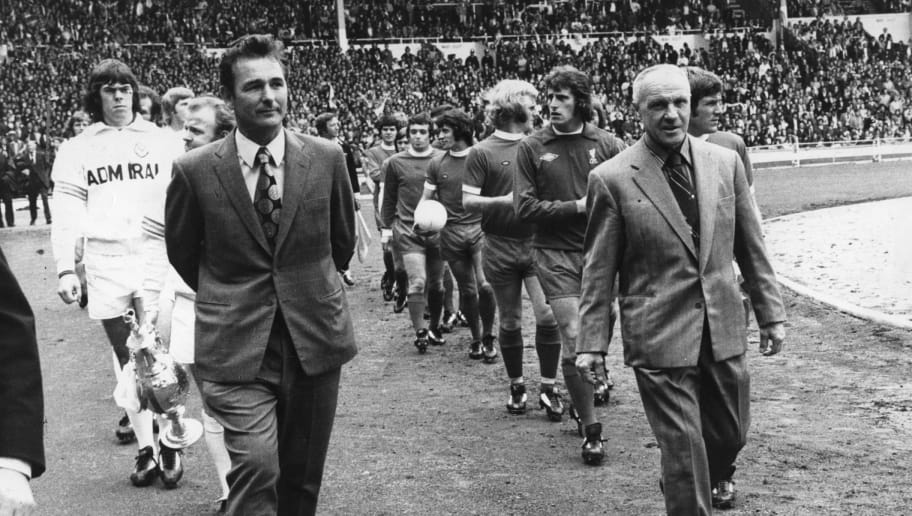 The original Special One. Based on David Peace's best selling novel of the same name, The Damned United is a depiction of legendary manager Brian Clough's 44 day reign at Leeds United in 1974. 
Michael Sheen brilliantly captures the charisma and egotism of a young Brian Clough, who struggles to succeed his long time rival Don Revie at Leeds. While many dispute the reality of the narrative in this fictionalised version of Clough's time at Leeds, there are few better sports management films out there.
2. Fever Pitch
We all have those friends that don't understand why we love football so much. The same that have told you on multiple occasions that it's 'just a game'. Making them watch Fever Pitch may go some way to explaining to them why it means so much to us. 
Based on Nick Hornby's bestselling book of the same name, Fever Pitch depicts Arsenal fan Paul Ashworth following his side throughout the 88/89 First Division season, and it shows the roller coaster of emotions that football fans are subjected to on a weekly basis.
1. The Two Escobars Fans of Netflix hit series Narcos may take some interest in this film. The picture details the tragic murder of Colombian defender Andres Escobar – ordered by Pablo Escobar's drug cartel – following his own goal in the 1994 World Cup. The goal eliminated Colombia from the competition, and it ultimately cost Andres Escobar (no relation) his life. 
The link between sports in the country and organised crime is explored, as you see just how big an influence Pablo Escobar had in his home country. 
Let'