Arsenal will need to produce something "miraculous" if they are to pip Manchester City to the Premier League title following their 3-3 draw with Southampton, according to Jamie Carragher.
The Gunners salvaged a point from a chaotic game at the Emirates Stadium thanks to late goals from Martin Odegaard and Bukayo Saka but could not find a winner despite creating a series of other chances during 10 nail-biting minutes of stoppage time.
Earlier, Carlos Alcarez had opened the scoring after just 28 seconds following Aaron Ramsdale's blunder, with Theo Walcott and substitute Duje Caleta-Car also on target for Saints.
Gabriel Martinelli pulled one back in between those Southampton goals, but the mood was one of deflation among Arsenal's players and fans afterwards as their dramatic comeback fell short of a winning goal, ensuring a third consecutive draw.
Arsenal sit five points ahead of Manchester City at the top of the Premier League table, but Pep Guardiola's side have two games in hand and welcome the Gunners to the Etihad Stadium in a potential title decider on Wednesday.
"Whether the point makes that much difference to Arsenal, I'm not quite sure," Carragher said on Sky Sports.
"They've probably got to go to Man City and get three points if they want to go on and win the league.
"It is still in Arsenal's hands, and we keep saying it, and it just shows you how far ahead they were.
"They've dropped six points in the last three games, and it is still in their hands.
"They did have a really sizeable lead, but they are going to have to do something miraculous now between now and the end of the season.
FREE TO WATCH: Highlights from the draw between Arsenal and Southampton

"But we've seen them go on runs before, certainly on the back of losing to Man City at Emirates Stadium. That was a big disappointment, but they went on to win the next seven games.
"They've got six games to go now, and they will have to go and do something special between now and the end of the season to win it.
"The way the game went against Southampton was exactly what Arsenal didn't want.
"There were mistakes, it was emotional, and the game was end-to-end. They just wanted to win the game and 2-0 or 3-0 against Southampton, who are bottom of the league.
"Most people expected them to do that but when you go a goal down after 30 seconds it becomes a game they didn't want."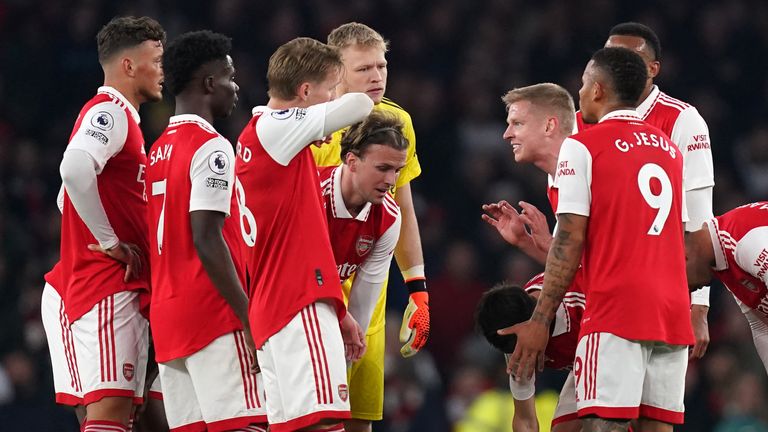 Carragher rejected suggestions Arsenal must beat City to have any hope of going on to win the title, however, insisting a draw at the Etihad would still be a good result.
"Of course, Arsenal will go there and want to win the game and they will try to win the game," he said.
"If they do draw the game, what is Mikel Arteta going to say at the end of the game?
"Man City will still have tough games. They have got to go away to Brighton and to Everton, they will not be easy games.
"Of course, Arsenal have other tough games but what I don't think Arsenal should do is, if that game is in the balance with 20 minutes to go, they shouldn't do something stupid in terms of thinking they have to win the game.
"They want to win the game, but don't lose it. If they lose the game, it is over, it's finished. A draw is not the end of the world going to Man City. You have to keep it going as long as it can possibly go."
Neville: Arsenal wobbling like crazy
After drawing their third straight game in the Premier League, Jamie Carragher and Gary Neville question whether Arsenal now need to win at Manchester City next week if they're to go on to lift the Premier League

Gary Neville, meanwhile, feels Arsenal may benefit from being the underdogs at the Etihad Stadium, but fears they are showing the strain of a long season and says the outcome is likely to depend on their mental state going into the game.
"It's the one game in the run-in that Arsenal are not expected to win," he said on Sky Sports at the Emirates Stadium.
"So, can they condition their minds away from games where they are facing the bottom of the league in Southampton or West Ham, who are near the relegation zone
"This is the one game they have left where everyone will think Man City are favourites. Does that take the pressure off the Arsenal players and free their minds? Because they have definitely got a little more tense in this last couple of games.
"There are things we are seeing that are not Arsenal-like from the rest of the season.
"They haven't got that freedom of play and they aren't creating chances like they have done in the past. They did start to create chances in the final 10 minutes, but they didn't create much for a lot of the second half.
Arsenal manager Mikel Arteta admits he's disappointed to have dropped two points at home to Southampton but is pleased with how they fought back from two goals down

"It's a mentality thing now. It is making sure they rest, what they do this weekend and how they look after themselves. But also getting into a mindset of thinking, actually City have to win on Wednesday because they are at home.
"The Arsenal players have to go there and play with freedom and the excitement they have played with all season.
"The worry is they are conceding goals and City are experienced and they smell blood.
"There are all the hallmarks here of a team that are wobbling like crazy going to the line.
"They are looking fatigued, they are making mistakes, they look nervous and basically, they are not doing the things they have done in matches all season.
"They are all the hallmark signs of a team that are struggling to get through it.
"We'll see what happens. It's a magnificent game for them to look forward to but can they play at their best and with the freedom they could get by being underdogs."
Carney: Arsenal fighting but defence a worry
Karen Carney fears Arsenal's defensive struggles are their biggest worry heading to the Etihad.
"I said I didn't see how they were getting back into the game against Southampton but somehow, they are still in this race and scrapping.
"Do I think they can go to City and get the win? No, I don't, but I don't think Arteta could say anything else.
"This is about clean sheets too and at the moment, I don't see how they keep a clean sheet. The defence just doesn't look like it has any confidence and not themselves. That's a bit of a worry when you see how dominant City are.
"It's going to be a big ask but Arsenal are scrapping and fighting."
Adblock test