After putting in a man-of-the-match display against Paris Saint-Germain, the Colombian shot-stopper will be looking to continue where he left off against Basel this Wednesday
---
COMMENT
---
"I have two world-class goalkeepers. I can give them both games. If they do not play, you can't keep two world-class goalkeepers."
Lahm: Atletico are Bayern's first test
There are few better feelings in the life of a football manager than being vindicated after making an unpopular decision, with Arsenal boss Arsene Wenger knowing all too well about criticism when it's not always justified. When Wenger selected David Ospina over the Gunners' No.1 goalkeeper Petr Cech for their opening Champions League group stage game against Paris Saint-Germain, the majority of supporters reacted with surprise following the Colombian's infamous errors in last season's competition.
Wenger had a tough decision to make this summer as Ospina looked to secure a move away from north London in search of regular first team football. Various top flight European clubs showed keen interest in signing the shot stopper who had pulled off a string of fine saves throughout Colombia's Copa America Centenario campaign in the USA, but that interest was quickly rebuffed by Wenger and Arsenal who remained determined to keep Ospina at the club with fellow goalkeeper Wojciech Szczesny heading out on another season-long loan to Roma.
Following discussions with the Arsenal boss over his future, Ospina and Wenger came to an agreement where the 28-year-old would play the entirety of the club's Champions League group stage matches. The mutually beneficial arrangement allows Arsenal to keep their 'world class' goalkeeper at the club while Ospina continues to play at the highest level with audiences of millions watching him around the world. It can only be a positive decision for club and player if he continues to put in performances similar to that of the 1-1 draw at Parc des Princes, where if it wasn't for a wonder show from Ospina denying Edinson Cavani the scoreline could have been rather different.
Eight Premier League bosses accused of taking 'bungs'
Ospina is expected to rotate with Emiliano Martinez for the FA Cup matches while the latter features in the EFL Cup, but could he mount a credible challenge for Cech's No.1 spot?
Champions League winner Cech has been considered one of the best goalkeepers in world football for several years and he picked up the Premier League's Golden Glove award last season after keeping the most clean sheets. Despite a terrific season on paper it's worth noting that the recently retired Czech international made a handful of goalkeeping errors, specifically at his near post, which prompted many fans to suggest that Ospina could be closer to the starting XI than originally expected. Wenger's insistence at keeping the Colombian and rotating for the European games is similar to that of Barcelona, who have adopted the policy to give their international goalkeepers regular football.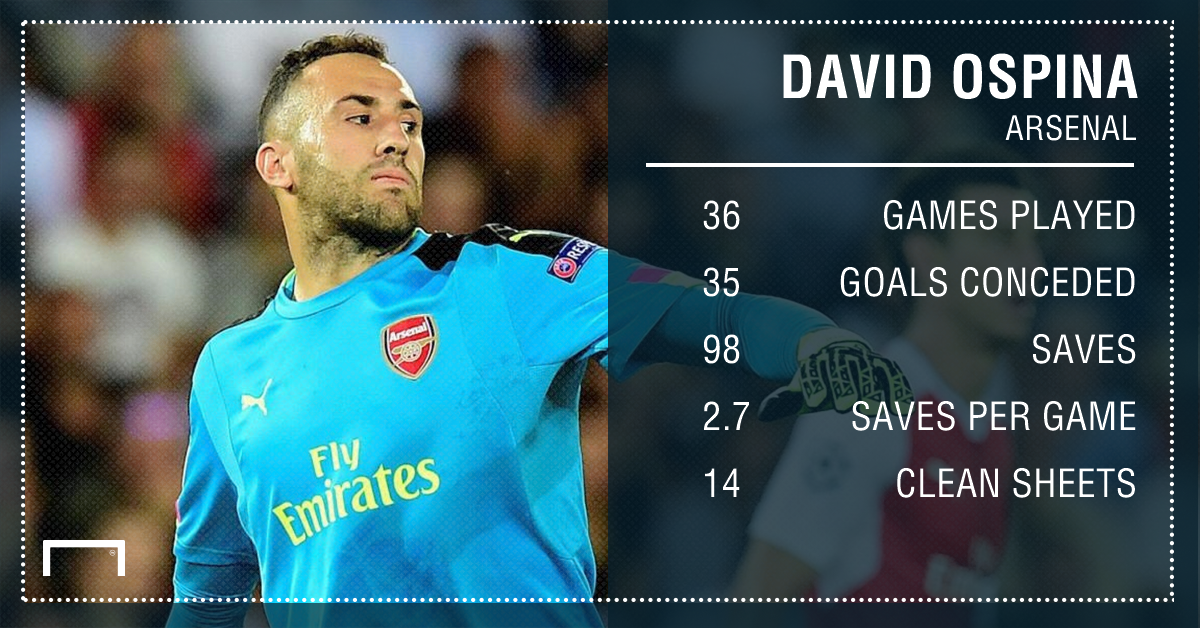 Statistically speaking Ospina has conceded 35 goals in 35 games while making an average of 2.7 games compared to Cech's 3.1, although the latter has made considerably more appearances. Ospina's performances for Colombia earned him a nomination for the Ballon d'Or in 2015 and this summer his shot stopping abilities were published across social media following an impressive campaign. At 6ft he has previously been written off for not possessing the traditional qualities of a top flight goalkeeper but he proved against PSG exactly what he can do, making save after save and looking dominant behind the sticks for a defensively vulnerable Arsenal side.
The five-year age gap between Ospina and Cech is another positive for the player. He will be hoping that an appearance in the Premier League isn't far off on the basis of his displays in Europe. It's been a frustrating wait for David Ospina but he's now proving those who once criticised him wrong by displaying all the qualities of a top class goalkeeper. Wenger always believed in him and he's being repaid with professional, world class performances that Ospina will hope can eventually lead to succeeding Cech as the club's No.1 shot stopper.