Pierre-Emerick Aubameyang was left out of Arsenal's squad to face Southampton over a disciplinary breach, Mikel Arteta said.
Asked why Aubameyang – who did not train with the Arsenal squad on Friday – was not included before the Premier League match at the Emirates, which the Gunners went on to win 3-0, Arteta said: "Unfortunately due to a disciplinary breach.
"I think we have been very consistent that we have certain non-negotiables in the team that we have set ourselves as a club, and he's not involved today."
Arteta added: "It's not an easy situation and not a situation we want to have our club captain in."
Ahead of Arsenal's match against Southampton, Mikel Arteta reveals that captain Pierre-Emerick Aubameyang has been dropped from the matchday squad because of a breach of discipline

After the game, Arteta faced further questions from the media, but the Gunners boss remained tight-lipped on the reasons for Aubameyang's absence, refusing to comment when asked if the striker had returned late from a trip abroad earlier in the week.
"You're not going to get anything else from me. Unfortunately it happened," he said.
"I explained what happened and the reason he wasn't involved and that's where I'm going to stay on it."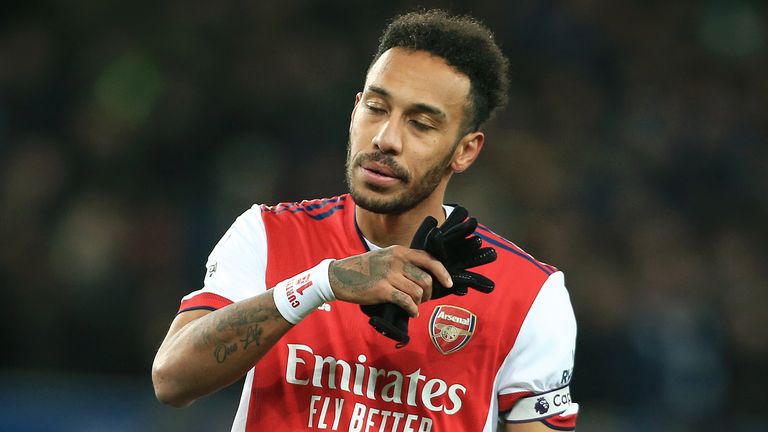 When Arteta was pressed even further in his post-match press conference, he did not say whether Aubameyang would retain the Arsenal captaincy or whether he would return to face West Ham on Wednesday. However, there did appear to be a nod from the Gunners boss when asked if Aubameyang's ban was for one game and whether he'd be back to face the Hammers.
It is not the first time Arsenal have had to take action against Aubameyang.
Arteta dropped his captain to the bench for the north London derby against Tottenham in March due to lateness. He was also reminded of his responsibilities by Arsenal back in February over a possible Covid-19 regulations breach.
FREE TO WATCH: Highlights from Arsenal's win against Southampton in the Premier League

Nev on MNF: 'Arteta, Auba relationship could turn sour'
On Friday, Arteta refuted claims there was an issue developing between the pair, after suggestions by Sky Sports' Gary Neville that there was a problem brewing.
The Arsenal captain was named on the substitutes' bench against Everton and only came on in the 85th minute, snatching at a late strike to extend his run without a Premier League goal to six games.
"I think there will be a problem with Aubameyang off the back of the this game," Neville said on Monday Night Football after Arsenal's defeat at Everton. "I don't think he'll like the idea of Eddie Nketiah coming on before him. I don't think he'll like the idea of being a substitute, full stop.
"There's always that little bit of a bug there between Arteta and Aubameyang. I know he's the captain but he leaves him out and it just feels like something that's a little bit awkward, and it's going to cause a problem.
Jamie Carragher says that defeat to Everton was a bad one for Arsenal and Mikel Arteta, while Gary Neville says the Gunners' experienced players are not providing the leadership their young players need.

"I suspect, if Arteta could probably get money for Aubameyang and he could get someone else, they probably would. And I bet if Aubameyang could move on he probably would as well because it could maybe turn a little sour."
Although Arteta was adamant any decisions were made purely for the benefit of the team, he did admit the barren spell in front of goal had dented the forward's confidence, saying: "Any decision is not personal but when a player is not scoring, it affects mood, confidence and belief – but you have to try not to accept it and feel sorry for yourself.
"It's all about patches and moments and when you are in good form and hitting the goals, then trying to maintain it as long as possible while also trying to reduce the time when they aren't in good form."
Questions remain over Aubameyang's absence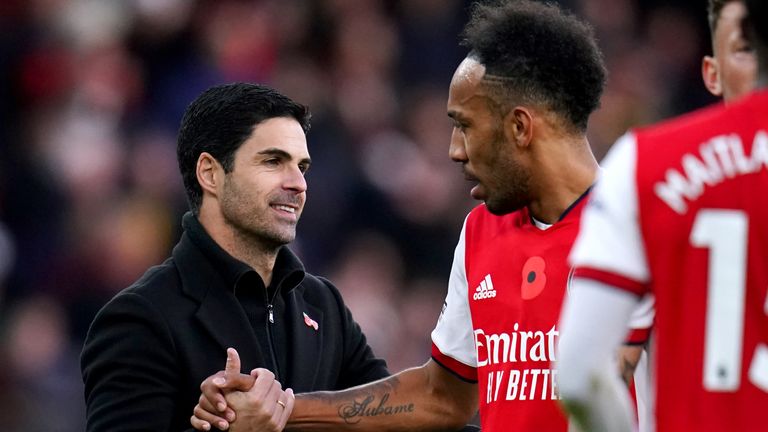 Sky Sports' Oliver Yew:
Question after question came for Arteta from journalists wanting to get more information on Pierre-Emerick Aubameyang's absence after Arteta had revealed his captain had been dropped over a 'disciplinary breach'.
But Arteta refused to give anything away.
Arteta said: "He had a disciplinary breach, that applies to everybody. That's a non-negotiable and when that happens, he's out of the team. Whatever happens in the dressing room, I cannot share. I am sorry. I'm telling you the reason, I cannot lie, it was that, this is where I stand. From my side, I will never [say what the breach was.]"
However, there are plenty of questions that remain unanswered as the speculation mounts as to Aubameyang's future at Arsenal after his latest disciplinary breach at the club.
Will the Arsenal skipper be available for that game? Is he still the Arsenal captain? Is there a problem between Arteta and Aubameyang?
When asked if Aubameyang's absence was for one game and whether he'll be back for West Ham, Arteta gave a hint he would be back in the squad with a nod, but when asked about the captaincy, the Spaniard reiterated: "Let's talk about the game, thank you so much."
There will be more questions to come for Arteta regarding his captain, starting with his pre-match press conference early next week before the game against the Hammers, and Arteta may have to come up with the answers if he wants to avoid any further distractions in the build-up to what is a huge game for the Gunners in the race to qualify for the Champions League.
Adblock test