Mikel Arteta has rejected the notion that the Premier League title race is done and dusted now Manchester City are top, with the Arsenal manager robustly saying: "This is not over".
Despite Arsenal leading the table for 247 days this term, they sit in second place for the first time since February after City beat Fulham 2-1 on Super Sunday to move one point clear of the Gunners with a game in hand.
Arsenal can move back to the summit if they beat Chelsea live on Sky Sports on Tuesday night, but City would then have the opportunity to move back in front by winning against West Ham 24 hours later.

Tuesday 2nd May 6:30pm


Kick off 8:00pm

"Now it is not in our hands," Arteta said. "What is in our hands is to win our games. That's what we try to do and the rest is down to City.
"I know what we're trying to do. We have the nicest part of the season to play with five games to go. This is not over. I would pay a lot of money to be in this position next season, believe me."
For Arsenal to win the Premier League, the Gunners realistically need to win their five remaining games and hope City slip up twice.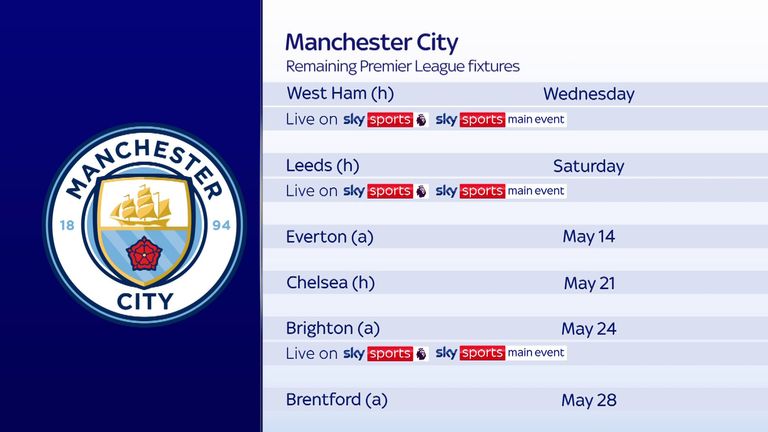 Asked what Arteta has seen in the last week to give him hope that City will drop the necessary points, the Arsenal manager responded: "How tough it is to win every single game.
"It's not something that I saw in last week, if not they would have won every single Premier League game and they haven't."
Despite losing 4-1 to City in a title decider last week, Arsenal still secured Champions League football for the first time since 2017 – but Arteta says that, nor the idea of second place, is something the Gunners are prepared to settle for.
"Within the disappointment [of the loss to City last week] and the spirit around it, there are two things: the first one is to recognise what a lot of people have done a the club to get us back into the Champions League, which was already a difficult thing to achieve and not a lot of people were optimistic that we had the ability to do that at the start of the season.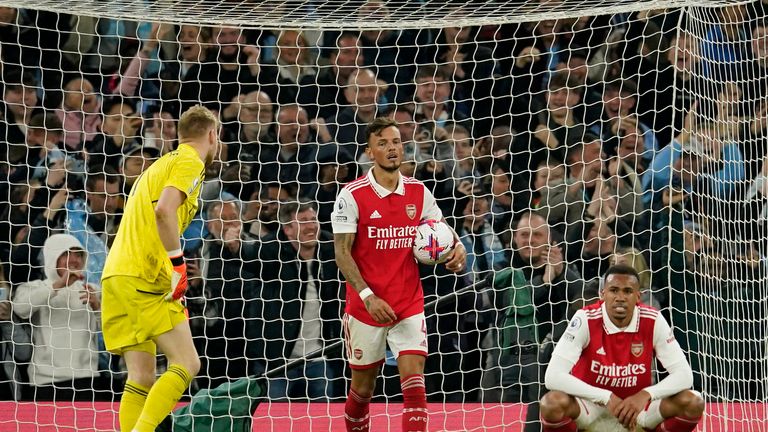 "The second thing, and this is what I like the most, is even after achieving this with six games to go – which is something that has not happened for more than a decade at this club – we are still not satisfied, we are upset and we want more.
"We want to be the club we want to be – to be consistently with the best. That is what I've loved the most about the last few days."
Lampard: Arsenal still in race | Auba fit to face Gunners
Chelsea caretaker manager Frank Lampard that his side 'are not in a great moment' and that opponent Arsenal are still in the title race

In the Chelsea camp, caretaker manager Frank Lampard says there is still enough "jeopardy" moments for Arsenal to get back in front in the Premier League title race, as he prepares to take his team to the Emirates Stadium.
Lampard knows the ins and outs of a Premier League title race having won the competition three times as a player and says Arsenal are still in the hunt.
"It could be either way," said Lampard. "They [Arsenal] are very much in the hunt still to win the Premier League. They are a fantastic team, and they are having a great season.
"If they're wounded slightly, they could have a big reaction. If we can make things difficult for them, then that could of course be different. It's a hard one to call."
When asked if Arsenal are still in the title race, he added: "Of course, there are enough games left for the element of jeopardy still to be there at the top of the table and the bottom.
"There are fully in it. Manchester City have shown some incredible form and we fully respect that, but we also have to respect what Arsenal have done this year. They will still believe they are in it and rightly so."
Lampard also insists Pierre-Emerick Aubameyang is "fit and ready" to face his former club on Tuesday night.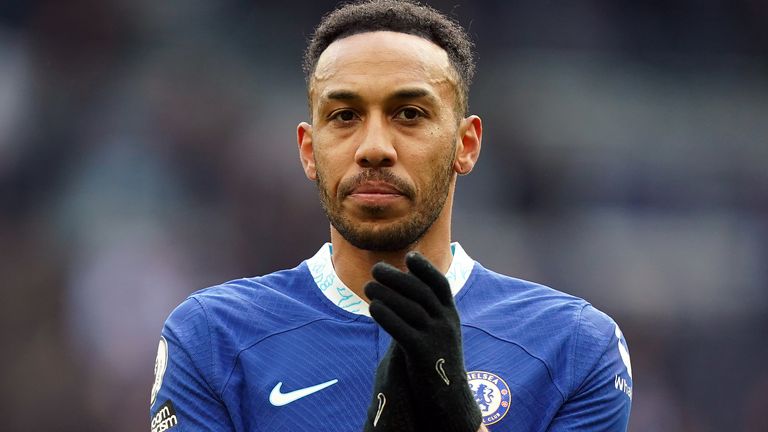 The striker, who has played just 190 minutes of football for Chelsea since the turn of the year, has been a bit part player for the Blues, but as the club's only recognised striker there have been calls for him to return to lead the line in a bid to end their struggles in front of goal.
Chelsea scored just one goal in April in seven matches, and asked if Aubameyang, who scored 68 Premier League goals in five season with the Gunners, could face his former side, Lampard didn't rule it out.
He said: "We'll see. I've got Auba, got Kai, got David Fofana. I'm not going to divulge the team right here, but Aubameyang is fit and ready."
When asked if Aubameyang's Arsenal connection comes into his thoughts for selection, Lampard added: "Possibly because we do think that a player going back to his old club can give a certain motivation.
"I haven't delved too much into that with Auba but I will pick that position on my feeling of how the players have trained and what the team structure looks like.
Arsenal's remaining fixtures
May 2: Chelsea (H) – Premier League, kick-off 8pm, live on Sky Sports
May 7: Newcastle (A) – Premier League, kick-off 4.30pm, live on Sky Sports
May 13: Brighton (H) – Premier League, kick-off 3pm
May 20: Nottingham Forest (A) – Premier League, kick-off 5.30pm, live on Sky Sports
May 28: Wolves (H) – Premier League, kick-off 4.30pm
Adblock test