After another 2-2 draw, would a second-place finish be a 'disaster' for Arsenal this season? Sky Sports pundits Gary Neville, Roy Keane and Jimmy Floyd Hasselbaink discuss…
For a second successive weekend the Gunners let a 2-0 lead slip, this time at West Ham. David Moyes' side fought back to come away with a 2-2 draw, just as Liverpool did a week previous.
Arsenal remain four points clear of Manchester City at the top of the Premier League table, although have played a game more. The reigning champions have won their last six games and are hitting form at the most vital part of the season.
With the title race set to go down to the wire, the Sky Sports trio had differing opinions on whether finishing second behind Man City would be a "disaster" for Arsenal.
Neville: Second not a disaster | Man City not winning league with Haaland is a disaster
Sky Sports' Gary Neville:
"Arsenal have got to think they can play Friday Night Football against Southampton and go seven points clear – and then they've got the game of their lives at the Etihad. If they win that game, they win the title. It's not doom or gloom for Arsenal tonight.
"There was a little bit of a demonstration in the last half an hour from the Arsenal defenders where they were doing things a bit more rash. The other thing was that West Ham finished the game with more energy, while Arsenal had a full week to prepare for it.
FREE TO WATCH: Highlights from the 2-2 draw between West Ham and Arsenal in the Premier League

"This title race began at Arsenal last week when you look at the fixtures. They have Newcastle away, City away, Chelsea at home and Brighton at home which will be difficult.
"If you said Arsenal would be challenging for the title at the start of the season, they would snap your hand off wouldn't they? Arsenal finishing second would still be an unbelievable season. They've gone from fifth. They've got young players. I'm not saying they won't be disappointed and heartbroken by it.
"What's happening now was always going to come. They were going to lose their nerve, lose their energy and make mistakes.
"That was a wobble today, but you're always going to have a wobble on the way to your first title. When Blackburn beat us for the first title in 1995, they had lots of wobbles on the way and they got over the line. And they stumbled over – and they might get there Arsenal, if they go that way.
"It's not a disaster. If I was Manchester City's players and I didn't win the league with Erling Haaland up front scoring 50-odd goals, with Jack Grealish and Riyad Mahrez as well – I think that would be a disaster.
"Last season, they (Arsenal) struggled to get over the line to finish in the top four. The same players are still there. It wouldn't surprise me if they struggled to get over the line to win the title. And if they didn't do it, I would almost half expect it. That was a huge setback – but Arsenal not finishing in the top four is not the same as Arsenal winning the league."
Arsenal's Martin Odegaard expressed his disappointment as he reflects on the draw against West Ham

Keane: No chance – Arsenal prioritised the league
Sky Sports' Roy Keane:
"It wouldn't be an unbelievable season. No chance. Second wouldn't be a successful season. They're out of all the cup competitions. The recruitment was good, they had a good start to the season. They were 2-0 up last week, they were 2-0 up again today, so these are huge moments.
"If they don't go on to win the league it's a huge disappointment. Arsenal have no distractions. They looked tired at the end [at West Ham], they were hanging in there against Liverpool last week. That's not a great message to say they're up for the fight and they're enjoying it. It's obviously playing tricks in their heads.
"In the last week or two, Arsenal have lacked composure, particularly when they've got into winning positions. They could still go on to win it because they're in a fantastic position if they can just keep their heads and have a bit of composure, but the question was if they were to finish second, it's a disappointment for Arsenal.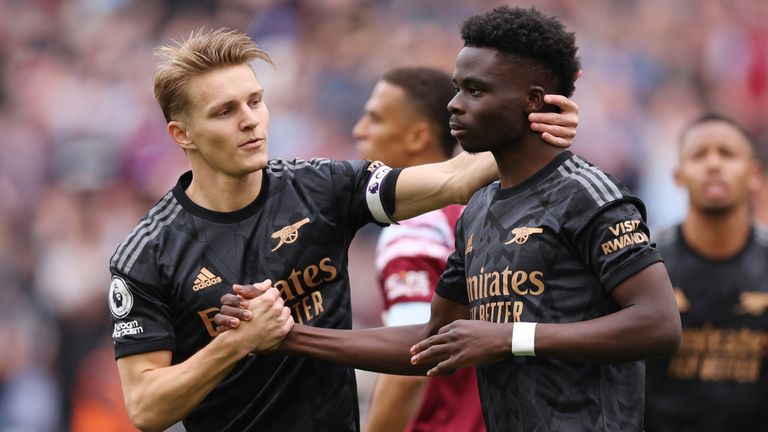 "Arsenal have made sacrifices by playing weaker teams in the cup competitions, so this has been their whole focus."
Hasselbaink: If you lead for the whole season, you must finish job
Jimmy Floyd Hasselbaink:
"They were seven points clear. It would be a disaster, you've been leading the whole way.
"To give it away in the last three matches, it's a disaster. If doesn't matter if you're not thinking to be No 1 at the beginning of the season, you've been No 1 for the whole way!
"We don't know what is going to happen next year, everyone is going to get stronger. They might not be in this position again. It's not a terrible season – but they would have given it away!
"It's there, it's there to be grabbed. You can smell it and for them not to get it, it's too hard. You still have to get to the finish line, it's going to be difficult – but you get the job done.
"They have drawn a game in which they were winning 2-0. If they lose away at Newcastle – you would think 'ok'.
"But they lost two points at West Ham – that will hurt more than losing at Manchester City away. You are not allowed to lose points at West Ham if you want to win the league."
Adblock test