Arsenal's record signing has produced only isolated moments of brilliance rather than consistent excellence and that must change if the Gunners are to overcome Bayern Munich
COMMENT
By James Goldman
In so many ways Arsenal and Mesut Ozil are the perfect fit. Stylish, economical, revered worldwide and yet frustratingly accustomed to failing to truly fulfil abundant potential.
The galvanising effect the German's signing had on a club desperate for a hero to worship has given way to a stark truth that Arsenal are no better placed for being able to boast Ozil's considerable talent than they have been at any other time in their recent history.
Arsenal have challenged for the Premier League title in three of the last six seasons (although their last two campaigns were undermined by an over reliance on Robin van Persie and subsequent failure to adequately replace him), while they are no strangers to the knockout phase of the Champions League and latter stages of domestic cup competitions.
And here they are again on the brink of everything and nothing, waiting, hoping and expecting Ozil to orchestrate a thrilling end to a season that could yet end in glory.
VIEW FROM GERMANY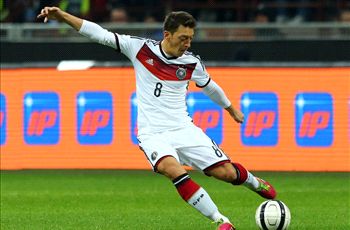 By Falko Bloeding | Goal Germany

Ozil's current lack of form is not that big a deal here in Germany at the moment, although it will certainly become more of a talking point if he fails to produce against Bayern Munich.

Ozil was voted best Germany international three years in a row by the fans and Joachim Low is a big, big fan of his.

The competion in Germany's midfield is fierce, but right now Ozil is still untouchable. If his indifferent form carries on for much longer and Mario Gotze continues to shine, things could change come the start of the World Cup. Although they could play together, especially if Marco Reus and Andre Schurrle continue to struggle.
Arsenal have reached this familiar crossroads as a result of a supreme collective effort but to banish any accusations of them being a club that specialises in failure, it will require Ozil to make the sort of telling contribution a €50m million player should be capable of, but one that right now he looks unlikely to provide.
In comparison with modern Arsenal greats who occupied a similar position on the pitch and drove the club to success, Ozil does not compare favourably with Cesc Fabregas in terms of leadership and aggression, nor is he able to dribble with the speed and grace of Robert Pires.
He will never score with the same regularity as Dennis Bergkamp, would do well to finish within spitting distance of Marc Overmars in a 100 metre sprint and does not possess the timing and anticipation of Freddie Ljungberg.
When you consider all of that you do wonder what prompted Arsene Wenger to obliterate the club's transfer record.
Of course, Ozil remains a joy to watch. Prompting, probing, "draining" the opposition with the intelligence of his passing as Arsene Wenger observed recently – a YouTube highlights compiler's dream.
As part of a relentlessly drilled and ruthless winning machine, however, where does Ozil fit in? What is his main function? It is still something of a riddle that Wenger is yet to solve.
He might well be the fulcrum of his national side and voted Germany's player of the year three years in succession but he was virtually anonymous during the latter stages of Euro 2012 and too young to make a telling impact on a World Cup semi-final against Spain two years previously.
As Jose Mourinho – Ozil's previous boss at Real Madrid – recently demonstrated with Juan Mata, the Portuguese has little time for luxury playmakers and dispatched Chelsea's two-time player of the year to Manchester United, for a handsome profit to boot. Strange, then, that he saw something different in Ozil, whose work rate and industry are hardly his main attributes.
MAESTRO MESUT?


OZIL'S SEASON SO FAR

GAMES PLAYED
GOALS
ASSISTS
CHANCES CREATED
SHOTS PER GAME
PASSES PER GAME
PASS SUCCESS
DRIBBLES PER GAME

31
5
10
79
1.1
64.5
86%
1.6

"He is unique. There is no copy of him — not even a bad one. He is the best No.10 in the world. Everyone loves him and sees a bit of Luis Figo and Zinedine Zidane in him," said Mourinho of the man who was a regular starter at the Santiago Bernabeu.
How, then, was the supposedly dour, pragmatic Mourinho able to get a tune out of Ozil when Wenger, with his commitment to artistry and attack, is able to illicit only the odd high note?
For a start Mourinho used the former Werder Bremen star sparingly, preserving him by regularly substituting him with 20 minutes or more remaining in matches.
For Arsenal, by contrast, Ozil has been withdrawn only three times before the 80 minute mark. It is no wonder the goals, none since early December, and the assists, only one in his last eight Premier League games, have dried up.
There has been little or no respite. From the whirlwind nature of his transfer to being thrust into the starting line-up at Sunderland, Ozil has been forced to learn on the job.
Several of his predecessors, Samir Nasri and Cesc Fabregas the most obvious examples, earned their stripes on the wing, a position Ozil occasionally filled under Mourinho, before they graduated to the centre. There has been no such settling in period for the German, handed the keys to the castle from the off and expected to perform miracles.
On the one occasion Ozil was shunted out to the wing it resulted in some of Arsenal's most fluent football of the season – a short 20 minute burst against Borussia Dortmund brought the best out of the 25-year-old and Santi Cazorla, a substitute that night, before they were caught with a classic sucker punch.
All of this is not to say Ozil has been a flop, a waste of money or an ill-advised purchase. The statistics from the first 20 games of his Arsenal career are almost an exact replica of his first 20 games of last season in terms of goals scored (4-4), chances created (56-56) and passing accuracy (83% – 88%).
The injuries that stunted Aaron Ramsey's season and ended Theo Walcott's have impacted on Ozil's form but he can neither afford, nor would want to, hide behind that as an excuse for his reduced output.
Put simply the real Mesut Ozil, the one who has earned a reputation as one of the world's finest midfielders, an international superstar and the Premier League's second most expensive footballer, must live up to that billing or this will be another nearly season for England's nearly club.