With appearances on the touchline often met by vocal displeasure from the Gunners' support, the 22-year-old must use the final 10 games of the season to prove his doubters wrong
COMMENT
By Alex Young
In a recent survey byPremier League sponsors Barclays, top-flight managers were polled on a variety of topics to the most impressive player and coaches to the changing tactical approach and the league as a whole.
One of the most interesting questions posed to managers was regarding "the three most important attributes for outfield players to have in order to succeed" in the top flight. "Tactical awareness" ranked top with 53 per cent of the vote, with "mental strength" and "confidence" coming in joint-second with 47%.
RAMSEY'S CAREER TIMELINE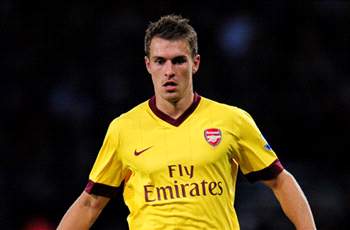 June 10, 2008

Having impressed in the Championship, the 17-year-old Aaron Ramsey signs for Arsenal from Cardiff City, with big things expected.
August 13, 2008
Ramsey makes his competitive debut for the Gunners against FC Twente in the Champions League preliminaries. His league bow comes exactly one month later.
October 21, 2008

The Arsenal starlet thumps home his first goal in Gunners colours with the final kick of the game, completing a 5-2 away defeat of Fenerbahce.
November 19, 2008

Ramsey breaks Chris Gunter's record as the youngest ever Wales international by taking to the pitch against Denmark.
February 27, 2010

Stoke City's Ryan Shawcross breaks Ramsey's leg in a crunching tackle; several months out recuperating set back his development.
March 26, 2011

Ramsey becomes the youngest ever captain of Wales when Gary Speed hands him the armband against England.
July 26, 2012

The Arsenal man comes on as a substitute in the first match played by a combined Team GB side at London 2012.
There are few players in the Premier League who appear to struggle with confidence as much as Aaron Ramsey. Unfortunately, there are also few who are roundly booed by the club's own supporters for stepping out of line.
It has been a long and difficult road back for the Welshman after breaking his leg in February 2010. A year-long recovery and subsequent first-team return coincided with the departure of key playmakers Cesc Fabregas and Samir Nasri, leaving a vacancy for an Arsenal midfield star from the start of the 2011-12 season.
It was not to be, though, with Ramsey often played out of position on the right flank. He has become a scapegoat figure for certain sections of the Arsenal fanbase, something which has begun to seep into his increasingly insipid performances. Furthermore, there are noticeable groans of disappointment when he waits on the touchline in preparation to enter the field of play.
"The fans let you know when someone is not doing the right thing but they have to be patient and get behind the team and individuals," he said recently. "They have to realise that.
"Confidence is a massive thing and, if you're struggling with that, it does reflect in your performances. But I've got that back now. I'm hungry to keep that shirt. It's taken me a bit longer than I would've liked but I'm happy now where I am and hoping to improve."
In February's 3-1 loss to Bayern Munich at the Emirates Stadium, arguably Arsenal's biggest game in recent years, Ramsey was ineffectual going forward with a pass accuracy of 78% – the lowest of any other team-mate who started the game. He was unable to muster a single shot on goal and started one meaningful attack from the flank. In defence, his tame attempt at an interception allowed Toni Kroos to open the scoring. He was chasing shadows.
This ineffectuality on the wing is even more stark in the Premier League, where he has managed just three successful crosses all season, an aptitude at which he is ranked around 170th in the division.
When it comes to reading the game defensively, Ramsey wins an average of 0.4 headers per game and just one interception – approaching the 150th-worst return in the Premier League.
And now is the time for Arsenal to dig in. They are out of the Champions League, their wait for a trophy rolls into its ninth year and they are severely running the risk of failing to qualify for the competition again next season for the first time in Arsene Wenger's 17-year reign.
The Gunners found themselves in a similar situation last term. Out of the Champions League at the last-16 stage and trailing local rivals Tottenham by an even bigger points margin, a midfielder long-maligned for Arsenal fans came to the fore to kick-start their campaign and clinch qualification for Europe's top table as Spurs became the first team to finish fourth but not gain entry to the competition.
Ramsey can take inspiration from Tomas Rosicky's resurgence 13 months ago. The 22-year-old's attitude, after all, cannot be questioned. While, as detailed above, the stats make uninspiring reading, his work-rate is commendable. He tracks back and hassles opponents to the last.
Bear in mind, this is the same player whom Gary Speed entrusted with the Wales captaincy at the age of 20 – and placed him in a central-midfield position to boot.
But, domestically, he is often played out of position, even playing as an auxiliary right-back in a much-improved second-half performance against Tottenham and, previously, Sunderland. Seen next to Theo Walcott's theatrical and vocal displeasure at not being played in his preferred central role, Ramsey is a model professional in comparison, quiet and hard-working.
"There has been a good progression and hopefully I can get back to where I was," the midfielder replied when question on his mindset following his double leg fracture. "That injury did take it out of me and hopefully that will only have been a minor hiccup when I look back on my career.
"I'm getting stuck in a lot more. I'm winning a lot more balls back and reading the game better and moving the ball quicker, which suit's the way we play. I've had positive feedback from the boss."
But how long can people keep calling for Ramsey to kick on and show his manager and fans that he can fulfil the potential so often heralded in his early years? Does he have the confidence and mental strength that he claims is ever-improving to step up? It is ultimately down to him to prove his worth.
He concluded: "We just have to go into every game focused and try and win every game that we play until the end of the season to try and get back into the Champions League."
It's now or never, Aaron.