Full-back's departure was a blow but the Newcastle star's experience, defensive qualities, aerial ability and winning mentality mark him out as a worthy successor

ANALYSIS
By Liam Twomey
In previous years, the departure of a club stalwart might have sparked talk of crisis at Arsenal. But Arsene Wenger has acted quickly in the wake of Bacary Sagna's defection to Manchester City, with Newcastle right-back Mathieu Debuchy set to be unveiled as a Gunner before the end of the week in a deal worth an initial £8 million.
Setback though it was, the protracted nature of Sagna's departure from the Emirates Stadium afforded Wenger ample time to plan for a future without him. Sebastian Jung of Eintracht Frankfurt became a target as far back as January, while talks with Toulouse over Serge Aurier reached a very advanced stage.
But as Debuchy makes his final preparations for life in north London, Wenger can be confident that he has secured a very proficient footballer and proven Premier League performer who is capable of filling the void left by Sagna immediately.
At 28 it is hard to present the former Lille man as a long-term replacement, even if he is three years younger than Sagna, but if Wenger still harbours genuine hope that Carl Jenkinson can one day be that man – and, given the Arsenal manager's traditionally unshakable faith in his youngsters, it would be no surprise – then Debuchy's age and experience will be seen as a positive rather than a problem.
One suspects that for a club and a manager under increasing pressure to win now, Debuchy's track record in the Premier League played a key role in him rising to the top of Wenger's wishlist. For 18 months in England, the 28-year-old sparkled more frequently and brightly than most in a talented and temperamental Newcastle team fatally undermined by a maddeningly unambitious owner.
Debuchy made 3.3 successful tackles per match last season, a figure only bettered among right-backs in the Premier League by Jon Flanagan, Pablo Zabaleta and Cesar Azpilicueta (who played most of the campaign on the left). He also made 2.4 interceptions per game, a number that puts him above anyone else in the Newcastle squad and 14th in the entire division.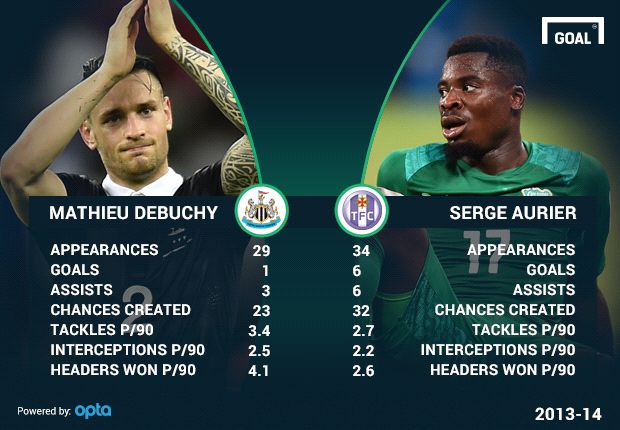 Aurier's figures mark him out as a more devastating attacking force – the Ivorian created 32 chances in Ligue 1 last season, compared to 23 for Debuchy, and laid on two goals in three matches for his national side at this summer's World Cup. But he was often deployed as a wing-back with greater attacking than defensive responsibilities at Toulouse. Debuchy, in contrast, publicly voiced his frustration in May at being denied the freedom to roam forward by Alan Pardew as he does for France.
The Newcastle man's total defensive contribution last season (factoring in tackles, interceptions and clearances) works out at 10.5 per game, compared to just eight for Aurier. He also made half as many defensive errors.
It might seem a strange thought but Wenger has chosen Debuchy primarily because of his defensive qualities. Even more surprisingly, the 28-year-old's most prized attribute is his aerial ability. No specialist right-back in any of Europe's top five leagues won more aerial duels (four) per game last season. For Aurier that number was just 2.7, while Sagna – whose athleticism and aerial ability prompted Wenger to deploy him at centre-back on several occasions, despite his relatively modest height – boasts just 3.5.
Debuchy's arrival almost certainly ensures that Arsenal's right-back will not be targeted by the Premier League's physical strikers and pinpoint crossers and his skills should maintain and perhaps even enhance the Gunners' ability to defend set-pieces.
Then there is the mental aspect. In Sagna, Wenger lost one of the strongest and most experienced characters in his squad – and certainly the one most vocal in his desire to see Arsenal show greater ambition in the transfer market and win trophies. Such an attitude endeared him to Gunners fans and made the move to City more difficult to swallow. It is also hard to replace.
But unlike Sagna, Debuchy arrived in England already a champion, having capped a 20-year stay at Lille with an historic league-and-cup double in 2011. That the distinction already marks him out as one of the most decorated members of the Arsenal squad highlights how far Wenger's men still have left to travel on the road back to glory.
Singling out Debuchy for praise back in January, Yohan Cabaye hailed his best friend and former clubmate's "great mentality, great fight and great fitness" – not qualities easily associated with Arsenal in recent years. The new man will not turn the Gunners into winners on his own but this deal is a step in the right direction.
Follow Liam Twomey on