Since an almost inconceivable slump in 2007-08, die Roten have improved their fortunes exponentially both on and off the pitch, while the Gunners have gone the other way
SPECIAL REPORT
By Peter Staunton
Next time you watch a Bayern Munich home match in the Bundesliga, take a look at the end of the stand as the camera pans left. You will see a cluster of fans dressed, frankly speaking, like spermatozoa. With their white overcoats and white hats, they sit together shaping the logo of Deutsche Telekom, whose logo adorns the Bayern shirt to the tune of €30 million (£25m) a season, like a human billboard. Nothing illustrates better the incongruous, yet happy, co-existence of commercialisation and fanship that Bayern have achieved en route to becoming one of the world's elite sporting entities.
Contrast that to the darkened mood at Arsenal's very own corporate cauldron, where fans are colour-coding garments too these days. They wear black scarves and broadcast their frustrations with a club who, they feel, are gentrifying before their eyes without the payoff of on-field success. Arsenal's fans are turning against their club.
Eye-watering ticket prices and the rampant commercialisation of Arsenal bear the brunt of the Black Scarf Movement's ire as, on the pitch, years go by without a trophy of which to speak. The difference between Bayern and Arsenal is as stark as that. White and black.
Bayern go into Tuesday's Champions League last-16 match as heavy favourites to make the quarter-finals. But the Bavarians, not so long ago, were a long way behind Arsenal.
Die Roten were eliminated at the semi-final stage of the 2007-08 Uefa Cup by Zenit St Petersburg, losing 5-1 on aggregate. A season prior, they failed to finish in the top three in the Bundesliga and missed out on Champions League football for the first time in 11 years. It was a chastening experience for Germany's grandest club.
Arsenal went as far as the Champions League quarter-finals that season, a campaign that is part of a run of 15 consecutive seasons in the competition. It is something that Bayern cannot boast, even if Arsenal might not be able to keep up the run for much longer.
Nor can Bayern boast the enviable stability of the Gunners' bench, on which Arsene Wenger has sat since 1996.
Since 2007 there have been permanent appointments at Sabener Strasse which have gone spectacularly awry, such as those of Felix Magath and Jurgen Klinsmann. There have been caretaker spells for Ottmar Hitzfeld, Jupp Heynckes and Andries Jonker. Louis van Gaal's autocracy preceded the relative calm initiated by Heynckes's third appointment at the club. From this summer onwards, Bayern will count on Pep Guardiola, a man coveted by every elite team.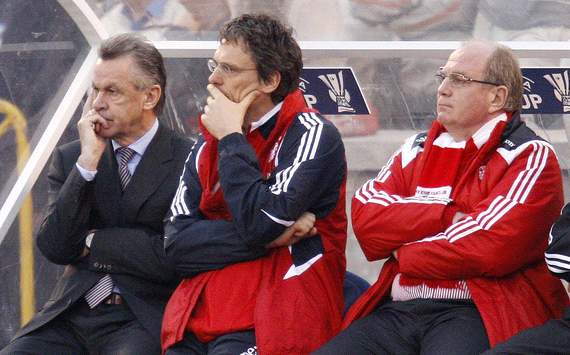 In the doldrums | Hitzfeld, Henke and Hoeness could not stop the rot in St Petersburg
But, since their 2007-08 nadir, Bayern have flourished exponentially.
The Bundesliga leaders now boast a harmonious blend of big-name signings, such as Manuel Neuer, Javi Martinez, Mario Mandzukic and Franck Ribery, and elite homegrown prospects who cross generational divides like Philipp Lahm, Bastian Schweinsteiger, Thomas Muller, Holger Badstuber and Toni Kroos. A Wenger dream. That quintet, along with Neuer and another Bayern academy player in Mats Hummels, also fill out the foundations of the German national side.
Meanwhile, at Arsenal, Wenger has struggled to replicate the success of his initial wave of purchases as the sides around him have expertly played catch-up. The signings of Patrick Vieira, Emmanuel Petit, Thierry Henry and Robert Pires inspired Wenger's unprecedented Arsenal trophy haul but, as the acquisitions of Andre Santos, Gervinho and their ilk convey, the Frenchman's radar has been off in recent seasons.
Arsenal and Bayern have spent, give or take, €5m (£4.3m) equivalent fees on player transfers this season. Bayern invested heavily in the summer market, acquiring Mandzukic and Xherdan Shaqiri among others, as well as meeting the €40m (£34.5m) buyout clause in Javi Martinez's Athletic Bilbao contract. When a frailty is perceived in the Bayern ranks, no hesitancy is shown and reinforcements are brought in.
Compare that to Wenger – a King Canute who tries to hold back a tide of transfer fees. In recent years he has been unwilling to meet Valencia's valuation of Juan Mata, just as he was with Liverpool and Xabi Alonso before that. Lesser options have been sought in the name of frugality, leading to an overall decline in quality. Bayern, instead, have demonstrated the necessity to spend big when the situation dictates.
In London, even homegrown talent seems to be on the wane. The presence of Jack Wilshere and Kieran Gibbs in the line-up is encouraging but, for a man who places such regard on the jewels of his youth set-up, Wenger has not blooded enough top-class prospects from the academy.
At Bayern, Van Gaal deemed it appropriate to integrate the likes of David Alaba, Badstuber and Muller in the first-team long before their time had really come. The upshot of using them early in their careers is the emergence of three first-rate players with Bayern DNA coursing through their veins.
And despite wages accounting for just 50 per cent of total turnover, the Bavarians boast the best players in the Bundesliga by far. Furthermore, it is a long time since Bayern 'lost' an essential player. Michael Ballack was probably the last and he left in 2006 at the age of 29. A combination of generous wages and a guarantee of consistent trophy challenges keep players keen on staying at the Allianz Arena. Of course, the situation at Arsenal could not be more different.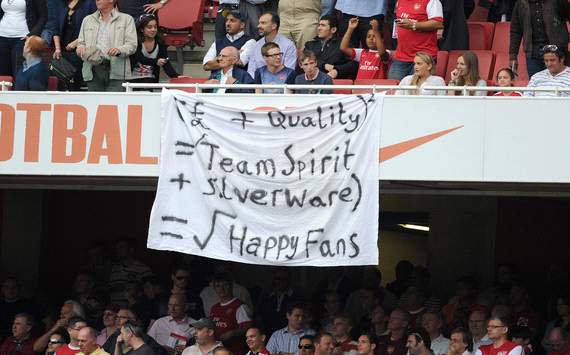 Basic maths | Arsenal fans have been making their feelings known for years
Bayern have turned a profit for an astonishing 20 seasons in a row. Moreover, they are the world's foremost team in maximising commercial income. Overall, revenue was up 15% in 2011-12 compared to the season before, according to the Deloitte Money League. They are the first team in the history of that list to earn over €200m (£172.5m) from one revenue source. Top German brands queue up to do business with Bayern and their shirt sponsorship deal with Deutsche Telekom is one of the richest in sport.
On Bayern's supervisory board sit the CEOs of some of Germany's biggest businesses, such as Audi, adidas, Volkswagen and Deutsche Telekom. Audi and adidas each own around 9% of Bayern's shares. Indeed, it was those share sales which part-funded the move to the splendid Allianz Arena. Matchday money accounted for 23% (€85.4m [£72.8m]) of Bayern's revenue in 2011-12 despite their ultra-low season ticket prices, which begin at around €100 (£86). That's less than the price of the most expensive single seat at the Emirates Stadium. Arsenal's matchday revenue stream is in robust health – the third largest in the world – but is a point of discontent for fans who feel that they are being priced out of watching their increasingly stuttering team.
And the Gunners' commercial exploits remain significantly smaller. Their most recent Deloitte audit shows commercial revenue of around €65m (£56m) – less than a third of Bayern's.
It is not all bad news, though. Airline Emirates signed a new deal which vastly increases Arsenal's shirt sponsorship money between now and the end of the 2018-19 season. Furthermore, Arsenal will expect an increase in their deals for equipment sponsorship when their partnership with Nike ends at the end of 2013-14.
Perhaps one of the clearest indicators of Bayern's modus operandi comes with the signing of Guardiola as coach. A corporate sponsor, probably adidas, is expected to contribute a significant portion of the Spaniard's reported €8m-€10m (£6.9m-£8.65m) salary. Not that much less than Wenger's.
The appointment of Guardiola is a clear demonstration of Bayern's reassertion as one of Europe's major forces. Having reached two of the last three Champions League finals, they have regenerated their continental mettle on the field and are about to wrest control of the Bundesliga back from the club they saved with an emergency loan in 2003.
Bayern are back and are now, in many ways, the club Arsene Wenger wishes Arsenal were. Looking back, it is hard to imagine that the north Londoners were ever so far advanced of this southern German superpower.
Follow Peter Staunton on