On the latest Ref Watch, former Premier League referee Dermot Gallagher looks back at the most controversial moments from the weekend's games.
Liverpool 1-1 Aston Villa
INCIDENT: With Liverpool trailing 1-0 to Aston Villa, Cody Gakpo scores an equaliser but an offside check is made on Virgil van Dijk, who was standing in an offside position in the build-up after Luis Diaz's header was blocked by Ezri Konsa. VAR rules that Konsa did not make a genuine attempt to play the ball, meaning Van Dijk was offside.
Cody Gakpo's effort was controversially ruled out for offside in Liverpool's 1-1 draw with Aston Villa.

VERDICT: Correct decision in law, but it's tricky.
DERMOT SAYS: "In law Gakpo's goal shouldn't have stood, the officials have got it correct. The way it is written, the referees are in a pickle with it.
"This is a very tough law to interpret. It's all about if the player makes a genuine attempt to play the ball. Does he go to block the ball, does it strike him?
"If you look at this incident, the VAR can't decide. He has to send the referee to the monitor because it has to be the referee's decision and it has to be subjective.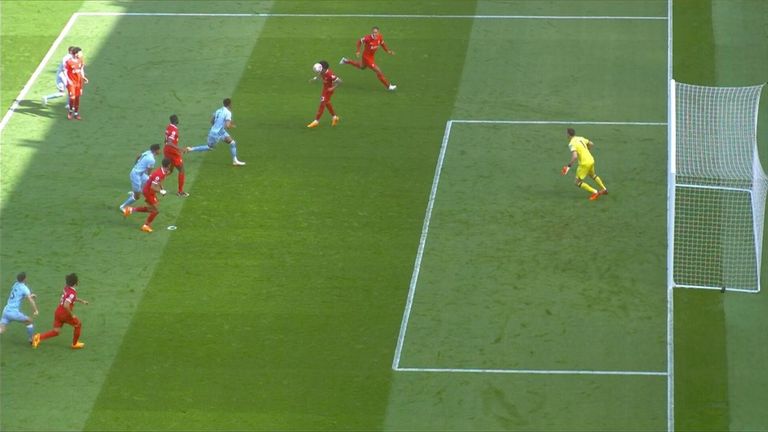 "A block is a block. A genuine attempt to play the ball is to take the ball under control, clear it for a corner or to clear it up field.
"The referee has to second guess the player's [Konsa] intention. The law as it is written doesn't help the officials. If I was that player I would probably be upset.
"It's a very unfortunate part of the law which leaves the officials hamstrung."
INCIDENT: In the first half, Tyrone Mings is penalised for a high boot on Cody Gakpo, in which the Villa defender catches the Liverpool forward in the chest. The referee gives Mings a yellow card.
Dermot Gallagher says Tyrone Mings should have seen red for his high boot challenge against Cody Gakpo, which saw the Liverpool forward left with visible cuts.

VERDICT: It's a red card.
DERMOT SAYS: "There are stud marks all up his chest, he caught him at the top of his chest. He'll say he got the ball but that doesn't negate that as we saw with Casemiro earlier in the season.
"For me if you put your studs that high into someone's chest you are lucky to stay on the field.
"When you are face to face on the field you can't do that."
Man City 1-0 Chelsea
INCIDENT: Julian Alvarez taps in a second goal for Man City but the VAR checks a handball by Riyad Mahrez in the build-up. The referee is sent to the monitor before ruling out the goal.
FREE TO WATCH: Highlights from the clash between Manchester City and Chelsea in the Premier League.

VERDICT: Correct decision.
DERMOT SAYS: "It's a deliberate handball, you can see he leads into the ball.
"The ref has to go to the screen because he doesn't see it from his position and it doesn't lead directly to Alvarez scoring."
Nottingham Forest 1-0 Arsenal
Dermot Gallagher says Gabriel Jesus should have been given a penalty instead of a yellow card after being brought down by Joe Worrall.

INCIDENT: Gabriel Jesus believes he has been dragged back by Joe Worrall in the penalty area. The referee opts noto to award the spot kick and instead cautions Jesus for his protestations.
VERDICT: Incorrect decision, it's a penalty.
DERMOT SAYS: "It's a massive, massive risk. If Worrall gets penalised, he can't argue.
"If it was a penalty, it wouldn't be a red card because he wasn't in control of the ball. But I think it is a penalty for Arsenal and Jesus."
West Ham 3-1 Leeds
FREE TO WATCH: Highlights from the clash between West Ham and Leeds in the Premier League.

INCIDENTS: Two West Ham goals were checked by VAR for tight offside calls on Jarrod Bowen and Lucas Paqueta. Both goals are given after the lines were brought out to find them onside.
VERDICT: Correct decisions for both goals.
DERMOT SAYS: "It was an amazing call for the Jarrod Bowen goal. That is so tight and it is all about the assistant's position at the top of the screen.
"The other one I think is even harder because he is so close that he has to look down rather than across. Two incredible decisions from the assistant."
Adblock test