Gary Neville believes we are seeing the "Arsenal of 20 years ago" – when Arsene Wenger's Invincibles ruled English football – following another seismic result in a pulsating title race.
Mikel Arteta saw his Arsenal side re-establish their five-point cushion at the Premier League summit following a deserved 3-2 win over Manchester United – but insists a successful title tilt will "demand almost perfection" for the rest of the campaign.
The Gunners are now unbeaten in their last 13 Premier League games, their longest unbeaten streak in the competition since going 14 unbeaten in December 2018.
"I really enjoyed it," Neville said in his latest podcast for Sky Sports. "I just felt in the last half an hour, Arsenal had more quality.
FREE TO WATCH: Highlights from Arsenal's win against Manchester United in the Premier League

"It felt like Arsenal were like they were maybe 20 years ago. When I was a player against them, I used to wish they'd shoot from distance or cross it – but they would play that extra pass to get it into wide positions.
"They would keep driving you into your box. I'd find myself getting deeper, narrower and under pressure. It just felt like the goal was coming. It was just wave after wave of attack, and it felt like that 20 years ago when you were playing against such a good Arsenal team."
Arsenal now have 50 points from their opening 19 games and, with five of the last six champions exceeding 90 points, Arteta knows they have to keep up their electric pace.
Eddie Nketiah and Bukayo Saka give their thoughts after Arsenal beat Manchester United in dramatic style

It is now a time for cool heads.
Earlier in January, Arteta would not be drawn on an unsavoury incident at full-time against Tottenham when a spat between Arsenal goalkeeper Aaron Ramsdale and Spurs forward Richarlison ended with a fan kicking Ramsdale before running back into the crowd.
Then, he instead stressed the importance of his players keeping their heads during a fiery contest, having seen defender Rob Holding sent off less than half an hour into their defeat at Spurs in May.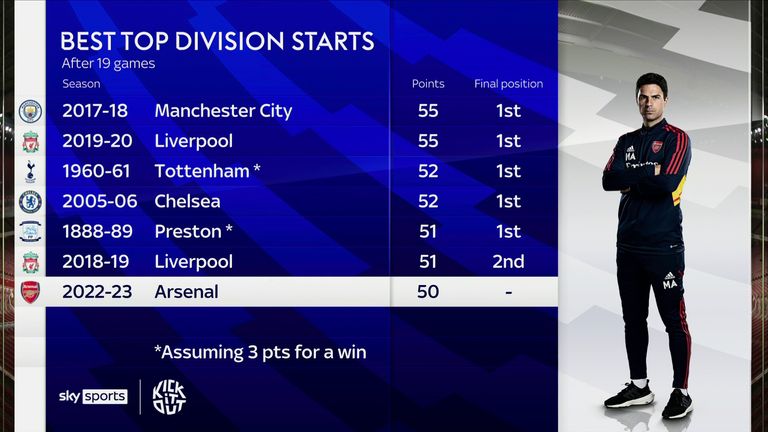 Arsenal's temperament will be tested during the second half of the campaign, but Neville believes the additions of Gabriel Jesus and Oleksandr Zinchenko – ironically from Man City – will give Arteta's side the necessary experience to handle the scrutiny.
"I don't think managers 20 years ago were as demonstrative as the ones we see today, like Conte, Klopp, Pep and Arteta," said Neville when asked about the Arsenal manager's touchline theatrics which earned him a caution off referee Anthony Taylor.
"Those Arsenal players are going to come under significant pressure in the next 19 games which will require composure – particularly in the last 10 matches.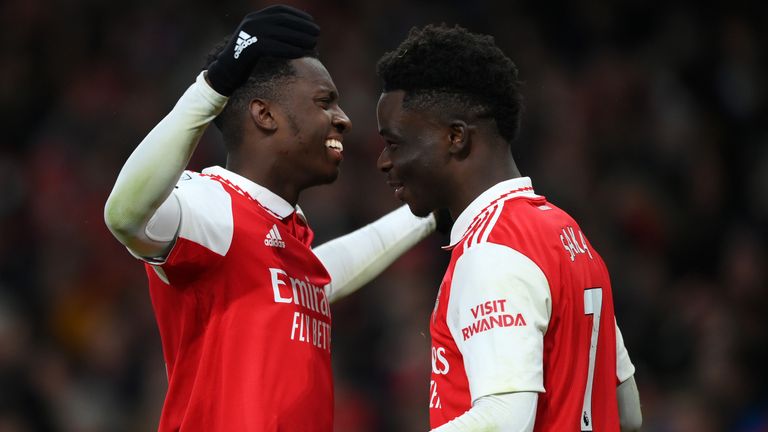 "When you're going for a league title, it is going to be really pressurised for those players. They'll require not just that passion but they'll also require composure and some calm authority at times.
"They will need settling down. They've got players such as Zinchenko and Gabriel Jesus who know what it's like, they've been there before. It's really exciting to think what this Arsenal team can achieve.
"They need to now go on and prove to us that they can win the title, which is going to be really tough. They've still got to play Manchester City twice and they've got them on their shoulders.
Manchester United boss Erik ten Hag was disappointed that his side lost late on at Arsenal and was critical of their defensive display

"They're a massive powerhouse, Manchester City and Pep Guardiola. You can imagine them sitting there tonight not being too fazed by this.
"Pep Guardiola has got the mentality that Sir Alex Ferguson and Kenny Dalglish had – great managers and great personalities that get a bit chirpy sometimes. They can become very difficult at times when things aren't quite going their way and they're being questioned.
"I said on Thursday while on commentary [for Man City vs Tottenham] that it felt like sometimes these great managers get bored winning the same way. They like to try different things to prove themselves again, which involves redesigning how they see the game.
Gunners boss Mikel Arteta says it was an incredible and emotional late win over Manchester United

"I've seen that with Sir Alex Ferguson and with others. It comes from a good place but they can become quite difficult, cantankerous – and that's where I feel Pep is at this moment. He knows there's a fight on in this second half of the season. I do think City need to have that consistency. Arsenal have seven who have played every game but City seem to change their back four every single week.
"Sometimes that is through injury but there is a lot of tinkering going on. They're in a proper title race here. They've been in them before and come through but they're well behind here. They could be eight points behind if Arsenal win their game in hand but they still have to play them twice.
"The reason I say Arsenal won't win the league is because they've not won it for 20 years and the majority of these players haven't won it yet. They need to prove they can go through the second half of the season that they can win the league."
Heading into the weekend, Pep Guardiola had questioned his players' desire after the 4-2 win over Tottenham and said Arsenal will "destroy" them in the Premier League title race if they continue to play as they are.
City responded with a 3-0 victory over Wolves courtesy of a fourth Premier League hat-trick of the season for Erling Haaland – and Neville maintains that he feels Arsenal will ultimately come up short despite their current five-point advantage.
Despite being critical of Manchester United's defending, Roy Keane was full of compliments for Saka

"I don't see them going on to win the league, I still think Man City will. I feel City have a special run in them and that a point in the season will come when they'll lose one or two matches. City will be right on their shoulders and it'll become very difficult for them but they could win the league.
"I thought they'd be nowhere near winning the league and I can't believe they're even in the chat. The fact they're in the conversation of winning the league is incredible so it's not a negative thing for me to say that I think City will win the league as that's what I thought at the start of the season.
"I feel City will hunt them down but they're in with a shout which is really unbelievable for Mikel Arteta as I was really worried for him at the end of last season."
Neville: Nketiah deserves England call-up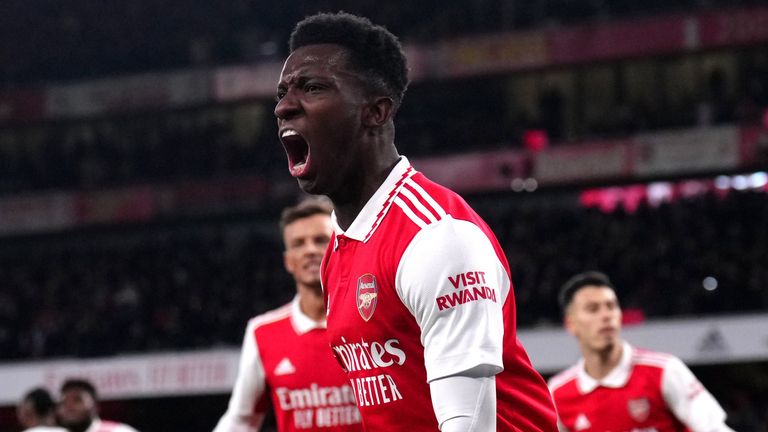 Eddie Nketiah has scored 19 goals across his last 26 starts for Arsenal in all competitions, including 13 in his last 13 starts at the Emirates Stadium.
"An England call-up is due for Eddie Nketiah," added Neville. "Gareth Southgate is very good at allowing players to see their U21 career through and not bring them into the first team too early.
"But Dominic Calvert-Lewin's form isn't there at the moment, Callum Wilson is good but is he going to be there for the next four or five years? Harry Kane we know is fantastic but there is a dearth of centre-forwards. Marcus Rashford is playing wide and I think that's where he's going to stay.
"Erik ten Hag wants him to stay there so he's got a real opportunity, but at the moment the best thing Nketiah can do is contribute to this Arsenal team and this very special run that they're on and special season they're having."
The Haaland debate… is there one?
Gary Neville says that Erling Haaland may not be the exact fit for Manchester City's playing style but he wouldn't swap him for any other striker

"I love Erling Haaland. He's my type of centre-forward – a battering ram full of power, pace, strength. The question we're asking is whether he's Pep Guardiola's type of centre-forward. Does Guardiola like centre-forwards at all?
"He got rid of Edin Dzeko in his early days, he got rid of Kelechi Iheanacho. He did like Sergio Aguero but you didn't always feel he was in love with him in terms of his style. Zlatan Ibrahimovic or Samuel Eto'o at Barcelona were world-class players, but you've always felt like he's wanted that second striker.
"That's what he loves. There were moments in the game against Tottenham where Haaland looked like a fish out of water and whether he fitted Pep's style. It was a question we asked at the start of the season – would City have to adapt to Haaland or would Haaland have to adapt to City?
"Ultimately, they've got to try to make this marriage work because you've got something here that's breathtakingly sensational. This is a phenomenon of a striker. If I think of the identikit Manchester United striker, you're thinking this is A1 – Rooney meets Hughes meets Yorke. He's got the lot and could be the best player in the world.
"But there's a feeling they don't get the ball into him quickly enough and don't see his runs quickly enough as they like to play the extra pass or extra 10 passes sometimes. Pep, in his mind, deep down in his mind sees football in a slightly different way.
"He could score 45 Premier League goals this season but City have got to do better with him. They've got to get used to him and he has to get used to them. There are ripples of the styles conflicting a bit."
Liverpool midfield needs £200m investment
Gary Neville says Jurgen Klopp will 'sit tight' until the summer and, potentially under new investors, spend up to £200m on a summer rebuild of the team

"I think Jurgen Klopp will thrive under the current challenge he's facing at Liverpool. It's a club that won't put him under pressure in any way shape or form in the next 12-18 months as they know what great a manager they have.
"And then when you think of the investment that's going to come into the club, whether it be through a sale which we know will eventually happen as the Fenway Group has put the club up for sale, you think he'll then be armed with more money and he'll go out and get better players to rebuild the midfield.
"That team have been purring for a long time and it'll reset them. It's a different team now but I don't see there being panic. Whoever the new owners, the new investors are, they're going to have to put money into the club to rebuild the football team. They've got a job to do in midfield and that'll cost them a couple £100m.
"When you look at Liverpool's injuries they are big so you have to take that into consideration but it was a scruffy game against Chelsea. Awful is probably too strong a word but watching it I couldn't quite work out either side. I've known what Liverpool have been for five years but they've had big injuries. Chelsea are just working themselves out after a chaotic summer given the change of ownership and their new players.
"[Mykhailo] Mudryk looked really good when he came on. I wouldn't have liked to play against him. He was electric and he's going to be an interesting watch in these last few months of the season. It's still a wait-and-see. We're so used to Chelsea being consistent on and off the pitch with the transfer market but it all feels very chaotic.
"The game was scruffy between the two teams who have been among the best in recent years. They're far away from that form now and it was a bit unsavoury to watch from a football perspective given what we've become used to seeing."
Adblock test