Oleksandr Zinchenko has the ball at his feet a few yards outside the Arsenal box. There are two Tottenham attackers closing him down and several others hovering, waiting to pounce.
At this point, most players would seek to offload it as quickly as possible. A safe backward pass. Maybe even a panicked ball over the top. But Zinchenko is not like most players.
Instead, he feints one way then goes the other, dribbling around Dejan Kulusevski like a matador toying with a bull, then accelerating into the small pocket of space behind him and using his weaker foot to thread a reverse pass through to Granit Xhaka.
In the space of a few seconds, he has taken six Spurs players out of the game, single-handedly bypassing their press and sending Arsenal onto the attack. Xhaka, checking his run slightly to receive it, looks as surprised as anyone that he has managed to pull it off.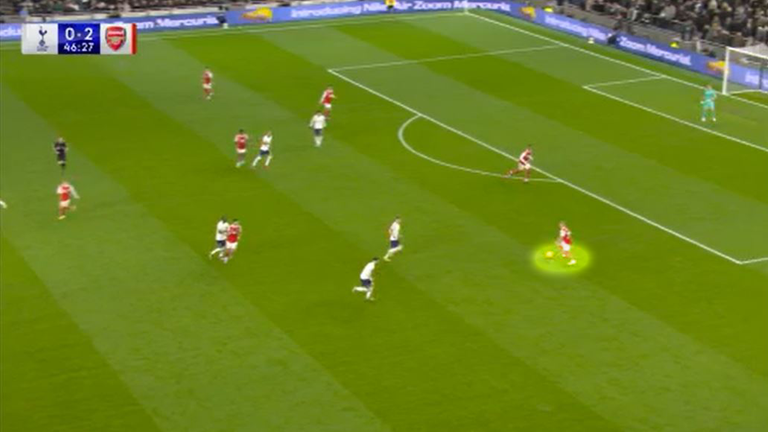 That it came less than two minutes into the second half of Sunday's game at the Tottenham Hotspur Stadium, when Arsenal's wounded opponents were at their most fired up, Antonio Conte's team talk still ringing in their ears, made it even more impressive.
But then this is what Zinchenko does.
His fearlessness and technical guile helped Manchester City win four Premier League titles. Now it is helping transform Arsenal. And now the left-back has a central role rather than a supporting one.
That applies to his position on the pitch, of course, as well as his status in the team.
Zinchenko's function is very different to that of a conventional full-back. Instead of charging forward on the overlap, he tucks inside, helping to smother opponents and pick them apart.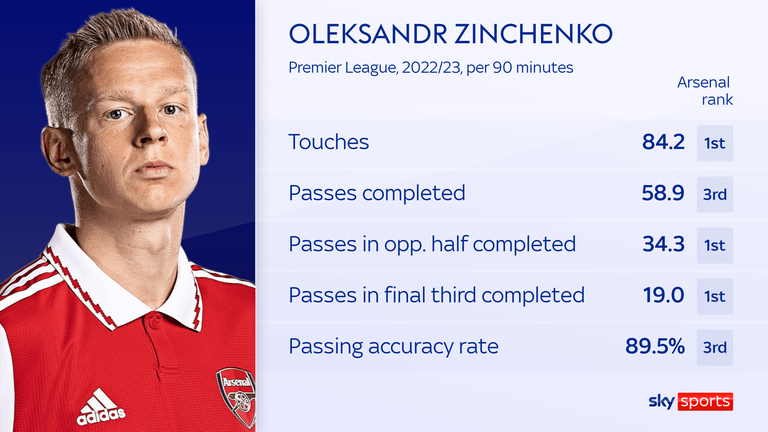 Injury has limited him to only 10 Premier League starts this season but his importance to Arsenal's build-up is already clear. He averages more touches per 90 minutes than anyone else. He ranks top for passes in the opposition half and in the final third too.
In fact, only five players in the Premier League are making more passes in the final third than Zinchenko this season and it is telling that all of them – Kyle Walker, Joao Cancelo, Kevin De Bruyne, Rodri and Riyad Mahrez – play for Manchester City.
The qualities that helped him fit in at City are making him stand out at Arsenal. Their left-back is also their playmaker.
Rarely has that been clearer than it was against Spurs on Sunday.
Highlights from the Premier League match between Tottenham and Arsenal

Zinchenko was outstanding, particularly in the first half, the 26-year-old enabling Mikel Arteta's side to progress the ball up the pitch and then keep it there. At times, he even popped up on the right-hand side of midfield. Spurs had no idea how to deal with him.
He was named as one of City's best three players technically by Walker last season – high praise given the competition – and his role requires tactical intelligence too. "He is so, so smart," said Pep Guardiola. Arteta, Guardiola's former assistant, agrees.
His £32m arrival from City has allowed the Arsenal manager to recalibrate his team, a process which, he says himself, has been crucial in their transformation from top-four hopefuls to title favourites.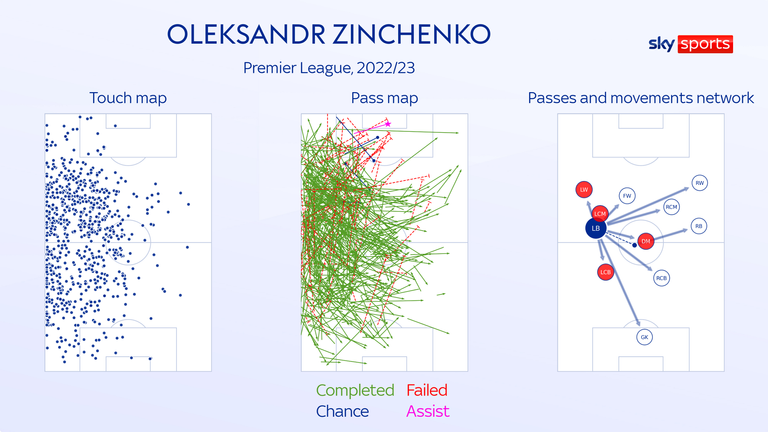 "It was a necessity," Arteta told Jamie Carragher during his recent appearance on Monday Night Football.
"If the squad wanted to evolve to another level, be dominant and have more resources in the final third, we needed to make that change."
The change involved pushing Xhaka further forward. The 30-year-old was first used as Arsenal's left-sided No 8 in the second half of last season, but Arteta still felt he needed to "unlock something in his brain" and for that he needed help.
Mikel Arteta tells Jamie Carragher about the change of shape helping Xhaka thrive

The help arrived in the form of Zinchenko, an inverted full-back able to occupy the space behind Xhaka and provide the platform he needed to push on. Xhaka has duly thrived, scoring three goals and providing four assists, his attacking threat transformed.
Xhaka is not the only player to have benefitted.
Gabriel Martinelli is another now better able to play to his strengths.
"If Martinelli wants to score more goals, he has to play more in the last line and he needs to play wide, because that is his quality," explained Arteta on Monday Night Football.
"I believe that him playing there and getting the ball to him in many situations is going to give us much more than having a full-back playing there the whole season."
Arteta has been proven right.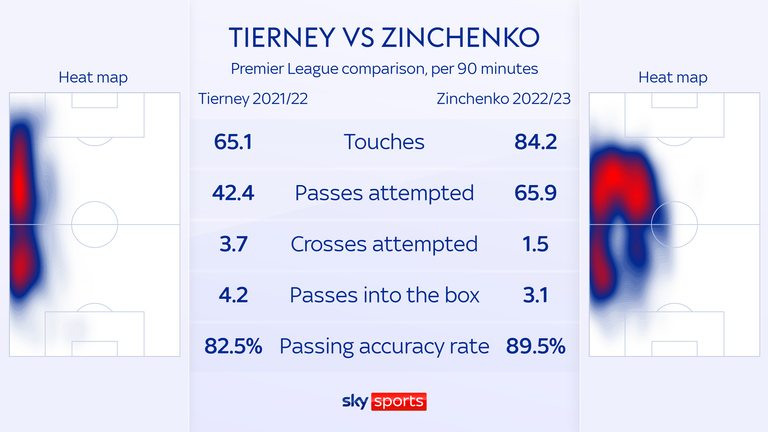 Martinelli is at his most dangerous when picking up the ball near the touchline and cutting inside and he is able to do that far more frequently with a full-back stationed behind him, like Zinchenko, rather than outside of him, like Kieran Tierney.
Martinelli occupies that space now and his output has exploded.
The Brazilian is getting more touches, making more dribbles, creating more chances and having more shots. With seven goals, he has already scored more than in the whole of the last campaign.
Arsenal, previously overly reliant on their right side, where Bukayo Saka and Martin Odegaard developed a near-telepathic understanding and the full-back's role was already more conservative, are now just as dangerous on their left.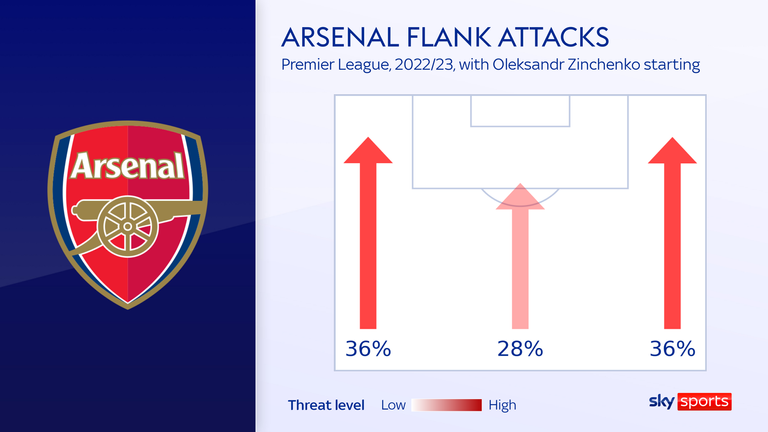 In fact, in games Zinchenko has started this season, they have sent an exactly equal proportion of attacks down both flanks.
The change in Arsenal's structure can be seen in their average positions compared to last season.
The left-back, now Zinchenko rather than Tierney, is deeper and closer to the centre of the pitch, while Xhaka and Martinelli are stationed further forward, with the latter also wider.
"That triangle is much better when it is like this," said Arteta.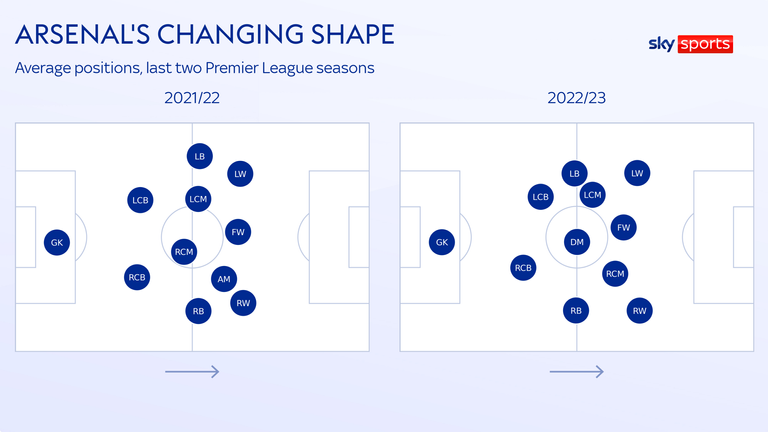 The change of shape has been vital – "that's the transformation that I believe the team had to do," added Arteta – but it is Zinchenko who makes it work. The two players he has passed to most this season? Martinelli and Xhaka.
Zinchenko has provided the service they needed as well as the defensive cover – and that's not all.
Like Gabriel Jesus, his former City team-mate, Zinchenko has brought a winning mentality to the Emirates Stadium. He knows precisely what it takes to succeed, boasting an extraordinary win rate of 78 per cent in club games he has started over the last six seasons.

Sunday 22nd January 4:00pm


Kick off 4:30pm

Arteta called him a "ruthless winner" in August and it has rung true.
As early as November, when Arsenal's lead at the top of the table stood at only two points, the Ukrainian was telling reporters of his desire to "destroy" the "stereotype" that Arsenal only strive for the top four. "We need to look further," he said.
They are doing that now and Zinchenko is at the heart of it.
Supporters love his passion and his combative nature – it was typical that, despite having been substituted, he was the one pulling Aaron Ramsdale out of the post-match melee at the Tottenham Hotspur Stadium – and those qualities can be seen in the way he defends.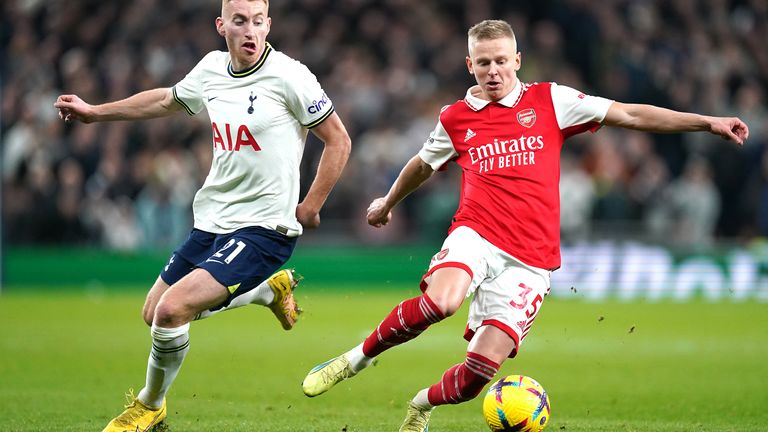 Indeed, while there is a perception that he is vulnerable in one-on-one situations, it is worth noting his duel success rate of 64 per cent is second only to William Saliba among Arsenal's outfield players this season. Despite his short stature, he is winning an even higher percentage of aerials, at 73 per cent.
He has improved Arsenal defensively as well as offensively and their results prove it. So far this season, they have kept six clean sheets in the 10 Premier League games he has started and only three in the eight he has not.
It just another example of how, with and without the ball, on the pitch and off it, Arsenal are feeling the benefits of the Zinchenko effect, and a player who is wired differently to the rest.
Watch Arsenal vs Man Utd live on Sky Sports Premier League on Sunday from 4pm; kick-off 4.30pm
Adblock test