From Mykhailo to Moises, to Trossard and Transfer Deadline Day. While Arsenal have remained unshaken on the pitch this season, their January window was much more turbulent.
For Mikel Arteta and sporting director Edu, they have done all they can to prepare Arsenal for what looks like their biggest season run-in for a good decade or two.
Much has been made of how much the Gunners' strength in depth can hinder them since they emerged as genuine title contenders last autumn, especially compared with reigning champions and fellow rivals Manchester City.
"The difference between Manchester City and Arsenal is that City can lose a few players and play exactly the same way and can afford to rotate," said Sky Sports pundit Micah Richards in October.
"If Arsenal lose an Oleksandr Zinchenko or a Thomas Partey, all of a sudden they become a different team."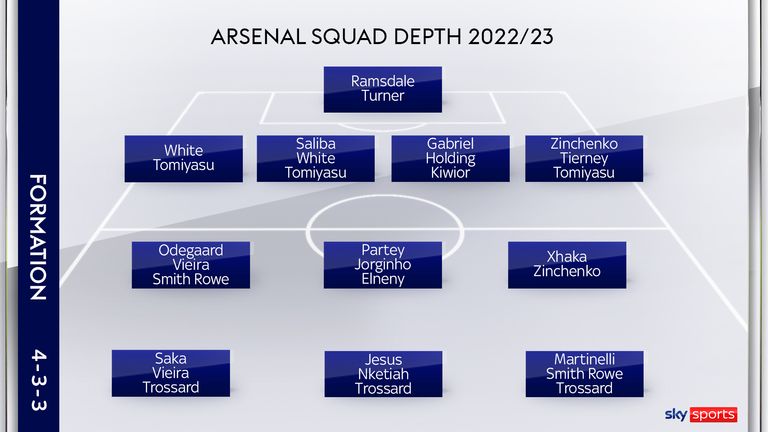 So Arsenal weaved between transfer targets this month and eventually brought three new players in. A new spine to add to their young squad of players.
Now they turn their attention back to the on-pitch matters – but, alongside their five-point lead at the top of the Premier League, do they now have enough to hold off Manchester City and strive for the title?
A summary of Arsenal's window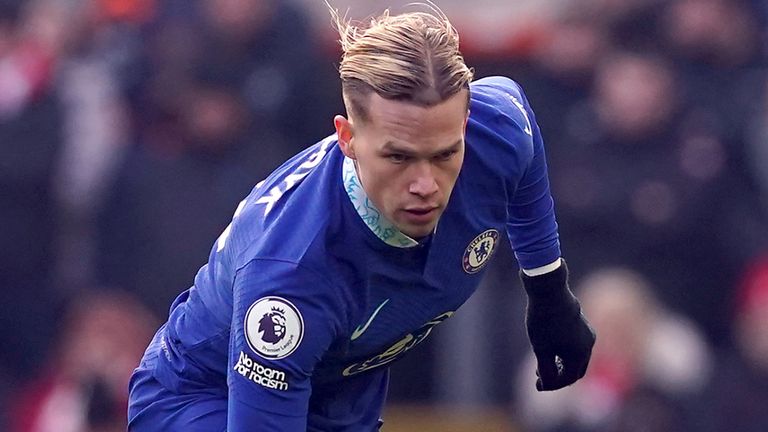 Arsenal's transfer policy has been clear for some time under Mikel Arteta – there has been the tendency to sign younger but experienced players aged 24 and under and develop them into their prime years.
The start of the Gunners' window showed that was the plan once again. Their interests this month can be split into two: attacker Mykhailo Mudryk was their No 1 target in part one – alongside a brief interest in Joao Felix – while Brighton's Moises Caicedo dominated the talk in the final two weeks.
But missing out on those two long-term investments forced the Gunners to change their plans.
Both Leandro Trossard and Jorginho, aged 28 and 31 respectively, are slightly above the age profile Arsenal normally aim for – but given the context of Arsenal's season, both acquisitions may look like sensible buys.
Both are experienced in Premier League football so need little time to settle into Arsenal's season – which could see them strive towards a first Premier League title in 18 years.
But just because those two arrivals are quick easy fixes to transfer disappointments, does not mean they are short-term stabs in the dark.
After the announcement of Trossard, Arteta was keen to stress how his assistant Albert Stuivenberg managed the Belgian attacker at Genk and his No 2 gave him positive character references in both this transfer window and in years gone by.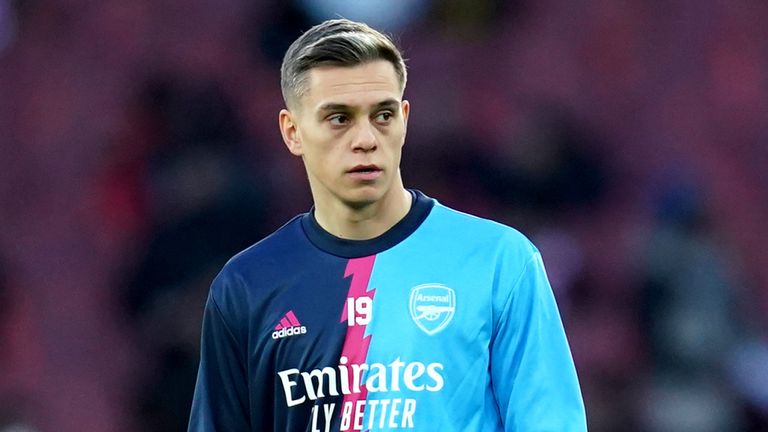 Meanwhile, Arsenal and Arteta's long-term interest in Jorginho is well-known. The Gunners boss was assistant at Man City when the Italian midfielder was torn between the current champions and Chelsea. Arteta then tried to go back for Jorginho in October 2020 but the move fell through again.
The other January arrival saw 22-year-old Jakub Kiwior come in from Spezia – an important acquisition given the amount of minutes first-choice defender Gabriel has faced this season.
The Brazilian centre-back has played in every Premier League minute for Arsenal this season, while he has also been ever-present in all competitions for the club since the World Cup break. Competition for him was paramount and Arsenal found a player within their age criteria.
Does Jorginho fix Arsenal's dearth in midfield?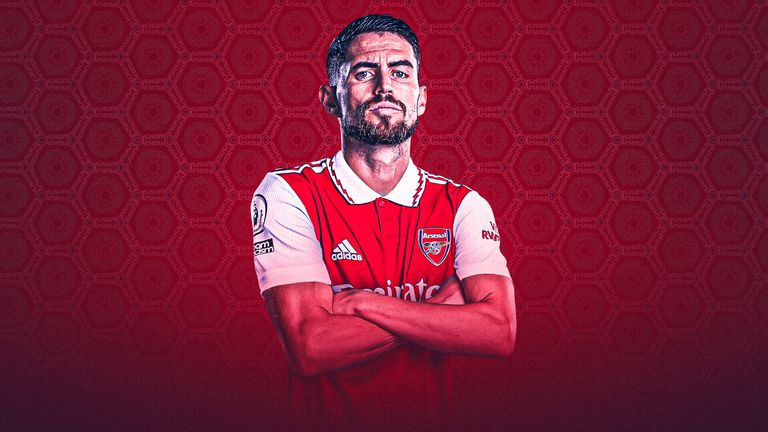 Arsenal have lost only three games this season. Different defeats are obviously caused by different contexts but there is one common denominator in all three losses: as the Gunners went behind, Thomas Partey wasn't on the pitch.
The Ghanaian midfielder was injured for September's league loss at Manchester United, rested on the bench for the Europa League defeat at PSV Eindhoven and was taken off injured at half-time of last week's FA Cup exit at Manchester City.
The central midfield position was an area of concern for Arsenal before Deadline Day – but the drop-off in Arsenal's quality and output when Partey isn't involved is clear to see.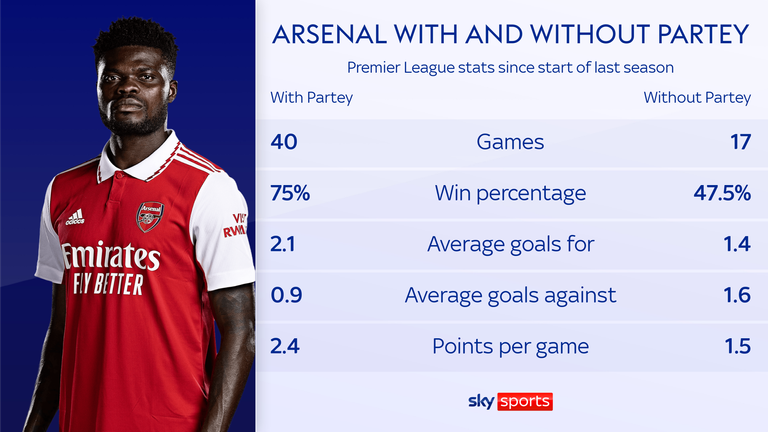 Since the start of last season, Arsenal have won three-quarters of their league matches with Partey in the squad. Without him, Arsenal have won less than half of their games, while they concede twice as many goals compared to when Partey is present.
Therefore, with Partey such a central figure to Arsenal's success, cover is needed to manage his minutes, especially when Arsenal's Europa League campaign comes back into full swing on March 9.
Jorginho's status as a centrepiece in a Chelsea midfield over the past five years, plus a Champions League and Europa League winner with the Blues, makes him a sensible rotation option – especially considering his trophy-winning experience.
"I think that with maybe 10 games to go in the season, when they might actually need cool heads, when there is a pressure moment and the nerves are there in that title run-in, he may actually be a really good signing," said Jamie Carragher on Deadline Day.
Jamie Carragher believes Jorginho could be the calm head that Arsenal need if they are to go on and win the Premier League title

"He is a player that has won the Champions League, he has won a European Championship in the last few years, so he is a top player – but he is a different style of player.
"I am not saying that [would work] for Arsenal week in, week out, but I think that he could be a big help for them towards the end of the season as they get nervous."
The Italian midfielder's statistics this season, despite a turbulent campaign for Chelsea, also look impressive.
However, despite having more possession than Arsenal this season, Chelsea have defended more than the Premier League leaders in the current campaign – meaning Jorginho's tackling and recovery stats are likely to be higher than most Arsenal players.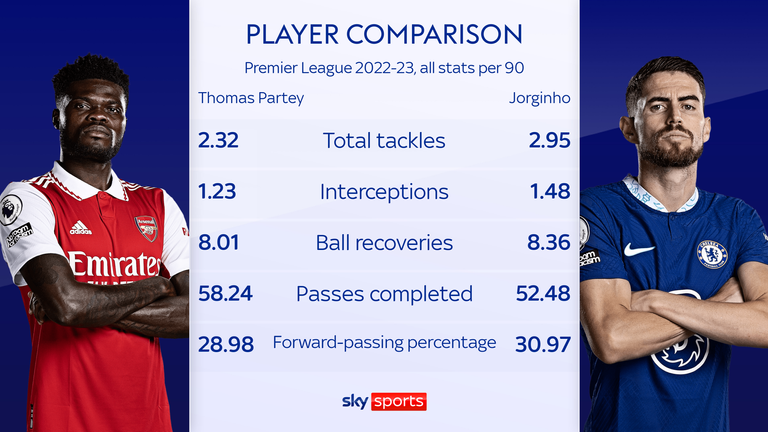 There are doubts over Jorginho's ability to fit in with an Arsenal midfield that has been renowned for its quick passing of play in transitions.
But with Arsenal having long-term reported targets in Declan Rice and Caicedo, who could leave West Ham and Brighton respectively over the summer, Jorginho's signing on an 18-month deal represents a quick-fix option in the meantime.
Versatility is boosted up-front
The other area Arsenal faced a slight shortage going into the January transfer window was up-front.
Gabriel Jesus' injury was a blow for the club and while Eddie Nketiah's goals softened that setback, it meant Arsenal were one injury away from a serious problem in attack.
There has also been a reliance on Bukayo Saka over the past 12 months. Last season, the England winger was left without any real competition capable of challenging him for a starting spot, leaving him as the only Gunners player – and one of just four in the top flight last season – to feature in all 38 Premier League matches.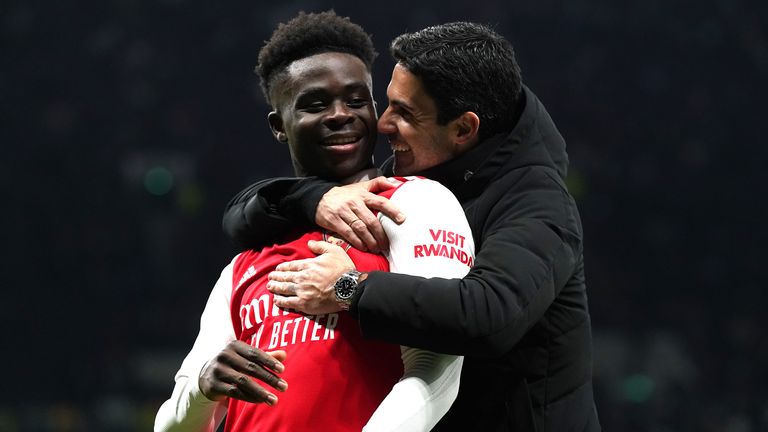 The goalscoring exploits that Saka has now – three goals and three assists in his last eight Arsenal league games – faded away towards the end of an exhausting campaign last term, with zero open-play goals and two assists in the final 10 league games of the season.
While Mudryk, Raphinha and Moussa Diaby were all enquired about throughout January, Trossard was eventually brought in and his ability to play in multiple positions makes him a smart purchase.
The £27m arrival is similar to the Richarlison signing that Tottenham made in the summer. The Belgian is a player who can appear on both flanks, in a centre-forward role or behind the front three – the last of which he confesses is his favoured position.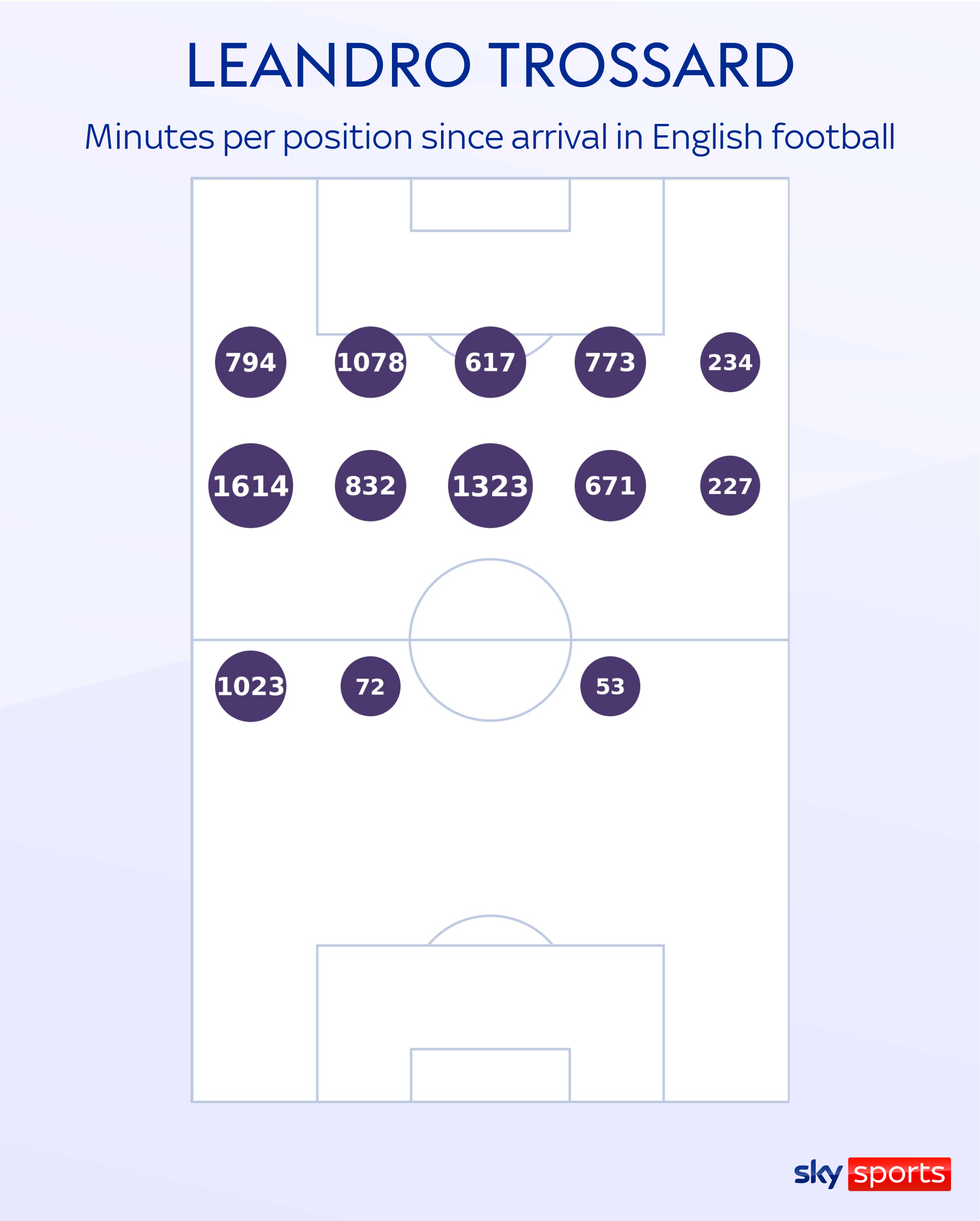 Versatility has been a common theme in Arteta's acquisitions since he arrived at the club. Ben White, Oleksandr Zinchenko, Emile Smith Rowe, Bukayo Saka, Jesus all have experience covering multiple positions and their varied skill sets have aided the unpredictability Arsenal have shown on the pitch.
Speaking of unpredictable, expect many twists and turns as Arsenal attempt to stride towards the Premier League title.
Arsenal's next ten fixtures
February 4 – Everton (A), Premier League, kick-off 12.30pm
February 11 – Brentford (H), Premier League, kick-off 3pm
February 15 – Manchester City (H), Premier League, kick-off 7.30pm
February 18 – Aston Villa (A), Premier League, kick-off 12.30pm
February 25 – Leicester (A), Premier League, kick-off 3pm
March 4 – Bournemouth (H), Premier League, kick-off 3pm
March 9 – Opponent TBC (A), Europa League last-16 first leg
March 12 – Fulham (A), Premier League, live on Sky Sports, kick-off 2pm
March 16 – Opponent TBC (H), Europa LEague last-16 second-leg
March 19 – Crystal Palace (H), Premier League, kick-off 2pm
Adblock test