The England international highlighted his potential with another fine performance to show why both he and Arsene Wenger see a central midfield position as his long-term calling
COMMENT
By George Ankers
The last English winner of the Ballon d'Or was Michael Owen in 2001; none of his countrymen have come close since. Jack Wilshere will not succeed Cristiano Ronaldo in 2014 but, on a night when the voters quite sensibly ignored English talent, it was most pleasant to watch the Arsenal midfielder offer another reminder that his country can still produce real ability.
The Gunners star was at the heart of the action in the decisive minute in his side's 2-1 win at Aston Villa on Monday. First he fired home the opener from the edge of the area before, almost immediately thereafter, winning the ball and playing it in for Olivier Giroud to control and finish the second.
VIEW FROM VILLA PARK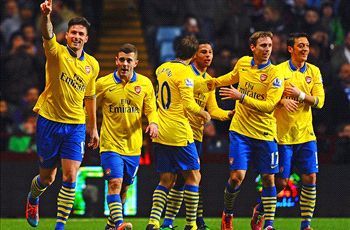 By Wayne Veysey
Arsenal failed to get out of first gear in the second half but their opening period fluency secured the points and ensured their return to the Premier League summit.
Jack Wilshere, restored to his favourite central midfield post in the absence of injured pair Aaron Ramsey and Mikel Arteta, was the catalyst for the win, smartly finishing a beautifully-crafted goal and then, 17 seconds later, teeing up Olivier Giroud for Arsenal's second.
Spurred on by Christian Benteke's diving header, Villa mounted a strong comeback late on but Arsenal held out relatively comfortably.
That vital minute brought into focus the qualities that have been eminent since Wilshere's latest return to the Arsenal first team; his attacking instinct, his understanding with the likes of Santi Cazorla (who was quietly influential in his strike) and his hunger to press the advantage in the moments after a goal, when others might slack.
At times, the England international's role this season has appeared indistinct. The signing of Mesut Ozil in the summer means that the No.10 role is, usually, off the table, while the likes of Mathieu Flamini and, particularly, Aaron Ramsey have excelled in the middle.
But an injury to the Welshman over the winter period has allowed Wilshere a chance to make an impact from a central position once again and he has grabbed it eagerly. Monday's performance was but the latest in a series of impressive outings, his key creative role in the Gunners' leave-it-late victory over Cardiff City on New Year's Day also a fine example.
When Ramsey and Mikel Arteta are back, Arsene Wenger will have a very interesting decision to make, though both player and manager are agreed that central midfield will be his ideal position in the long term.
"I think it is [my best role]," the 22-year-old told Sky Sports after the game. "I've spoken to the manager a few times about it and he thinks it is as well but, in this team, we've got great competition and I think it's important to rotate a lot, so sometimes I have to play wide or in the middle.
"I'm not really a defensive midfielder. I'd say I was an attacking midfielder so, if you're going to be one of them, I'd say you have to create goals and score goals.
"You've seen the best midfielders in the past, your [Frank] Lampards, your [Steven] Gerrards … I've looked at this season and thought I really had to push on after missing last season through injury."
As is the case with so many Arsenal players, of course, the spectre of injury lurks ever-presently in Wilshere's background. If he is ever to aim as loftily as the Ballon d'Or, an uninterrupted year is more or less a necessity and a setback always seems to arrive just as he might hope that his troubles are behind him. Key contributions such as Monday's will only make the intakes of breath after every tackle that bit sharper.
Indeed, it was visible at Villa Park that there is work to do yet. While his influence was the deciding factor, Wilshere tailed off as the second half wore on, as did those around him – as the youngster acknowledged post-match – whether it be through complacency or another reminder that match fitness takes time to reach its peak.
The longer that he can stay away from the dreaded treatment room, however, the more that we should expect to see those decisive 90-second periods become decisive 90 minutes. By Monday's evidence, they will be minutes worth watching.
Follow George Ankers on