Mikel Arteta and Pep Guardiola have been friends for more than two decades, colleagues at Barcelona and City and now, for the first time, title rivals.
Just over three years since leaving Pep's City for his old club Arsenal, Arteta has achieved the uphill task of making the Gunners worthy opponents for his former employers. And for one week, the title race has been put on hold as attention turns to the FA Cup, with Arsenal chasing a domestic double at the expense of his old boss.
Arteta says Arsenal's title battle with Guardiola will not have an impact on their friendship

This is the only competition where he has beaten Guardiola as a manager, but with Arsenal's five-point lead in the Premier League, there are signs the hoodoo is lifting.
On Friday night, their friendship will be put on hold too for the Gunners' first encounter with the league champions this season, providing another litmus test as they attempt to match their domestically-dominant rivals.
"I always hoped it would be the case one day and it's happening this season," Arteta said. "That's not going to change any friendships, the moments that we have, how important in my life and profession. We are both willing to win and defend our clubs in the best possible way. That has always been the case since day one.
"I would prefer to do it with someone else, because I want the best for him. When you are challenging with someone like this, something comes in between. It's a strange feeling, but it is what is, and that's our challenge."
Arteta's links to Guardiola predate his professional debut. Both progressed through Barcelona's La Masia youth system – where despite being 11 years Pep's junior, the now-Arsenal boss was weighed down by comparisons to the legendary midfielder and their similar styles from the start.
Guardiola says his former assistant Arteta would've taken over as Manchester City manager if he left the club

If it was hard on Arteta, Guardiola's approach helped. After one pre-season friendly, Pep took aside the nervous 16-year-old, desperate to make a positive impression, and gave him a full run down and appraisal of his performance. That was the regard with which he held him even then.
Arteta later remembered: "To have that from someone like him, the best in that position, you cannot have anyone better than that helping you."
But while Pep had gone on to make the Nou Camp pitch his own, Arteta – stuck behind the generational duo of Xavi and Andres Iniesta – had to look elsewhere to forge his playing career.
His path would not cross again professionally with Pep's for more than a decade but they remained in touch, their personalities and footballing philosophies naturally drawing them together.
When Guardiola's Barcelona faced Chelsea in 2012, he called the then-Arsenal midfielder for an inside line on their opponents. Within a year, Pep approached him about taking on a coaching role.
Arteta told Sky Sports in December: "When I was 30, I remember when Pep made the first call to say: 'I might be coming to England, will you become my assistant?' I said: 'I'm still playing you know! It's still too early."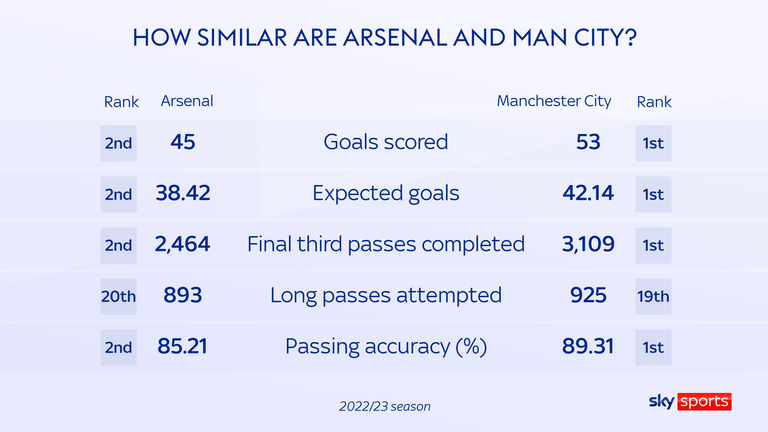 It was still too soon when Guardiola made his move into Premier League management at City in 2015. But once Arteta hung up his boots at the end of the following season, he didn't need much more convincing and within weeks had joined the Pep revolution at the Etihad.
It was another sign of their mutual respect. Arguably the finest manager of his generation, trusting an untested coach to serve as one of his first-team assistants. And it proved a shrewd move, as back-to-back Premier League titles followed.
Bernardo Silva explained the extent of Arteta's influence to Football Daily. "He helped us a lot, even though he was not our manager, he acted like he was a little bit in terms of helping and in terms of how present he was in all training sessions and all the games," he said.
After a three-year apprenticeship, Arsenal came calling. Arteta's former club were a temptation too good to turn down, and had he done so, there was no guarantee he would be presented with the chance again.
"I know he went to the team that is his club, the team he dreams of," said Guardiola, ahead of this weekend's game. "He's an Arsenal supporter, for the fact he used to captain there and he loves the club.
"I remember that when we were together here, when we scored a lot of goals with other opponents he always jumped and celebrated – except [against] one team. One team, every time we scored a goal and I jumped and came back, and he was just sitting there. It was Arsenal."
It wasn't just about the lure of Arsenal though. For the second time in his career, this was time for Arteta to step out into the light and make a name for himself.
It was obvious he would have to go backwards to go forwards at the Emirates Stadium. City were significantly further along the line in their development, had far deeper pockets and had already become one of the world's most successful, best-run clubs.
Meanwhile, Arsenal were still redefining their own identity after the Arsene Wenger dynasty, and stuttering with the natural mis-steps which followed.
Arteta arrived back in north London with a clear plan, though implementing it – like Guardiola's early days at the Etihad – has taken time.
Just like in his playing days, he is determined to cast off labels of a Guardiola impersonator and be his own man. But of course, there are hints of his influence.
The inverted full-backs, overloading midfield when Arsenal have the ball, are straight out of the Pep Playbook – but his side won't be looking to clone Manchester City when they face them on Friday.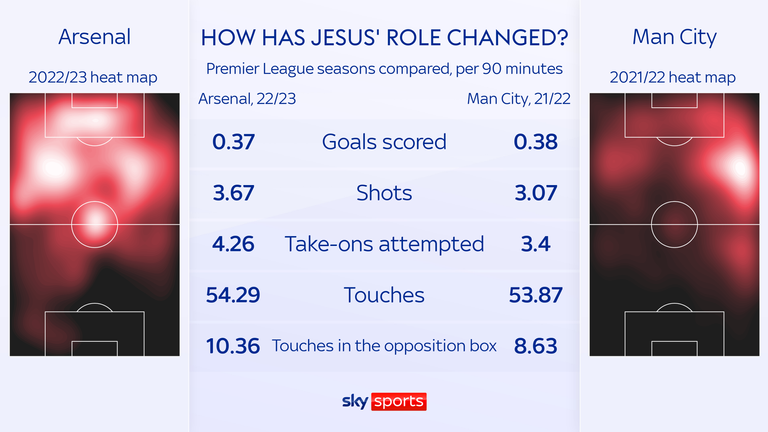 Perhaps Gabriel Jesus is the best example. The striker won't be available to face his former club, but the contrasting role he has taken on at the Emirates highlights the subtle differences in the two managers.
"I have never tried to copy and paste anything because I don't feel it, this club deserves much better than that and it wouldn't work that way," Arteta said. "Every character and the person dictates how they are as a manager and then how the team is and we are very different.
"I feel gratitude because [Pep] inspired me as a player and he inspires me and gave me the opportunities as a coach. That's it. For what people think, I accept it because I probably wouldn't have had the career I had as a player, the understanding of the game or the purpose that I had as a player if he hadn't been there at that time.
"I wouldn't be sitting here and having that willingness and love for coaching if he hadn't crossed into my life and giving the opportunities he gave me. I was looking at him and I just wanted to achieve what he was doing. I loved the way he played, the way he was transmitting on the pitch and understanding what was happening. He has been an inspiration since I was 18 years old."
Arteta knows Guardiola's City better than anyone, but that hasn't helped him get a handle on them. City have won all five of the Premier League meetings since he left the club, scoring 12 goals in the process.
In general terms, Arsenal have steadily improved under Arteta. But on a personal level, there has been little indication he would finally escape Guardiola's shadow any time soon. Arsenal cut the gap to the Champions League spots to two points last season, but still finished 24 behind the champions.
Now though, with half of this season's league campaign done, he is painting a new picture at the top of the Premier League table. Even so, a trip to City in any competition presents perhaps the toughest test in the country.
Arteta is one from one against his old boss in the FA Cup. Arsenal's semi-final win over City in 2020 set them on course to lift the trophy in his first season at the Emirates. Now, he's back for more. Victory in the champions' own back yard would only underline the job Arteta is doing in north London, and inch the domestic dial further in Arsenal's favour.
"It's a challenge for us, let's challenge them," said Guardiola. "That's the deal for the season."
Despite a distinguished playing career, Arteta never quite reached the level of Guardiola on the pitch. But off it, it may finally be Pep's turn to feel like the apprentice.
Adblock test