Mikel Arteta walked into his post-match press conference and the first question was whether he believes in fate.  "Yes, I do," was his response. You can certainly see why.
Because it was all going haywire for Arsenal. Two goals down at home to Bournemouth, their first three centre-forwards injured and a slightly makeshift front four in its place.
Gabriel Martinelli was playing up top, in a role he has never been in this season. A raw Emile Smith Rowe came on having played barely an hour of league football all term. Bukayo Saka was being doubled up against. Fabio Vieira was making just his second start of the campaign but was tasked with dictating the play. Alternatives? There were barely any, just one Reiss Nelson who had played one league minute since October.
FREE TO WATCH: Highlights from the Premier League match between Arsenal and Bournemouth.

But the front five of Saka, 21, Martinelli, 21, Vieira, 22, Smith Rowe, 22, Nelson, 23, and captain Martin Odegaard – the senior of the group at 24 – pulled through. They toiled, toiled and toiled to the point where Bournemouth, also facing the wrath of the Emirates crowd, couldn't hold on any longer.
Arsenal turned it round. In one Nelson swish the whole dynamic changed. It's what they've done all season. This was the fifth time in the Premier League this season where they've gone behind and gone on to win.
The age-old phrase: 'sign of champions' doesn't even cover it given how many signs there actually were. Nelson produced his Federico Macheda moment from when Manchester United won the title in 2009, Ben White with the ultimate 'opportune moment to score your first goal for your club', Arteta running down the touchline in Jose Mourinho-style.
Perhaps the dawn of Arteta's Arsenal and Mourinho's emergence can be paired together. Greatness will follow the Gunners in a similar way if they keep doing what they're doing.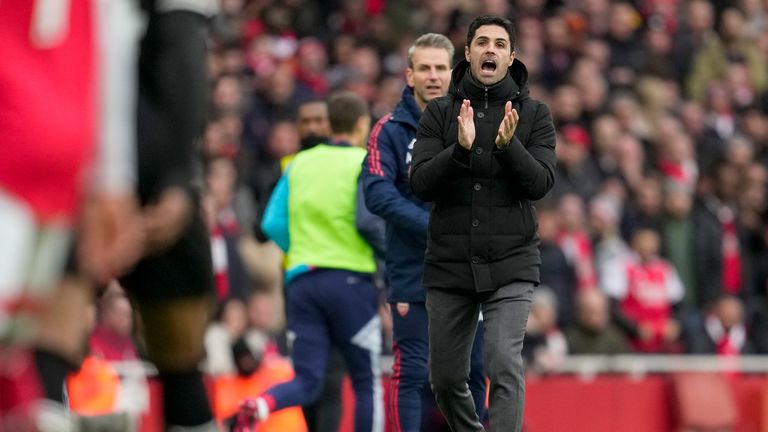 All of the arguments against Arsenal winning the title are being proved wrong – they were all laid bare to be judged on one crazy Saturday afternoon.
Squad is too young? Look above at the ages of those who turned it round. Not enough firepower? Three unlikely goalscorers – Thomas Partey, White and Nelson – against Bournemouth. They don't have the depth that Man City do? Every single player is playing their part no matter what level they're at – matchwinner Nelson proves exactly that.
Now it comes to the cliché of whether this is just Arsenal's year. That all the pennies are starting to drop. Eddie Nketiah's late winner against Manchester United, that Emiliano Martinez own goal at Aston Villa, the contentious penalty against Liverpool, VAR saving them in victory away at Leeds.
Playing Leicester without key man James Maddison, Manchester United without Casemiro, they'll go to Fulham next week who are without lynchpin Joao Palhinha due to suspension. Some claim it is luck. But these aren't coincidences anymore.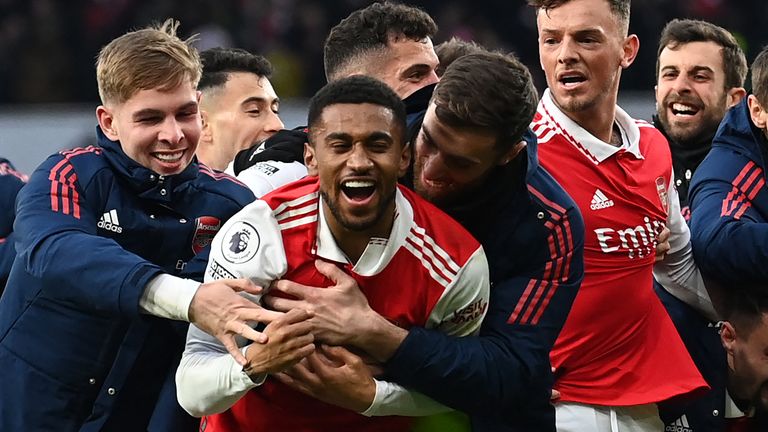 "The team has shown a different level of willingness to win and determination and taking initiative," said Arteta. "You can lose momentum and start to hide. They didn't do that. They wanted it and kept trying until we broke them down."
They're now showing the resolve Manchester City do, repeating exactly what the champions did at home to Tottenham two months ago.
And there are even more plus points. Gabriel Jesus going through his paces on the Emirates pitch after the game is a sign that things will be better than the first hour against Bournemouth.
There is also Partey being fit again, which is a major boost amid the injury concerns. The Ghanaian midfielder took the Bournemouth game by the scruff of the neck, scoring one and playing a major role in White's equaliser by beating several challenges in the build-up before spreading it wide.
Arsenal's form with and without Partey is clear to see – a 74 per cent win ratio when he plays but the figure drops to 47 when he's missing. Then there are the 12 ball recoveries against Bournemouth, the completion of every single long pass in 97 minutes. Wrapping him in cotton wool will be crucial to what comes next.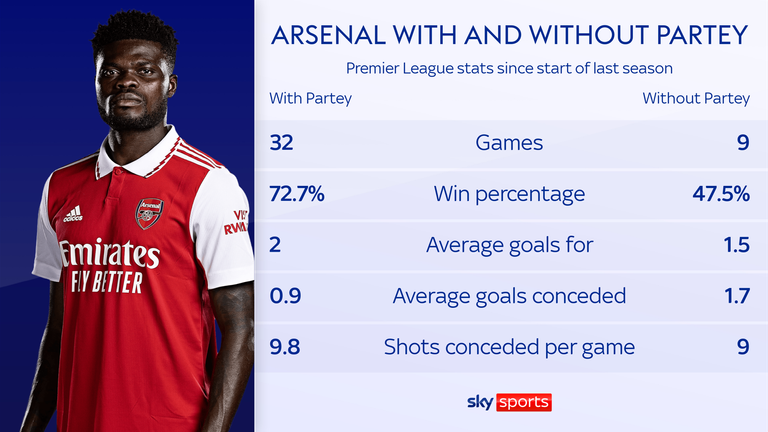 There is also the impact that the Champions League could have on City's season in terms of priorities. Yes, Arsenal do have the Europa League to contend with and Arteta has a decision to make on which players feature where but City's form is not dependable enough to take on another bruising competition, plus the FA Cup.
Arsenal, meanwhile, know that if they win their next 10 games they will be crowned champions. Not an easy feat and there will be more headaches, twists and challenges to come.
But as long as Arteta believes in his fate then Arsenal will have full faith.
Adblock test