Which positions are Arsenal targeting in the summer transfer window? What has Mikel Arteta said? And what do the stats say?
Which positions are Arsenal targeting?
Sky Sports News reporter Dharmesh Sheth writes: "This promises to be another busy summer for Arsenal.
"We shouldn't expect big-money arrivals due to the financial hit the club took during the pandemic – as well as another season out of the Champions League.
"David Luiz will leave when his contract expires next month. There are also question marks on whether striker Eddie Nketiah will stay. Nketiah's contract is up in the summer of 2022 – as is Alexandre Lacazette's. As yet, there has been no news of talks over a new deal for either player.
"Willian is another player who may be allowed to leave, despite having two years remaining on his deal.
"As it stands, on loan players Martin Odegaard and Dani Ceballos will return to Real Madrid. Arsenal are thought to be keen on signing Odegaard on a permanent transfer – though they could be priced out of a deal.
"Defender William Saliba is expected to return from his loan spell at Nice and fight for a first team place.
"Matteo Guendouzi has been on loan at Hertha Berlin and Lucas Torreira has been at Atletico Madrid. Both are expected to be available.
"This will give Arsenal the opportunity to enter the market – an attacking midfielder has been an area they have wanted to strengthen. Expect that to be a priority IF they are unable to do a deal for Odegaard.
"There could be some incoming movement in the full-back areas – and perhaps up front too. Youngster Folarin Balogun recently signed a new contract – but if Lacazette leaves, Mikel Arteta may look to increase the competition for captain Pierre-Emerick Aubameyang."
What do the stats say about Arsenal?
Arsenal's biggest problems lie at the top end of the pitch. The Gunners rank ninth in the Premier League for goals and the underlying data does not offer much encouragement either. In fact, they rank 10th for expected goals and 12th for big chances created.
A lack of creativity is a major issue and it is apparent on an individual level too. No Arsenal player has contributed more than five assists in the Premier League. Their top creator is Bukayo Saka with 38 chances created but that doesn't even place him among the top-40 most creative players in the Premier League.
Arsenal do at least have youth on their side. The average age of their starting line-up is 26 years and 136 days old, making it the fifth-youngest in the division. Their young players offer hope of a brighter future and while their overall numbers for expected goals are unimpressive, there have been signs of progress in the latter stages of the campaign.
What manager Mikel Arteta has said
Arteta has made no secret of the need for an overhaul and he is optimistic the club's Kroenke owners will back him in the transfer market.
"The squad needs changing," he said earlier this month. "There were already a lot of changes in December, something that has not been done in years, but it tells us where we were. Things are going to have to change and the owners are going to back it up."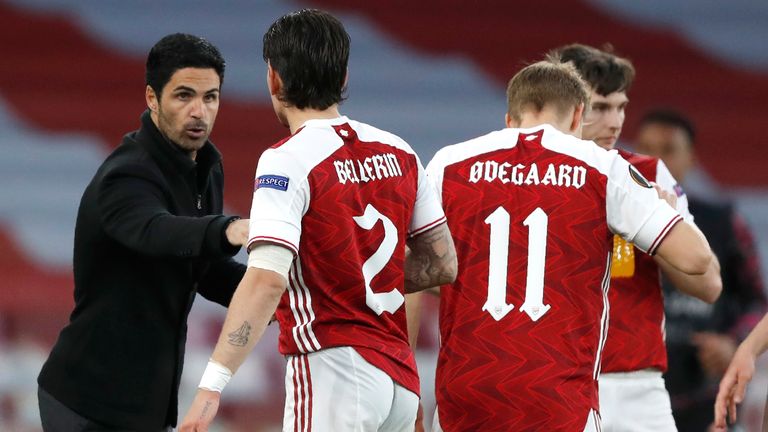 Arteta has also been at pains to point out that Arsenal's decline set in long before his appointment as manager. In a separate media appearance, he said: "We have not been competing with the top clubs in this country for five years.
"It is not as if this process started six months ago – it started five years ago and you can see this trend. This year is not year one.
"I think a project has its phases and I am telling you we are in a much better position today to be where we want to be very soon – if we do what we have to do. But we have to be ruthless. There is no time to waste and there is a lot to do."
What should Arsenal do this summer?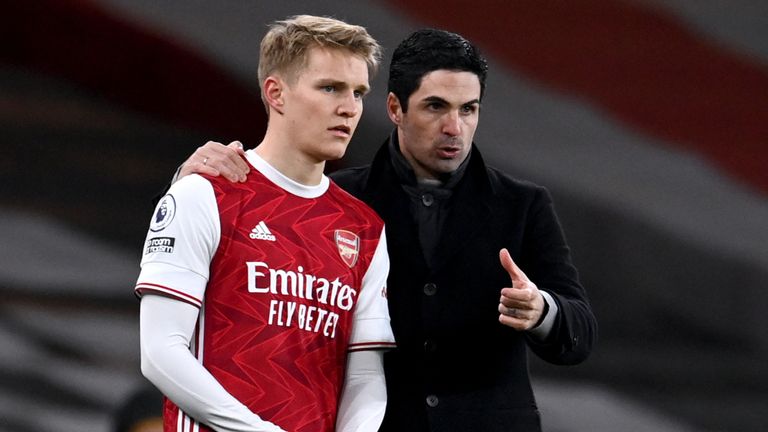 Sky Sports' Oliver Yew writes: "It's another big summer for Arsenal.
"Where have we heard that before? It seems those words have been linked to the Gunners every summer for the last few years, but they seem even more relevant this year.
"Manager Mikel Arteta revealed he had talks with Arsenal director Josh Kroenke ahead of Arsenal's final game of the season against Brighton, with the aim to take Arsenal to the next level. Again words we have heard before. But with no European football to fall back on, the club will have to be creative and financially, they will need to be backed by the owners, the Kroenke family, who have come under increasing pressure from supporters in recent weeks.
"So, on the field, what are the priorities? Arsenal's youngsters have been the only real positive during what has been a difficult season with Emile Smith Rowe at the forefront of that, and the club have opened negotiations with the 20-year-old over a new contract.
"Elsewhere, Norwich City star Emiliano Buendia has once again been linked with a move to north London, and his creativity would be a welcome addition for the Gunners. Central midfield is also another area that needs urgent attention. Yves Bissouma is a name that keeps cropping up, while Arsenal are also considering a bid for Sheffield United midfielder Sander Berge.
"Full back is also another area Arteta is expected to bolster. The Gunners are looking to provide cover for Kieran Tierney at left-back with Ryan Bertrand, who is leaving Southampton, linked with a move to north London. A new right-back could also be on the agenda if Hector Bellerin ends his long association with the club.
"In terms of outgoings, there were big changes in January, and we can expect the same again with Arteta hinting about a major squad overhaul. The likes of Guendouzi, Torreira, Ainsley Maitland-Niles and Joe Willock, who has been in scintillating form for Newcastle, will all return from loan spells, and decisions will have to be made on their futures. Bellerin, Willian, Nketiah and Lacazette have all been linked with a moves away from the Emirates Stadium as the Gunners look to raise much-needed funds to re-invest in the squad.
"Edu, Arteta and company are in for a busy summer!"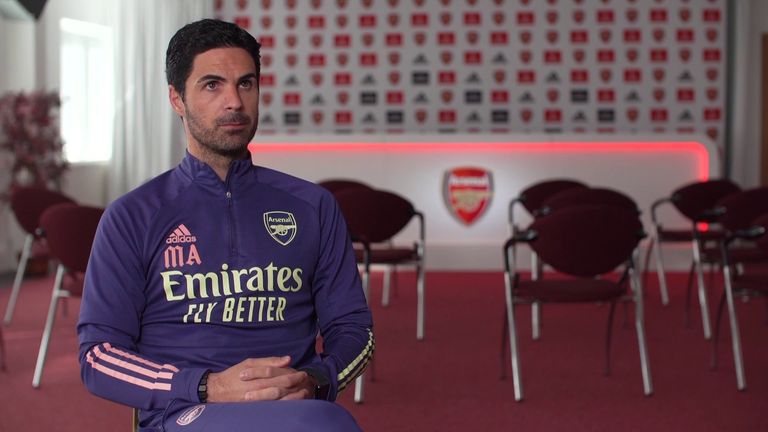 Sky Sports' Nick Wright writes: "It is vital that Arsenal do not block the pathway they have created for their youngsters but investment is undoubtedly required. Saka, Smith Rowe and the rest must be surrounded by senior players capable of leading the team forward.
"More creativity is required, especially if re-signing Odegaard proves beyond them, and with Ceballos also returning to Real Madrid and Xhaka's future up in the air, there is a need for reinforcements in central midfield. Brighton's Yves Bissouma would fit the bill, although he is unlikely to come cheaply.
"The returning Willock could help and so too could the highly-rated Balogun, who has committed his future to the club, but a more experienced option up front is needed with Lacazette likely to depart. Aubameyang cannot shoulder the goalscoring burden on his own.
"Arsenal boast the third-best defensive record in the Premier League in 2020/21 but recruits are needed at that end of the pitch too. The Gunners look light at full-back, particularly with Hector Bellerin set to leave, and if Arteta is not willing to put his trust in Saliba, a new centre-back will have to be a priority too."
Adblock test