Arsene Wenger thought the Japanese youngster was eligible for Champions League football, but was unaware of the rules – Goal brings you a selection of similar clangers
By Enis Koylu
In a rather farcial episode, Arsenal had to withdraw young winger Ryo Miyaichi from their matchday squad to face Bayern Munich on Tuesday after it emerged that the Japan international was ineligible for the Champions League.
As the 21-year-old had been at the club for over three years and was the right age, the Gunners had assumed that he did not have to be registered. But, due to his loan spells at Feyenoord, Wigan and Bolton, he had not spent the necessary time at the club to qualify.
As a result, Arsene Wenger had only six of his seven substitutes at his disposal due to the clerical error and Goal is here to bring you some similar examples of administrative clangers.
The north Londoners are far from the first team to overlook a youngster thinking he was eligible. AC Milan director Umberto Gandini assumed responsibility for an oversight which saw M'Baye Niang left off their list for Europe's top competition earlier this term. In the end, they were able to qualify for the last 16 without the Frenchman, but he was on loan at Montpellier by the time they were eliminated by Atletico.
In the 2000-01 Uefa Cup, PSV were without both Eric Addo and Ruud van Nistelrooy for the first half of the season due to injury but they had recovered in time for the knockout tie with Kaiserslautern. Unfortunately for both players, their club had forgotten to register them. They appealed to Uefa, but in vain.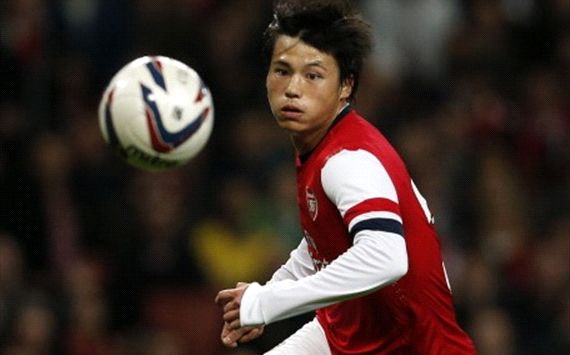 False start | Arsenal's oversight cost Ryo a place on the bench against Bayern
There are other clubs who have fallen foul of Uefa regulation. In 1992-93, Stuttgart would have won a first-round Champions League tie against Leeds United, having won the first leg 3-0 and lost the second 4-1. However, they had fielded a fourth foreigner as a substitute in the second leg when only three were allowed to play in a single match. A play-off was played on neutral turf, which the English side won.
During his time at Kaiserslautern in 1998, Otto Rehhagel made a similar mistake during a match against Bochum. When preparing to introduce another overseas player, the stadium announcer proclaimed over the tannoy: "Otto, count your foreigners." A convenient injury to the Egyptian Hany Ramzy saved the day. Fenerbahce were not so lucky two years later in their Istanbul derby versus Besiktas. They lost the match by default after their coach Mustafa Denizli broke the 5+1 foreigner rule by fielding six overseas players at the same time, when the law stated that one had to be on the bench.
These mix-ups have even affected the world of transfers. Back in January, Lille signed Sochaux full-back Sebastien Corchia, but the LFP did not ratify the transfer due to a dispute over his wages with the authorities. After several interviews and training sessions with his would-be team-mates, the 23-year-old was forced to return to his old club.
Derby County once signed Argentine forward Esteban Fuertes from Colon for £2.3 million back in 1999 and promptly registered him as an EU player thanks to his Italian passport. It was, however, forged and he was refused entry to the UK.
Italy's complicated co-ownership system confuses alot of people, including Serie A club directors themselves. When goalkeeper Emiliano Viviano's future was being sorted in 2011, Bologna director Stefano Pedrelli accidentally bid the wrong amount for the player during the blind auction – and the current Arsenal reserve ended up joining his other parent club Inter permanently instead.
South America is something of a hotbed for mix-ups over player eligibility. Last year, both Portuguesa and Flamengo fielded stars who were suspended for the last matchday of the Brasileirao. Portuguesa were docked four points for the affair, leaving them in the drop zone, but Flamengo escaped similar punishment, saving them from relegation. The clubs are still fighting over it.
Staying in Brazil, young full-back Luis Felipe extended his Palmeiras contract in mid-2013, signing a new deal which was supposed to expire in 2014. However, a clerical error meant the agreement ran out in December 2013. The two parties are currently locked in a legal battle but the player himself is looking to win a free transfer to Europe.
Nantes selected Abdoulaye Toure for their first Ligue 1 game of the season against Bastia, but he was banned. The authorities awarded the Corsican side a 3-0 win. Also in France, Laurent Fournier lined up for PSG in the qualifying round of the Champions League, despite being suspended. Their opponents, Steaua Bucharest, were awarded a 3-0 first-leg win, but les Parisiens overturned the deficit in the return game with a 5-0 win. In 2010 World Cup qualifying, Cape Verde were disqualified from the African playoffs for fielding an ineligible player. Tunisia took their place.
In an embarrassing episode for ex Spurs manager Harry Redknapp, new signing Sandro showed up at Stansted Airport for Tottenham's trip to AC Milan, only to be told in the terminal that he was not in their Champions League squad.
Staying with Milan, there are widespread claims in Italy that when the Rossoneri signed Luther Blissett from Watford in 1983 they had actually intended to buy his team-mate John Barnes instead. Whether or not the story is true we may never know, but while Barnes went on to enjoy great success at Liverpool, Blissett proved to be one of Serie A's biggest ever flops.
Perhaps the most embarrassing error of all time came during the 2012 summer Olympics when North Korea faced Colombia in the women's football tournament. Organisers mistakenly displayed the flag of bitter enemies South Korea on the big screen at Olympic Park. The match was delayed by an hour due to the fury of the Asian side, and the episode almost created a diplomatic incident.
So, monsieur Wenger, you are far from alone.